Kitchen Table
Bubbledogs.  Kind of a weird name.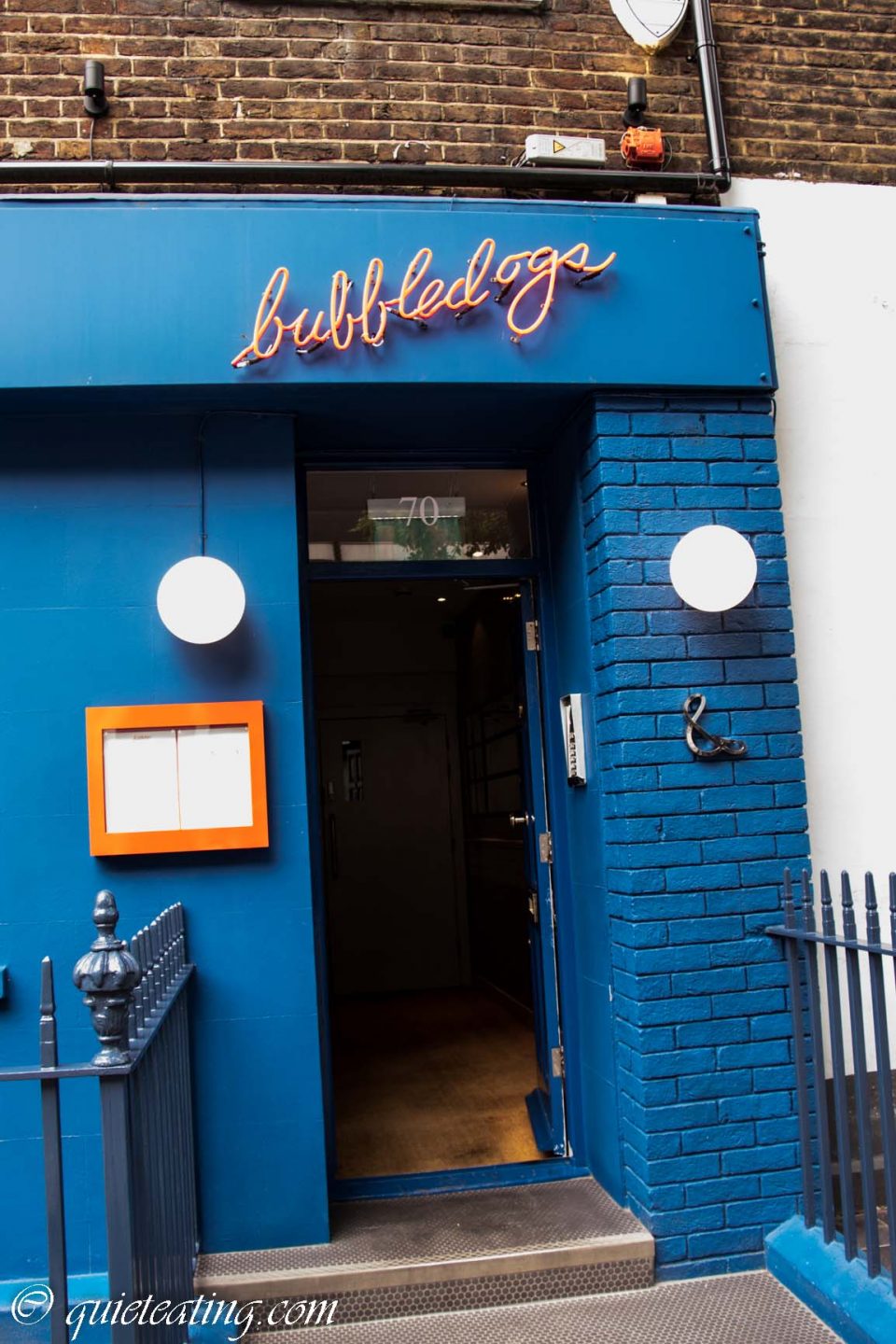 A doggy spa perhaps?  Although perhaps better than calling your restaurant Kitchen Table.
Non-descriptive it is. Kind of a mouthful as well.  Although, it is better than alternatives I have seen.  The Fire Station, Low Slow & Juke and Wing Zone spring to mind.  At least the name does not lend itself to abuse as easily as the aforementioned.
The concept at Kitchen Table is simple.  You eat what is put in front of you.  I applaud the spread of no choice menus throughout London.  In my years in Japan, it was actually fairly usual to see ultra specialization in types of cuisine coupled with absolute trust in the chef's taste.  You don't question the sensei (master) in Japan.  That is unless you would rather be subject to a frosty welcome.
In a very descriptive manner, the food for the day is laid out on a blackboard at the back of the restaurant.  Although at this moment I might bemoan the lack of detail in the menu, this was later to prove to be a blessing in disguise.  As the multitude of elements of dishes threatened to overwhelm me.  In a good way.  Instead, I will focus on the crux of the matter, how things felt.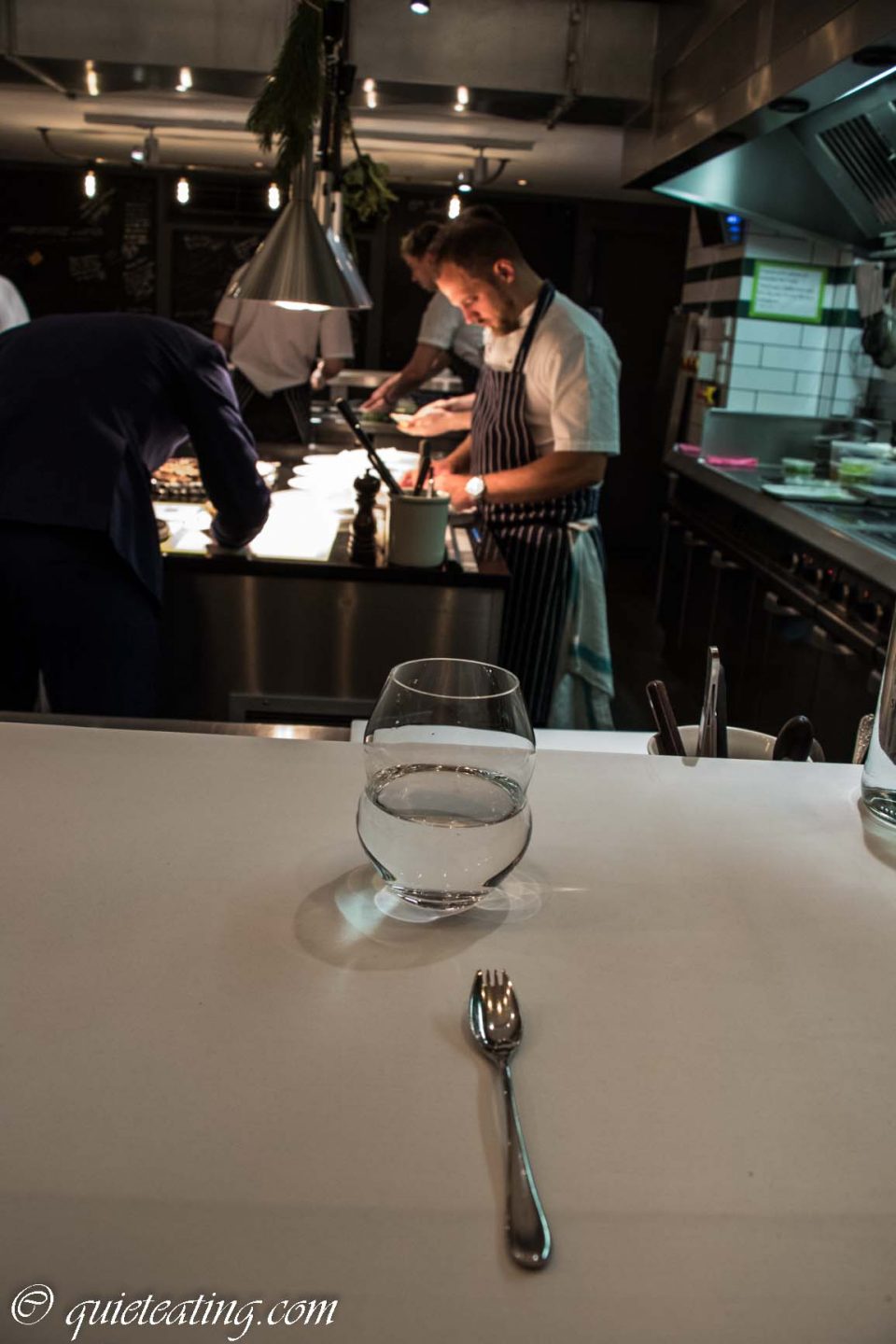 So at the start, I was feeling a bit apprehensive.  Although, I have had the experience of kitchen counter seating many a time in Tokyo, this was to one of a handful in London.  So here they were borrowing another element I had seen many times in the Far East.  By sitting around the kitchen, it would hopefully guarantee that your food would be prepared and timed to the second.  It also had the added bonus of inclusive entertainment.  That is watching great food being put together.  No mishaps here to provide talking points though.
Scallops.  The first of sixteen courses, carefully dressed.  Very lightly spiced, the raw silkiness of the scallop did not so much as underlay the dish but provide the talking point.  Something well worth having again.
Radish.  Refreshing in taste and texture, the firm radish was complemented by the crispy base.  A light and excellent treat.
From our perch overlooking the open kitchen, we could see the mullet being prepared.
Mullet.  Gone in one bite.  Another example of letting the ingredients speak for themselves.  Fresh, with a hint of citrus, delectable.
Chicken skin.  This was something astounding.  Chicken skin with bacon bits in some sweet (honey?) sauce.  Salty, sweet, crunchy and meltingly soft fat created a symphony in my mouth.
Ceps being prepared.
Ceps.  Mixed with a duck liver parfait, on a potato crisp, this was something special.  Creamy meatiness, mushroomly cep and crunchy potato.  What's not to like?
Parkerhouse.  At first I thought that this would be a cut of meat.  Must be getting mixed up with a porterhouse.  Instead, I got something more.
Parkerhouse with truffle butter.  The bread was like a cloud.  Soft and yet yielding when you got up close.  The truffle butter like ambrosia.  I just couldn't get enough.  Although I was tempted to stuff my face with this astounding fare, sense prevailed and I only ate one extra piece of bread. Instead, I tried to save my stomach for things to come.
Peas.  Shaved ice, garden peas (from his mother in law's back yard) delightfully refreshing.  Although, when the source of the peas was explained, one diner quipped, does that mean it is safe to eat?  I chortled quietly in the background at this comment.  I would hope that in my case at least, my mother in law's cooking wouldn't be poisonous.  Or at least be a very, very slow acting toxin, kind of like incessant nagging.
Sea trout.  Flame grilled in front of our eyes.  In younger days, I always did wonder what it would be like to have my own flamethrower.  The ants would then scurry in mortal fear at my approach.  If the fish could move, I'm sure it would have acted the same way.
Sea trout.  So this is how it ended up almost like a springroll.  Just missing the crispy skin.  Many different flavours mixed here.  The umami of the sea weed, the cleanliness of the spring roll skin, the meatiness of the fish flesh and the earthiness of the crisp skin.  To set it all off, on a magnificent plate.  Nosy person that I am I checked the underneath to see where it came from and lo and behold.  It came from Japan.  Which was fitting as the food was definitely up to that level.
Sea brill being prepared with a hint of seasoning.
Sea brill.  I could say perfectly cooked but that would be using a much maligned and abused word.  It seems that almost everything in this world is "perfectly cooked".  So far so that even McDonalds can claim the same with their reconstituted beef/horse/cardboard patties.  Yet I try not to use this word lightly not wanting to detract from its power.
This was perfectly cooked fish.
Just the right side of cooked, the fish was something to linger over.  So much so that in my careful dissection and sampling of said food stuff, the waiter came over to check if everything was alright.  So engaged and careful was I in tasting.  When I remarked that white fish can often go horribly wrong, there was a bit of nervous laughter from the waiter until I said not in this case.
The palpable sign of relief was amusing to watch.
Lobster.  I know that with the likes of Burger and Lobster gracing our shores, this shellfish isn't the treat it used to be in days gone by.  Yet, if lobsters were cooked similar to this, then we are moving in the right direction.  This was the best lobster I have ever eaten.  The light and dark sauce mixed with lobster tail cooked just so to create a dish worth shelling out extra for.  If there is a reason to visit Kitchen Table, this is it.
Duck.  Ready to be served.
Duck.  Being carefully drawn and quartered.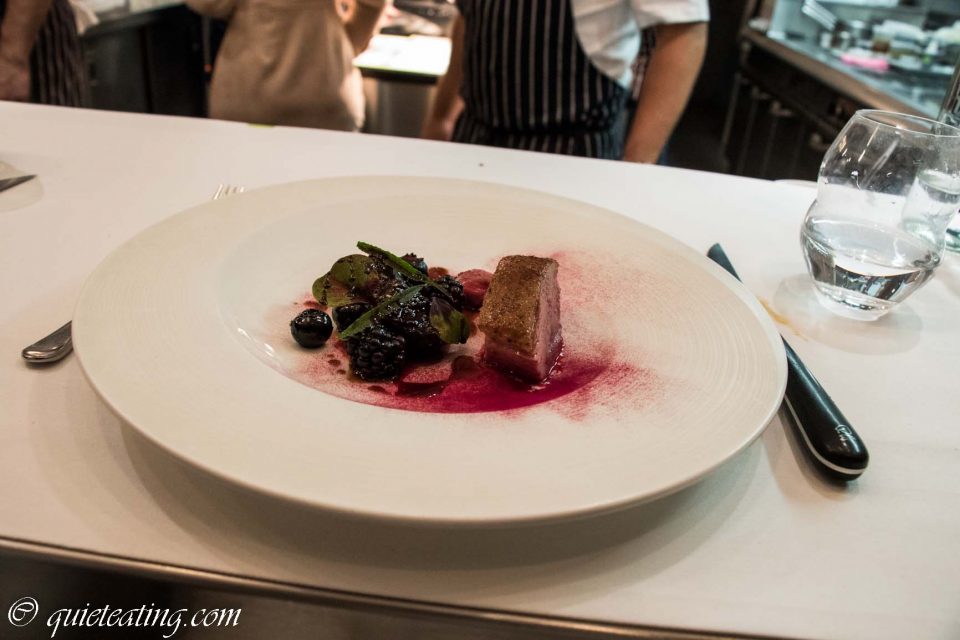 Duck.  The cooking process for this was particularly interesting.  We saw the duck roasting away in a heavy pot and the chef casually turning it with his bare hands.  As if he didn't feel the heat. Maybe it's because of his resilience built up in dealing with his mother in law. This was good but strangely enough, seemed slightly undercooked.  The combination with the tart berries, leafy vegetables and meaty duck was not bad. Although even with my experience and love of eating raw things (salmon, tuna and chicken), I think it could have done with a little more time under the fire. Good but probably the weakest of the dishes.
Honey.  Ready to be mixed into the buratta.  The chef had to carefully peel back the wax layer on top.  With a hint of artistry, showing how fresh the ingredients were.  I wonder if he had to brave the stinging hordes to harvest this from an angry bee's nest.
Burrata.  Soft, creamy and sweet with a decadent hint (actually more than that) of truffles and honey, this was sublime.
Beetroot.  An interesting dessert. Sweeter than I had expected as I usually would associate beetroot as a savory ingredient. A refreshing interlude preparing us for the next two desserts.
Raspberry.  Note the many colours blending together.  Tart, creamy, sweet and tangy all combined together to become greater than the sum of their parts.  Branded with a hot piece of coal, it was a professional delight.
Meadowsweet.  Another delicate herb foraged from the backyard, I read that it is a herb to help settle the stomach and aid with digestion.  Which, given the volume of foodstuff I had been treated to, I could definitely do with a bit of help. If all such digestive remedies were so good, I might be tempted to have a bit too much from the chemist.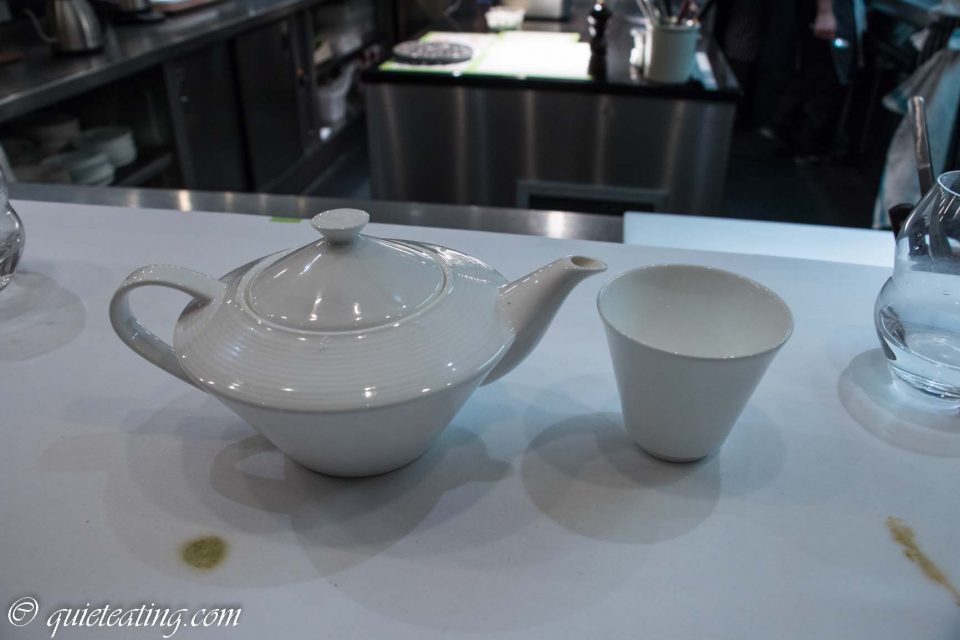 Fig and honey.  Delicate, cleansing and a great way to taper down.  A nice touch was that the waiter plucked and prepared the leaves right in front of us. These days of frozen food turning up in some "professional" kitchens, you just have to be careful.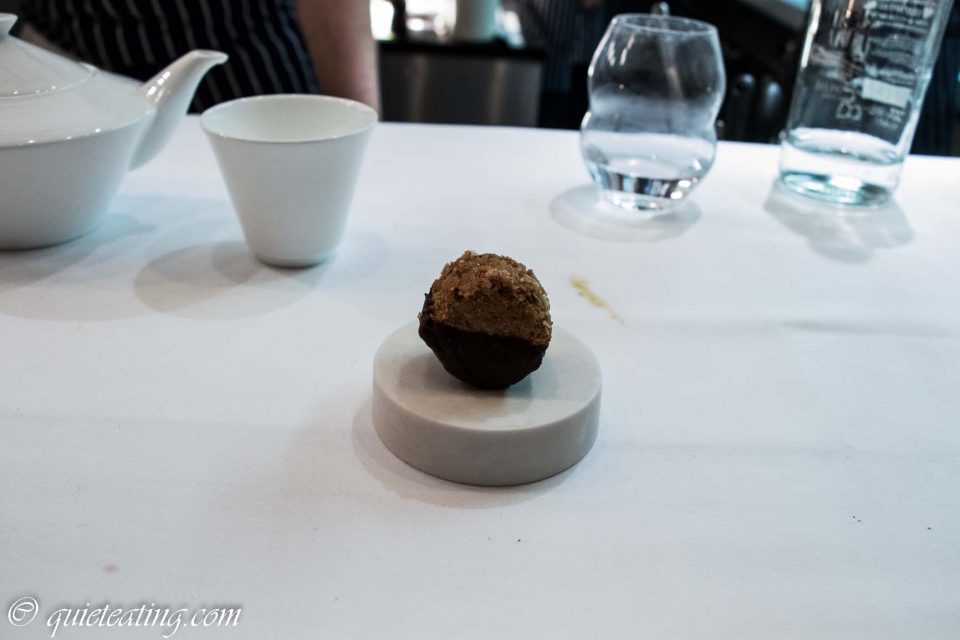 Caramel.  Think chocolate, biscuit and ice cream encased in caramel.  A firm top, a deep cocoa bottom and a surprise inside, one of the best ways to end.  Definitely the right way to leave a sweet taste in the mouth.
This was simply one of the best meals I have ever eaten.  I could use hyperbole here but as you might know, I do hate overused syntax.  So, instead, to make things interesting, I will talk about the negatives at the end of this sublime meal. That is whatever I eat next is no doubt likely to pale in comparison.  So as I left the restaurant to return to reality, I soon began to feel a hint of dread.  That to satisfy the law of averages, I am surely due some comically bad culinary experiences soon.  Yet, I remind myself now before facing such terrifying realities, my solace will be if that happens, I guess I'll just have to come back to eat at the Kitchen Table.
A quiet eating 9.5/10.
Dinner (16 courses) was GBP 140 excluding drinks and service.
70 Charlotte Street
London W1T 4QG
---
---