Tetsuya's Restaurant, Sydney
Having traveled to the ends of the earth – ok, that is a little unfair on Australia, New Zealand is a little further away from London – it seemed that I left some of my usual fastidious self behind in the northern hemisphere. As you will note from the below, I am missing photos of some of the food because simply put, I was too hungry, too tired, or simply couldn't be bothered. Sometimes all of these applied at the same time with the anticipated result.
When we asked friends and relatives what was one of the best places to eat in Sydney, they all seemed to resoundingly point their way to Tetsuya's. So this is how on our third day in Sydney, still suffering from the fog of jet lag, we found ourselves at this venerable establishment. Well known as a place to pop the question. No such excitement for me as I was visiting with the wife.
The place holding where my stomach began to churn wildly in desperate need of some sustenance.
Sour dough.
Truffle ricotta butter.
The bread was pleasant enough. Given that I was more than ten thousand of miles away from home, you have to forgive me if I glibly use that overused phrase. It was nothing to write home about.
Which is much less than the seafood dishes that were to follow but we were left without photographic evidence on account of my ravenous hunger.
Scampi tail with vanilla and lemon zest.
Delicious and raw, with a sharp and pleasant tang. My only complaint was that these were so small so that they were gone too soon.
King fish tartar with nori cracker and creme fresh.
Another example of how raw food can be oh, so good. Or at least interesting. The fish was so fresh that its flesh almost seemed to bounce, so recently did it seem to have been separated from its host. Delectable.
Confit salmon with kombu apple roe. Here was an unusual take. Confit salmon. It seemed almost smoked in texture. It managed to avoid the heady flavour or too much seasoning yet be cooked just right. A particularly excellent dish.
Mixed leaf salad. Not really that much to talk about here. Ok, but nothing to shout about.
No photo here again as I was otherwise distracted.
Bass garoupa with cabbage and black garlic. This is where things started to go downhill a bit, or perhaps I should say downstream. Garoupa, is particularly prone to being overcooked. As was the case here. The black garlic was not enough to lift it up.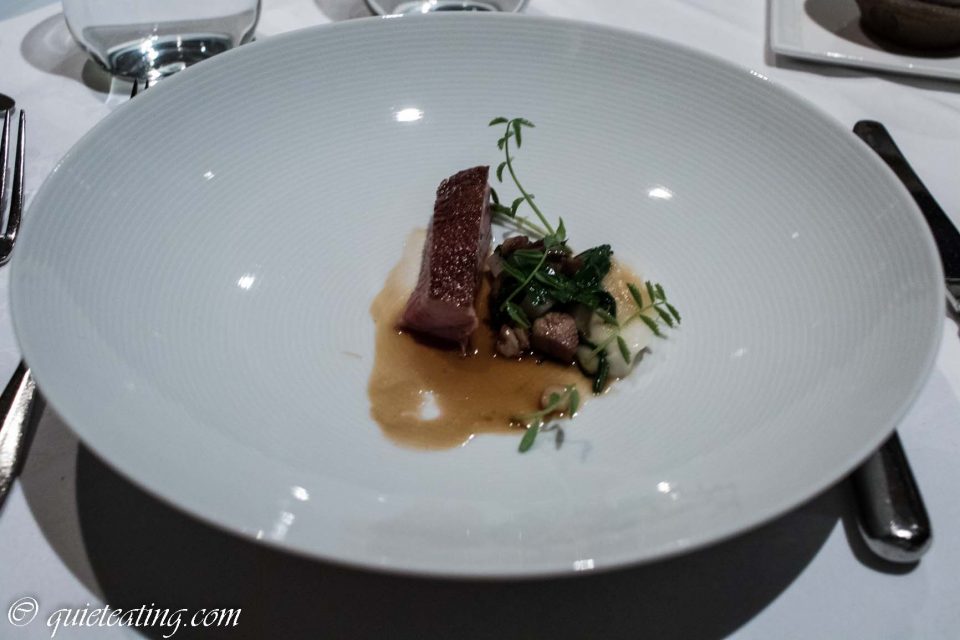 Duck with turnip cream and Jerusalem artichoke. Rather insipid. Although presented carefully, the taste did not live up to the appearance. It was just rather bland.
So bland indeed that my excuse for missing another photo was that I was starved for taste. So I attacked the next dish with particular gusto.
Wagyu beef scotch with kale and mushrooms.
Although I was to be disappointed. The beef was unfortunately rather overcooked, chewy and surprisingly, lacking in taste. Something I had not expected from wagyu. Now, here I think it might be helpful to talk about what "wagyu" means. It means Japanese beef. That's it. No mythical type of breed of cow, not some scared manna from the heavens but just a cow that grew up in the far east.
Caramelised quince with saffron ice cream and mint. Saffron ice cream was an interesting touch. Clean with a subtle tart hint. Yet, this was a little bit too late to rescue the meal.
Layered chocolate cake. A rich chocolate tart to end. Probably the best of the cooked food. Kind of ironic that the dessert outshone many of the main events.
So, having tried one of the pinnacles of Sydney cooking, I was sadly disappointed. Although the seafood was for the most part, inspired, not insipid, it seemed that too many of the other dishes let things down. I guess I should take my thanks for the small pleasures in life. At least it's 10,000 miles away.
A quiet eating 6.5/10.
Dinner (10 courses) was AUS230 excluding service and drinks.
529 Kent St,
Sydney NSW 2000, Australia
---
---