Vincent Rooms, Brasserie
I haven't intentionally been to a cooking school restaurant before.  I have unintentionally ended up at restaurants where the cooking style or resulting quality needed substantial room for improvement.  When it is an open kitchen, it can be amusing and enjoyable as was the case at Palomar where I was treated to quite a show.  The senior chef was seen screaming at a junior chef that "you killed it, you killed it!" culminating in him slapping the offending piece of fish on the floor.  Thankfully in that case the offending food was redone before it hit the customer's plate.  I would hope that in this case the same courtesy would be extended.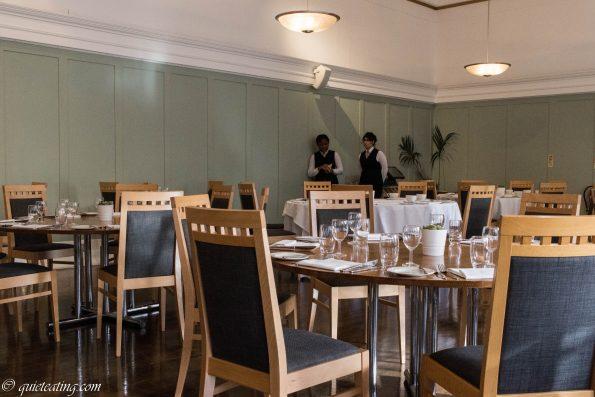 The dining room, meant for much more than just us two.  Idling staff pictured hanging out in the back at the start of the lunch service.  However, we were not to have any direct experience of these students.
Instead, when we arrived, we were served by a very nervous young lady.  My dining companion and I do not view ourselves as appearing outwardly threatening.  Although when stirred to anger, many caustic remarks do spew forth from me.  However, I reserve such outbursts to where there are personal attacks made against me and even then I try to let it slide.
So this student should have calmed down a bit when waiting on us.  If I was in a particularly cruel mood, I might have said "BOO!" very loudly just to see the response.  Yet I did not want to traumatize this young lady, she has probably had enough from others.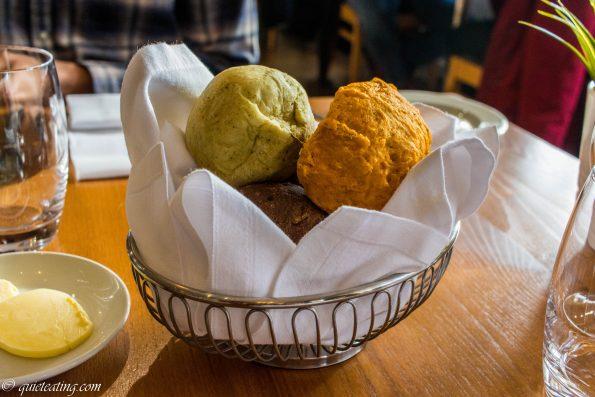 On arrival, we were presented with a delightful assortment of tomato, whole grain, white and lentil breads.  The breads were not bad, even if they could have been fluffier.  Quality control on this side was decent in this case as I know from personal experience that bread can be a rather temperamental foodstuff to get right.
Bouillabaisse, rouille.  It had lots of seafood in it.  One lovely large prawn, a few pieces of fish, a large piece of fried bread.  In particular I applaud the generous serving of seafood in these cost-cutting days.  What I do not applaud is the generous serving of sugar.  It meant that we had a rather sweet fish soup, edible but a bit weird.  Then again, I cannot complain too much as this restaurant does not hide the fact that they are a place where "work in progress" is constant.
Roast partridge, spiced quince, potato rosti, sprout tops, Albufeira sauce.  The partridge was over-zealously cooked.  This enthusiastic action resulted in it being charred and dry.  The attempt to cheer it up with a potato rosti (singular) and sprout top failed badly for reasons of there simply not being enough of either.  Although Brexit has made everyone poorer, I don't think there is a potato famine on at the moment so it would be nice to have at least one whole potato worth of potato.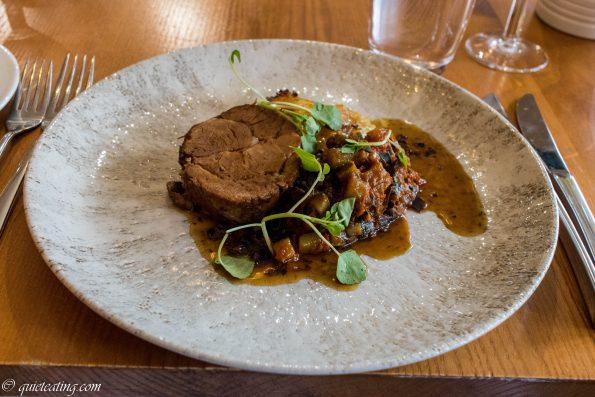 Lamb shoulder, boulangere potato, ratatouille, black olive jus.  Tasteless, overcooked and dry lamb.  In the ordering phase, I was asked several times how I would like it done.  After I was asked for the 3rd time, I was tempted to yell, MEDIUM PLEASE as that message seemed to be constantly lost in communication. Sadly, it didn't even come out as requested as this was well done and as an added bonus all flavour had been cooked out.  The ratatouille was decent, if a bit portion challenged.  The boulangere potato was easily lost in its minuscule nature and somewhat jumbled up in flavour on account of its small size.
However, lest I be accused of being mean, I did make allowances for eating at a cookery school.  Although if you are willing to put yourself in the hands of the lottery, it would be nicer if the pricing was a bit keener as here it was regular high street pricing.  I know that this is not Le Cordon Bleu but a bit of quality control might be helpful.  In conclusion, I sincerely hope that this is the start of the term for these students as I can see significant room to grow.
A quiet eating 5/10.
Lunch (2 courses) was GBP 21 excluding drinks and service.
Westminster Kingsway College
76 Vincent Square
London SW1P 2PD
---
---