Coal Rooms
Seems like uses of the word "Coal" with a description of the space, be it "Rooms", "Office" or "Shed", is a trend now.
I find it interesting that as memory has faded, people forget that working in a coal mine was far from preferable.  It was dirty, dark and lowered your life expectancy.  Now it is seen as something to be sought out as trendy.
Perhaps in a sign of my desperation to find something reasonably priced in this high inflation environment (my milk from Tesco is 65% more expensive…) when there was a 50% off deal I jumped at it.  My reasoning being although it might not be the best show in town, at 50% off, it would have to fall quite flat to not be value for money.
I was proved wrong.
What trendy is not is having to wait more than an hour in between courses.  Our 4 course dinner was to take more than 2 hours, much of it spent twiddling our thumbs.  I was lucky that one of our party was particularly chatty.
Arancini?  Lamb ball?  With pesto sauce.  I was not so sure what exactly this was but it was edible.  Helped by the method of preparation, deep frying helps to cover a multitude of sins.  So ended up something just better than you might find from the local fry up joint.
Delica pumpkin, Damson plum, sweet and sour smoked pork belly.  This was extremely strange.  Looked like they have smeared coal over a pumpkin and then topped it off with some salsa-like sauce.  Not a fan.  An amalgamation of flavours that didn't really seem to sit together that well.  Sadly, I can't even say that I think that the constituents might have tasted ok by themselves, so failed on all accounts.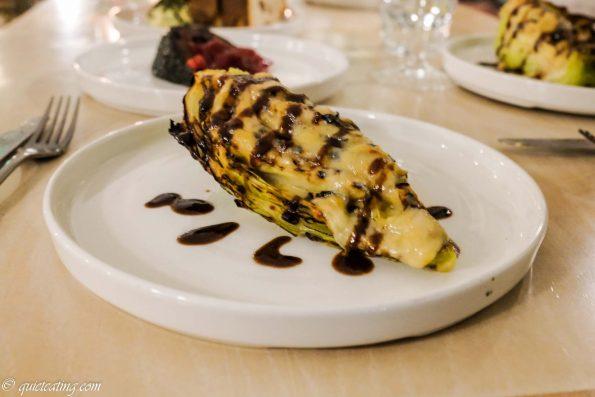 Charred hispi cabbage and stout black garlic molasses.  This was big.  Sadly, it was also rather boring as the garlic molasses that oozed out when you cut in was somewhat lacklustre in taste.  It looked good but failed to deliver.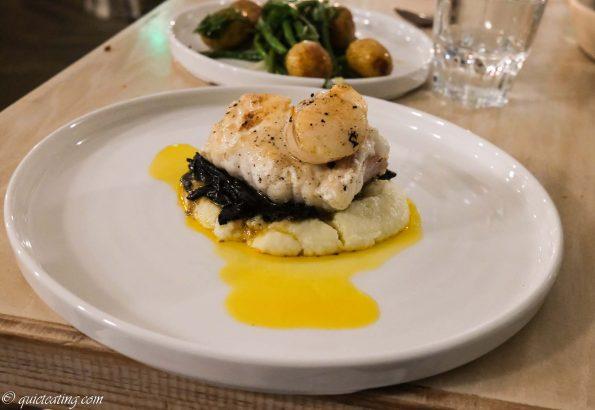 Monkfish, cauliflower, scallop and bone marrow trumpets.  Cauliflower mash was acceptable.  Trumpets alright.  Fish and scallop were rubbery and badly overcooked.  This could have been so much more, all they had to do was watch the timer…
With barbequed bobby beans, lemon and garlic vinaigrette and dill.  The potatoes weren't on the menu but best not look a gift horse in its mouth as these were actually rather nice.  Perhaps on account that you couldn't really mess them up that much.
Ceps, chanterelles, smoked celeriac, truffle cured egg yolk, mushroom broth and pecorino.  It sounded great on paper.  In person, it failed on many accounts.  No comparison to recent British prime ministers intended.  With generous chunks of celeriac, it seemed that the kitchen had failed to take into account that this is a rather bland root vegetable.  I was lured by the description of the truffle-cured egg yolk, however I couldn't locate that.
Caramelised pear tart, burnt brown butter crumble, creme fraiche and raspberry sorbet.  This dish led to much outrage on my behalf.  As a pear tart connoisseur, having made more than 10 myself, this was far and away one of the most insipid specimens I had tried, the pear was tasteless, the pastry somewhat spongy and bland.  The creme fraiche was nice though.
In addition to the rather lacklustre show put on by the food, timing of these dishes was also a problem.  When queried about the excessive wait time between courses, the response was that there was a group booking which was taking up most of the kitchen's time.  In which case, I was tempted to ask if that was the case whether I would get a discount as the service just wasn't there.  Then again, we came mainly because they were offering 50% off anyway.  So the kindest thing I could say is that we got what we paid for.
A quiet eating 5/10.
Dinner (4 courses) was GBP25 (special offer) but is normally GBP49 excluding drinks and service.
11a Station Way
Peckham, London, Se15 4RX
---
---