Pure Indian Cooking
Purity is an interesting concept in food. Some people believe that one should not deviate from tradition as the best dishes are those perfected over hundreds of years. Then, there are those who believe that tradition is just a starting point for inspiration. This debate can often be quite heated, protracted and sometime amusing.  It seems like everyone has their own two cents to add to the discussion. So, with a name like Pure, one would have thought that this place would be solely, genuinely traditional. Surprisingly, it isn't – the food is Indian still but with modern twists.  It goes to show when innovation goes well, that things can turn out exemplary.  Sometimes, not so though…  Thankfully this was to be one of the former, not latter.
Located on the north side of Putney Bridge, Pure is run by a husband and wife team with a focus on using 'fresh ingredients and quality produce'. The kitchen is headed up by the female of the pair, something relatively unusual for Indian restaurants.  Another break from usual form.  Her CV reads as an envious list of prestigious kitchens, admirable restaurants and include spells in several Michelin starred establishments.  With such successes under her belt, she had the bright idea of setting up a new place with with her husband.  A slightly risky affair but it seems to have paid off.
Mini pappadoms with two different chutneys – mango and tomato were served as snack to whet the appetite for what was to come. A novel touch were the accompanying crudites – these added a welcome freshness (and healthiness). Raw vegetables served with chutneys are not something often found in an Indian restaurant but worked excellently here.  Clean tastes combining with heavier sweet and spicy flavours.
Unlike my usual food journeys, the standout dish of the evening arrived fairly early on.  It was so good that it coloured the entire evening.  In a pleasant way if you were wondering.  The colocasia leaves had possibly been roasted providing a slightly crunchy texture that went with the juicy sweetness of the pomegranates. This dish was a first for me.  When we asked the staff about what this was, our answer was rather straight to the point.  They made it up!  Well, if that's the case, then keep it coming…
The rest of the starters, although good in their own rights, dwindled in comparison to the heights of the patra chaat.
Fresh prawns served with a fairly spicy pepper dressing with salad to mitigate some of the bite.  A good dish but we were still suffering from thoughts of what had gone before.
I could say that it is hard to go wrong with fried chicken but it seems that there is always someone willing to prove me wrong.  This was good with the spiced yogurt marinade enhancing the flavour of this dish.  If more fried chicken was like this, I would be a larger man.
For the mains we were again subject to an inspiring and stunning example of what surprises Indian food has in store.
The meat in this dry curry was tender and pleasantly meaty. Interestingly, the lamb did not have a particularly lamb-y taste at all – if anything, we could have mistaken it for beef – something quite useful to know if one is less keen on lamb because of his gaminess.
In contrast to the lamb curry, the chicken curry came in a rich, coconut based sauce. The meat was moist and tender, avoiding the dryness that sometimes occurs when breast meat is used. Often it is my experience that people seem to either be over zealous in their treatment of chicken breast meat or simply cannot care that much about the leanest choice of meat.  This thankfully did not fall to either of these evils.  It goes someway to restoring my faith in this most revered cut of meat in the Western world.
The aubergine side dish that came with the meat mains was a surprise. It seems that often for Indian vegetable dishes, they tend to end up being overpowered by the spicing. When things might not seem so immediately interesting, it seems tempting to douse things in seasonings in the hopes that it would mask the insipid nature of the dish.  Not so here – the aubergine had retained its taste and texture, with just the right amount of herbs to enhance its flavour without overpowering its core.

Naan
The rice and bread served as accompaniments matched the quality of the rest of the food and were prepared with care rather than becoming a tired afterthought to please the masses.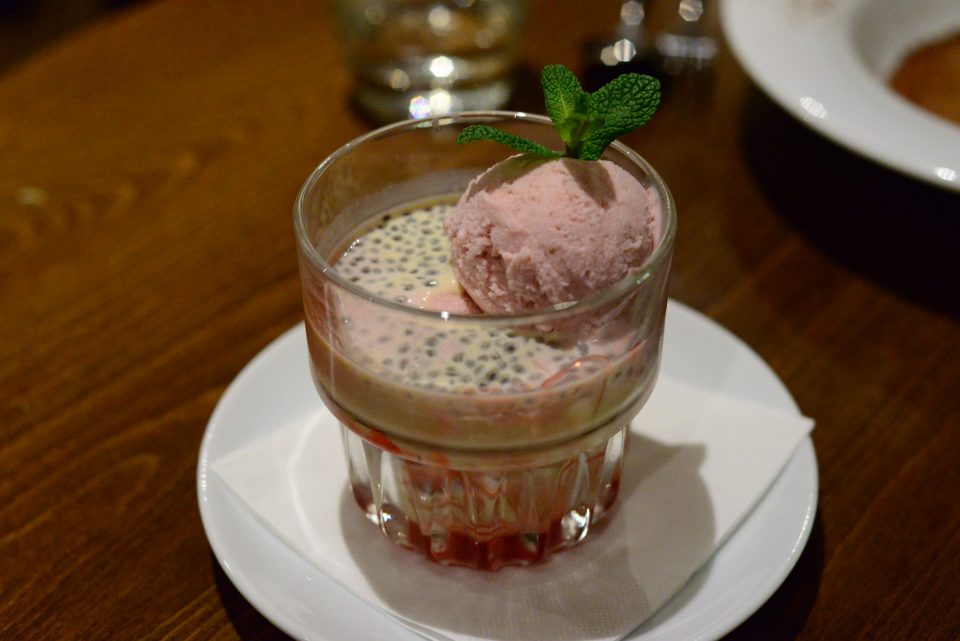 A classic Indian dessert. Noodle strands mixed in with basil seeds, ice cream and condensed milk – this was very sweet. Possibly the weakest link of the evening, this tasted pretty much as described, with the sum of its parts not coming up to more than the whole.  It would have been decent in any other restaurant but paled in the company of the other dishes we had.  I guess that's the problem with being excellent.
This was a more Western dessert with an Indian twist. A rich chocolate mousse with spices. Good if you like the taste of cardamom, possibly not so good if you have cardamom issues. The chocolate itself was very satisfying though if you are not such a fan.  A good way to end.
Overall, the quality and freshness of the ingredients definitely shone through in the cooking. The Putney Bridge/Fulham locals are fortunate indeed to have this in their neighbourhood, as I mention before, if this was near me, I would be a larger man. And some of the more unique dishes that they serve make it worth trekking to even if you live further afield in London.  As for whether this was an authentic, classic, natural or unadulterated Indian meal, you will just have to come and see yourself.  You might even see me hiding in the corner asking for some more patra chaat.
A quiet eating 8/10.
We were invited to review.  Estimated cost (3 courses) is GBP25 excluding service and drinks.
PURE Indian Cooking
67 Fulham High Street
SW6 3JJ
---
---