Ozone Coffee
I'm a suspicious man.
It has been a while since I've had an exciting experience in a restaurant.  So I guess I should have been on guard today.  The longer that nothing exciting happens to me, the higher the chance that it will strike.  Especially as I have established that from my life history, I tend to be a more unlucky person then most.  Just ask anyone who knows me well or pays attention to my blog.
What better place than to have it in a coffee shop.  It had a really cracking vibe, full of so much energy.  I've had dismal service at a coffee shop before but this wasn't as bad.  Instead of attitude, I was subject to something closer to indifference.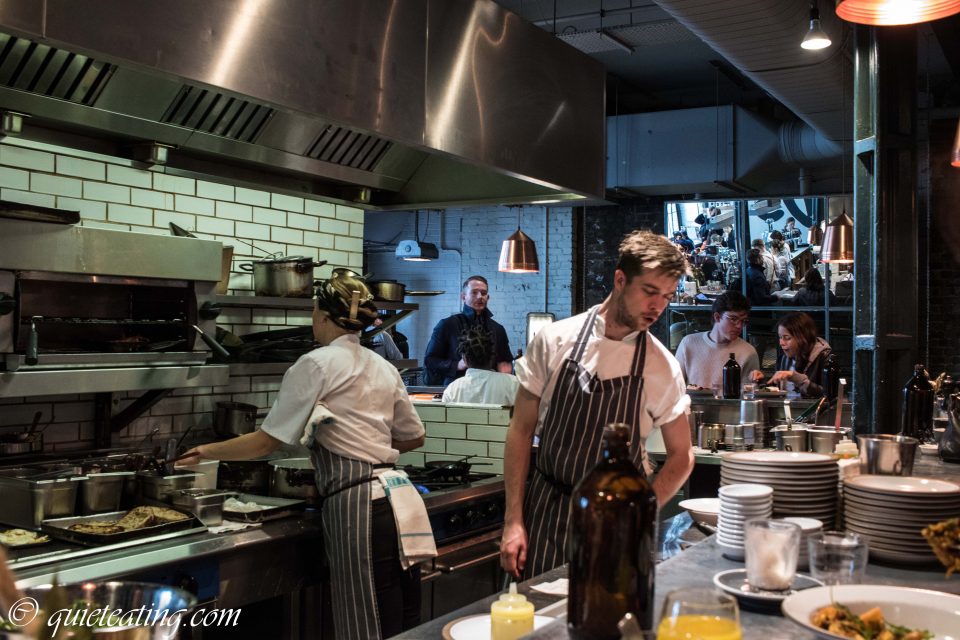 Perched on the side of the kitchen, the meal started off well.  I even had free entertainment as the chefs were at work.  The beginning of the meal started with a few coffees for which the venue is famous for.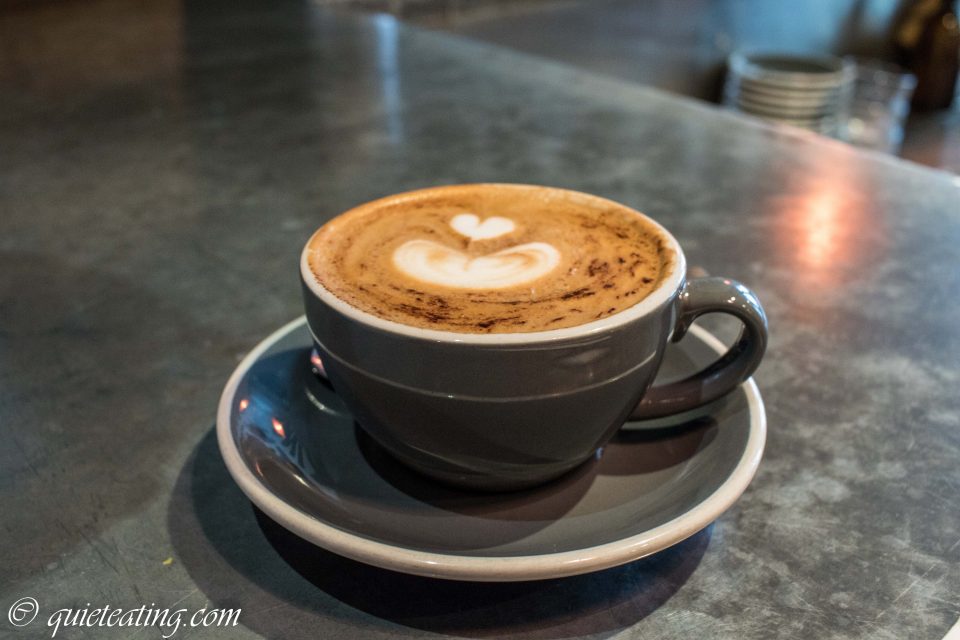 Cappuccino.
Latte.  Both coffees were nicely done although a bit strong.  I would have preferred a little bit more milk flavour in both but they were certainly not bad.  Indeed, compared with what was to come, they were positively specimens of exemplary dishes/cups/edible items.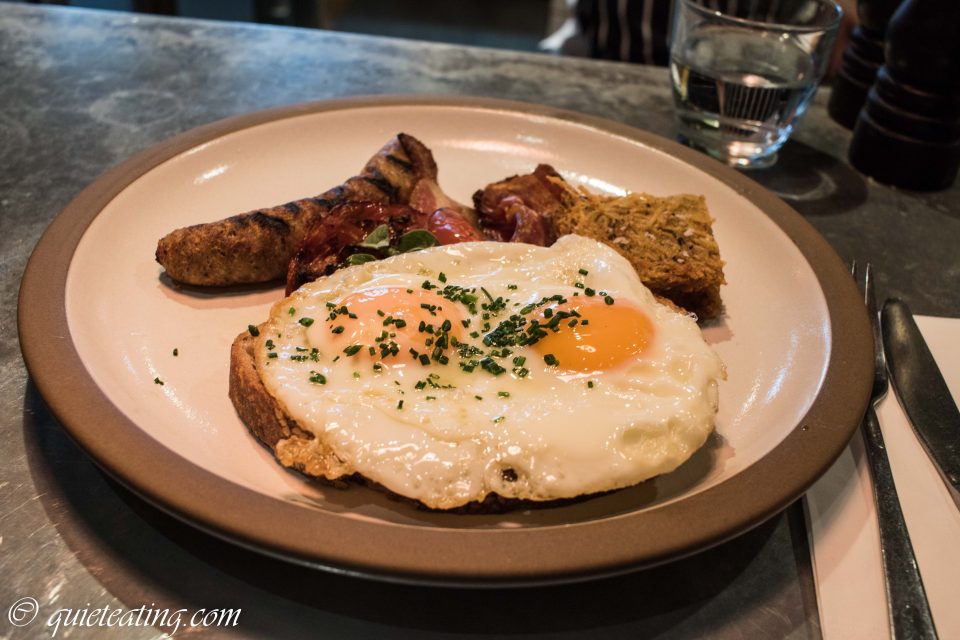 Big brekkie.  Fried eggs on sourdough with dry cured bacon, chewy roast tomatoes, rare breed pork, sausage and hash brown. The eggs were decent, the sourdough good, the bacon nice, the sausage delicious but it was the hash brown which stood out.  Rarely have I had one which tastes as if you are taking a bite out of a big juicy potato.  If was almost as if the ideal potato was shredded and deep fried to become what hash browns dream of being.  Yet, I am missing out something special.  Their secret ingredient.
Human hair.
Not my hair.  I don't wear it long or blond.  It lay limply across my eggs, lying in almost translucent camouflage to snare (or choke) an unsuspecting diner.  Good thing I noticed before I had even taken a bite.  You never know where these things have been.  You won't see it in my picture above as this was of the replacement dish as the marred dish disappeared so quickly that I did not get a chance to snap a photo.
In this case, the pick up service was particularity speedy.  Upon been alerted, the waitress quickly whisked away the contaminated dish with a softly murmured apology.  It was a bit too early in the day to make a scene so I let the lack of remorse pass by.  I mistakenly thought that they would be on their best behaviour now.  However, I was soon to find out that their quick pace only displayed when it was to destroy the evidence, something that kids (and some adults) are apt to do.
I then had the misfortune to spend the next 10 minutes waiting for my food to re-appear.  As I waited for it to be served, I did speculate with my dining companion on where the hair had come from.  Couldn't be the kitchen as the chefs within eyeshot tended to either be brunettes or have short hair.  Perhaps it could have come from one of the clientele?  Or perhaps it came through the vents from a mysterious donor.
As my dish was quite a while coming, I did wonder if they were adding something "special" to my to be re-delivered dish. As my stomach was growling, I had some of my companion's food.  No hair there thankfully.
Kaffir lime, pancake with Couch End honey, rhubarb, labneh and dark chocolate.  This was alright, if not quite the best I've had in London. From repeated visits to Where the Pancakes Are, I can attest to that place doing the best ones I have ever had in London.
It was after we had both finished the pancake that my fry up arrived as well as a clue to the mystery.  The lady who delivered my dish had long blond hair.  Not to point any fingers here but she did also deliver the first one.  In any case, I tried mightily to put the incident behind me.  I thought that perhaps some banana bread might do just the thing.
Banana bread with crunchy nut butter and jam.  The bread was not bad, the jam alright.  Yet it was the nut butter which was stand out.  As I like to think of myself as an experienced peanut butter fan, at one point going through one jar a week, I would like to think that I can tell what is good and not.  This has to rank up there with some of the best.  I think it was made of almond as it had a lighter and more delicate taste than peanut butter.  Best of all, no hair!
After that, my companion and I thought to leave before we tempted fate too much by ordering another dish.  We wouldn't want any surprises there…
Extinction rebellion.  As I was heading home after this meal, I came along a parade of people raising the profile of the danger of pollution to our planet.  How if things continue to proceed as they do around the world, humans might end up being the next addition to the extinct species list.
As my friends who like to eat constantly like to point out to me, my eating escapades do provide much amusement so I should keep up the good work.  Especially when exciting things happen to me.  As they laughed at me, I would counter by saying that it makes writing about interesting things easy.  Sometimes an apt idea seems to pedal its way almost straight to my plate, almost as if it was pleading to be used.  I guess if I wasn't careful with my lunch, the hair might have lead to a much more immediate extinction event.  Mine.
A quiet eating 6/10.
Lunch (a main and a coffee) was GBP15 per person excluding service.
The restaurant did apologise for their lack of apology when I asked about what had happened.  Nothing else though.

11 Leonard St, Old Street,
London EC2A 4AQ
---
---