Humble Chicken
Humble bragging.
This is a term that I find hilarious.
Taking these terms in isolation, being humble is not to brag.  To brag is not to be humble.  These contradictory terms lead to the creation of, particularly uproarious statements.
I could only hope that Humble Chicken would provide the same entertainment without such cringe-worthy reactions.
Placing.  The last time I had seen pottery like this was in Japan.  They looked to be trying to create a more rustic and laid back environment, particularly suitable to (a) Soho and (b) yakitori as it was to be enjoyed with alcoholic beverages.  Somewhere to kick back and enjoy the day.
In particular, an interesting table ornament was the chopstick holders, chickens all ready to go.
While we were waiting for the various bits and pieces of chicken to arrive, some cabbage arrived to cleanse the palate.  Resting in a light ponzu sauce, the cabbage was slightly sweet yet would help to nullify lingering tastes on the palate.
Mackerel, cured mackerel, tomato ponzu and seaweed.  First to appear was some cured saba which brought me back to nostalgia from my trips to Okinawa.  Those were simpler days.  With a good balance of flavours and presented carefully, these were a delight showcasing this meaty fish well.
Ishigaki, an island in Okinawa, sunset.  In simpler days.
Miso Foie Gras Tart, apple, smoked daikon and ginger pecan.  An unusual dish, it could have come across as cloyingly sweet.  Instead, it was full with a touch of sweetness a decent balance of flavours.  Yet it wasn't that interesting for the cost, so worth having once but probably not a repeat.
Tuna, fermented white asparagus and shoyu koji.  This seemed something more akin to fusion, as not something you would typically find in a yakitori joint.  The tuna was sliced too thin to give you more than a fleeting taste.  Instead, a sour vinegar taste overshadowed the fish.  Look pretty, delivered rather less.
Oyster, smoked garlic and ponzu lemon.  Succulent and juicy, these were moist although nothing special.  I was missing the coal flavoured flavour as they were grilled over hot coals.  I would say sad panda but perhaps more aptly should say sad mollusc.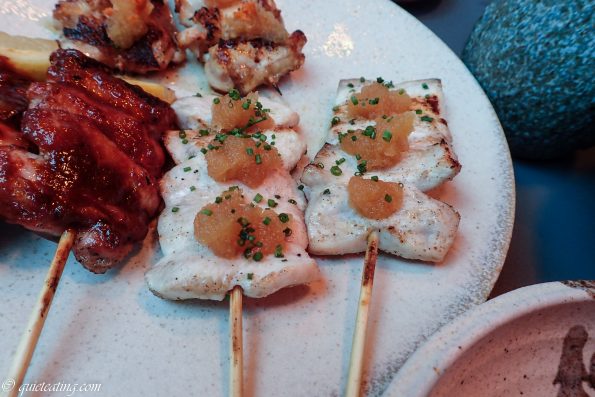 Breast, ponzu oroshi and chives.  This was part of the omakase set and this is where I regret leaving it up to the chef.  In Japan I would more than happily agree to allowing the staff pick what I was going to eat as they took particular pride in serving the tastiest and most satisfying foods.  They might have done this here but unfortunately, their tastes did not align with mine.  The breast was sadly kind of tasteless and the ponzu and chives were far too light to lift this up.  A longer or stronger fire might have added more interest to this dish.
Breast, Japanese plum and shiso.  Another sad chicken breast which is never the best of chicken cuts to use to titillate the palate.
Egg yolk.
Tsukune, chicken meatball.  To be dipped in the egg yolk.  Fulsome taste with the egg and sauce, like most of the grilled foodstuffs on offer it could have done with a bit more scorching on the grill.
Achilles, charcoal fat and citrus gosho.  With this description, I had to try it.  I didn't know that chicken had Achilles to eat, is that the weak point in their otherwise impregnable armour.  Neither did I know what charcoal fat was, I thought that charcoal was rather inorganic so those two things wouldn't necessarily go together.  As for the citrus gosho, I thought that this was to normally be made with chillis but I didn't really taste the heat here.  So wasn't really that good.
Oyster, fermented persimmon, citrius kosho and burnt fat.  With a little extra of ikura and a sauce, this was a novel dish I hadn't tried before.  Although as oyster lovers will let you know, please don't drown a good oyster in this way, as you could end up eating any random food.  Which is exactly what happened.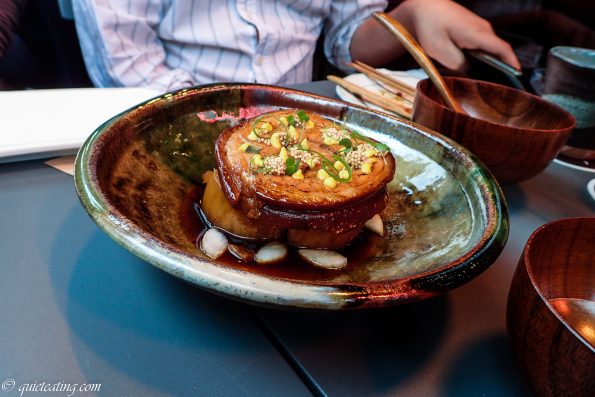 Hakata pork belly, daikon, egg yolk and everything mustard.  Couldn't really taste the mustard or the egg yolk.  Although the underlying dashi sauce was delicious.  The pork was decent but not outstanding.  "A" for presentation though.
Crispy chicken leg, dashi chicken, cured vegetables, ginger and citrus.
Destroyed.  Starting as an interesting parcel, it seemed that chicken was cooked, shredded then encased in pastry.  Or described in a more morbid way, you would refer to it as butchered, embalmed and then excavated.  When broken out, its moist self mixed with rice keeping its structural integrity to show something which was rather good.  The crunchy coffin, juicy chicken with finely chopped vegetables played a symphony in my mouth.
Mixed offal, tare and sansho pepper.  The liver was a bit too squishy but otherwise ok.  The heart was more bouncy but not enough to have me jumping for joy as I have known meats that are far more animated.  The tare, a thick sweet soya sauce was not really enough to overcome the naturally strong taste of the offal.
Wing, shichimi and lemon.  Shichimi is a chilli based spice mixture.  While the wings were not bad, I couldn't really taste any real heat and in a theme for this restaurant, the smoky wood flavour seemed to be missing.
Cartilage, kosho ponzu and shichimi.  Although it was drowned in sauce like it was supposed to be, the problem was the sauce wasn't that interesting.  Again, an example of being a bit too bland.
I must applaud the Humble Chicken for trying to break into the London market with yakitori as that was a road littered with many failed attempts.  Perhaps they are trying to overcome this by adapting this quintessential Japanese casual food to a Western market.  Sadly, the consequence of this business decision is that it tasted a bit dumbed down.
The food could have benefited from smokier, deeper flavours for food which is cooked over a fire.  While that may the correct decision in many spheres of today's life where we suffer with information overload, for picky eaters like me looking for something authentic as one of my fellow diners who is far more eloquent than me, it didn't really "hit the spot".  Service was rather good for most of the meal with attentive serving staff ensuring that we never lacked for quantity in food or drink.  Quality was a different manner though.
They have named their place aptly.  As if instead it was called "earth shattering, world smashing chicken", that would be a lie.  Instead, aiming lower and being called a "humble chicken" is a safer proposition, especially if you miss the mark.  Gives less ammunition for pesky food bloggers and less chance for ridicule.  I'll be back but probably not very soon.
A quiet eating 7/10.
Dinner (starter and main equivalent) was GBP32 excluding drinks and service.
54 Frith Street Soho
London W1D 4SJ
---
---