E Pellicci
There is a lot to be said about receiving banter from the waiters.  It leads to an entertaining meal.
From a two second introduction to customers, there is particular skill in being able to gauge what type of reception would be welcome.  I think again to a particular restaurant that I know which would anticipate a customer's every need without a word.  Even silently changing the placing for a left handed diner to better suit different dexterity.
To have this appear in a neighbourhood fry up is even more impressive given the substantial number of customers that passed through the door during our 30 minute meal.
This is E Pellicci, what looks like a typical greasy spoon in London.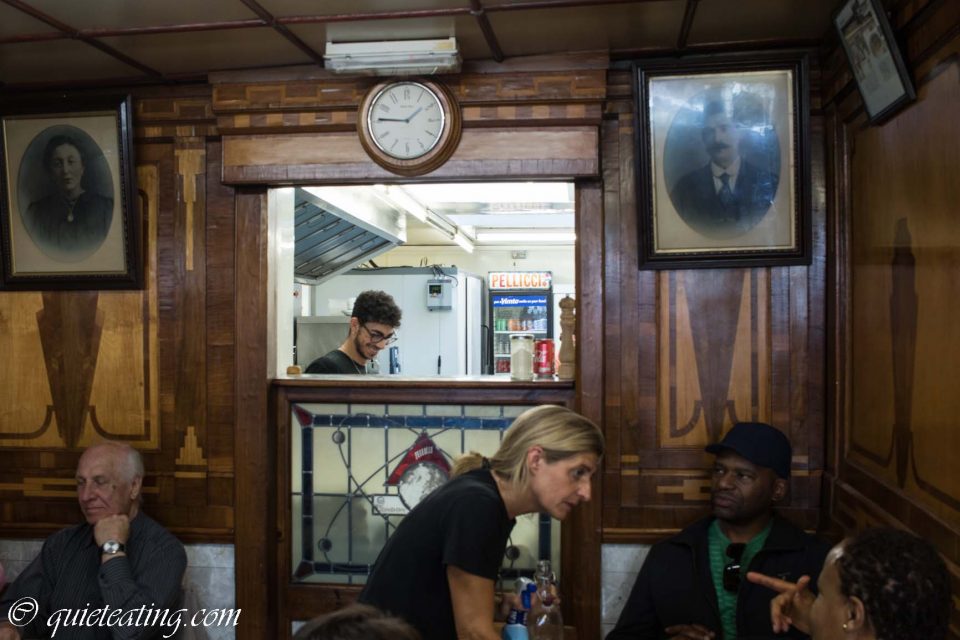 This is the hatch at the back where the food comes from.
The service is anything but ordinary.
The group of three lads that sat on the table next to us were asked what they would like.  One said the steak and kidney pie.  However, the waiter then successfully convinced him that the bacon and chicken version, which had just arrived from the oven, would be better.  So far, fairly ordinary.
To another, who ordered the full English breakfast, the various options were laid out.  Beans or tomatoes?  Chips, baked, fried or mash potatoes?  Toast or fried bread?  When the answer was toast, to my great amusement, this waiter starting calling his customer names.  "Don't be a girly man.  Choose right.  Choose fried bread."  Look at that guy over there *pointed finger at me*.  He has fried bread.  He is a real man!  Under such torrent of abuse, the bemused customer changed his mind.  With the benefit of hindsight, I can say that was absolutely the right choice to make, ego boosting words aside.
Home made steak pie.  This was not bad, if perhaps it could have done with a bit more spice.  Maybe that's why there were so many condiments on the table.  To allow customers to tailor their food as they wished.  More salty, spicy, sourish or peppery.  All the ingredients were right in front of you and you would not have to get the attention of a waiter who might be trying to avoid your gaze, as in Lurra.
Cumberland sausage, egg, bacon, tomato, mushroom and fried bread.  The bacon was decent, the fried mushrooms particularly tasty, the sausage a meaty delight, the tomatoes juicy and gently seared.  However, it was the fried bread which blew me out of the water.  Think of all the deep fried goodness that you love from tonkatsu, fish and chips, tempura, deep fried chicken, kara age and add it all together.  Then you can have a small glimmer of what this tasted like.
So now I can say I know why such offensive language was used with the other customers.  The waiter was just trying to look out for them in the same way that some waiters who were genuinely looking out for their customer's good time might try and steer them away from "fish of the day".  As that is often something which has been fermenting in the bottom of the freezer drawer.  Perhaps this is a timely reminder that a bit more honesty in the UK might be in order, especially given recent court rulings on political mechanisms.  Perhaps starting at the grassroots would be a good beginning.  In which case, you should go to E Pellicci.
A quiet eating 8/10.
Lunch (1 course) was GBP9 excluding drinks and service.
332 Bethnal Green Rd,
London E2 0AG
---
---