Benihana
Stop playing with your food!  At least that's what my parents used to say when I was small.  I'm now too big for a telling off if I perchance happen to feel a need to shuffle things around on my plate.  In my past, the peas would assume particularly innovative shapes.  The carrots would become an unmatched sculpture.  The spinach, would be transmuted into, well spinach can't really be coaxed into interesting forms… So this is why I was very curious before I entered Benihana.  I had heard many stories of this American-Japanese style of dining but never experienced it myself.
We accordingly had to have a bit of liquid courage before starting this review.
A rather transparent and potent alcoholic beverage.  My companion's stiff drink.  Which was according to her, rather good.
My slightly emasculating raspberry mocktail.  Which according to me, was rather good.
Plate.  I did wonder at its size but the reason for such scale would soon become readily apparent.  Coming back from this digression, it would be apt to explain a bit more about teppenyaki.  This is a Japanese style of cuisine where the chef will cook your dinner in front of you.  In Japan, this is done with economy and a lack of song and dance.  Overseas, I had heard that it was a bit of a spectacle.  But before all that.
Onion soup.  To calm things down a bit.  A light, delicious and soothing broth to prepare my stomach for the adventure and my mind for the fireworks to come.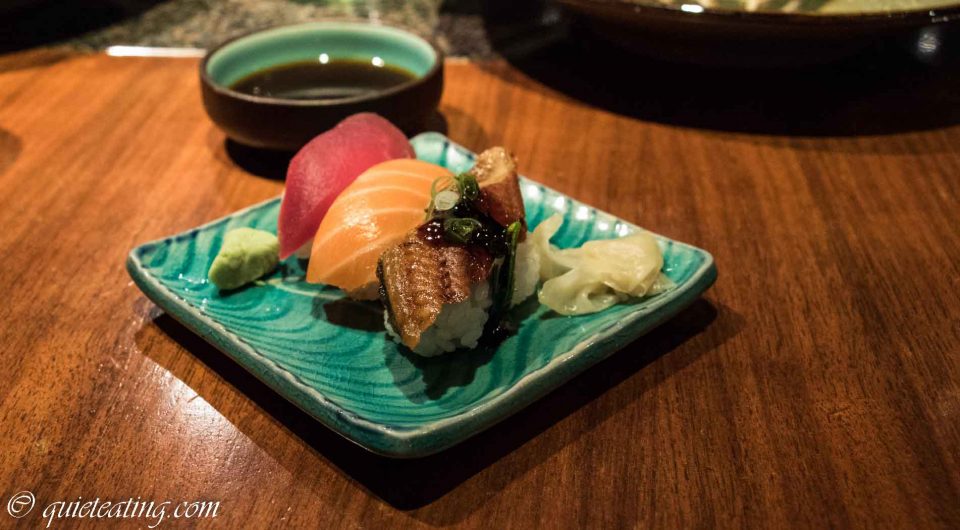 Nigiri sushi.  Tuna, salmon and eel.  From the left to right.  The tuna and salmon were ok.  Not bad but nothing special.  The unagi (roast eel) was something else.  With deep umami unagi flavour, the sweet taste combining with the succulent rice, this was a surprise.  It ranks as one of the best examples that I have had of this in London.  Too bad it was only a slice.
Salad with ginger dressing.  As my parents would say, eat your greens!  Cold vegetables with sesame dressing on top.  If all raw vegetables were like this, I might have listened to that command more often.
At this point, it was when our chef/entertainer showed up and lined up the various props for the show.  Onions, courgettes and prawns.
This is what my eyes zeroed in on, the prawns.  And it was a good thing that I was paying such close attention too as the chef quickly showed us this fancy knife work.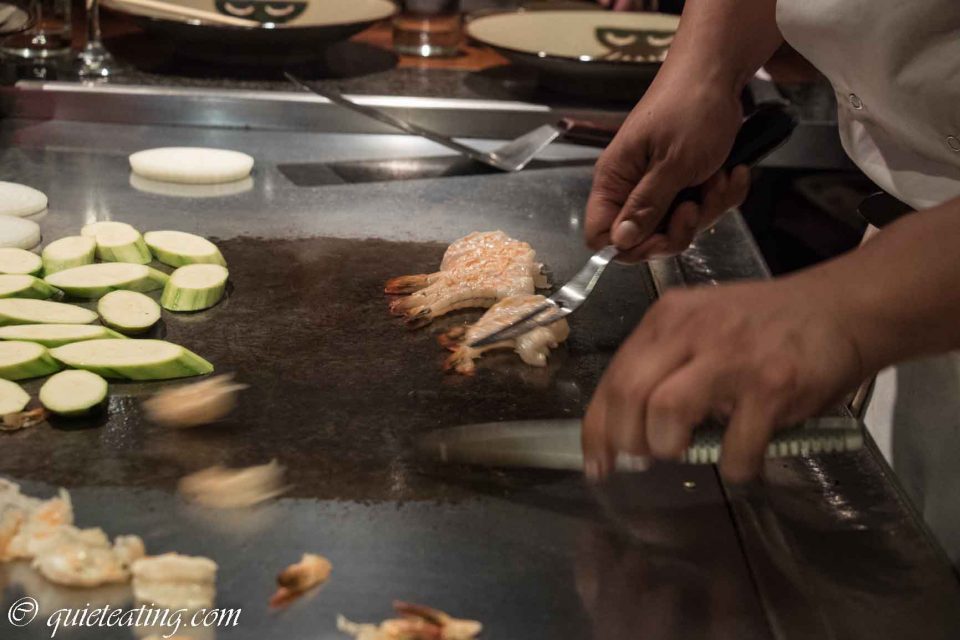 Spinning his prawns around, deftly separating the tails from the meat and flipping the inedible parts not into the bin but backwards into his hat.  A never thought that chef's hat could be such a convenient receptacle for the unwanted and unloved.  Maybe I should take to wearing one of these around the office so I can use it on others, although that would be unlikely to endear me to my colleagues.  Another time then.
Meanwhile, while I was musing so, the chef had carefully constructed an onion ring.  Which he promptly lit up.  I guess instead of playing with food, you could play with fire.  It would definitely be a great conversation starter.  How was your day?  My fireball was particularly luminous today…
So this is how we were provided with a bit of excitement.  I mean this in a positive sense for once.
The other diners round the table definitely enjoyed the show.  So did my companion who clapped her hands in glee.  Yet, we pressed onwards to see whether this spectacle provided anything worth eating.
Prawns.  This series of events was the story of how my prawns were cooked.  Now for the moment of truth.  Were these actually any good or was the performance just smoke and mirrors?  Actually, these were rather tasty.  Springy and full of bounce, it seemed like the manner of their roasting seem to rub off a bit.
Hibachi vegetables.  Let's not forget the vegetables though.  The formerly flaming onion managed to retain some of its energy from its startling cooking method and had a good slightly burnt taste.    The courgettes, which had been slightly more flame retardant, were tasty and moist.
The next dish was the rice.  This seemed a bit out of place to me as in Tokyo, it usually is served last.  Although, this break in the usual order of things may have been because of the fascinating display we were about the witness with the egg.  The chef had the egg fly everywhere around the cooking station, once even spending some time in that unusual storage space, his hat, until eventually yielding up its golden treasure.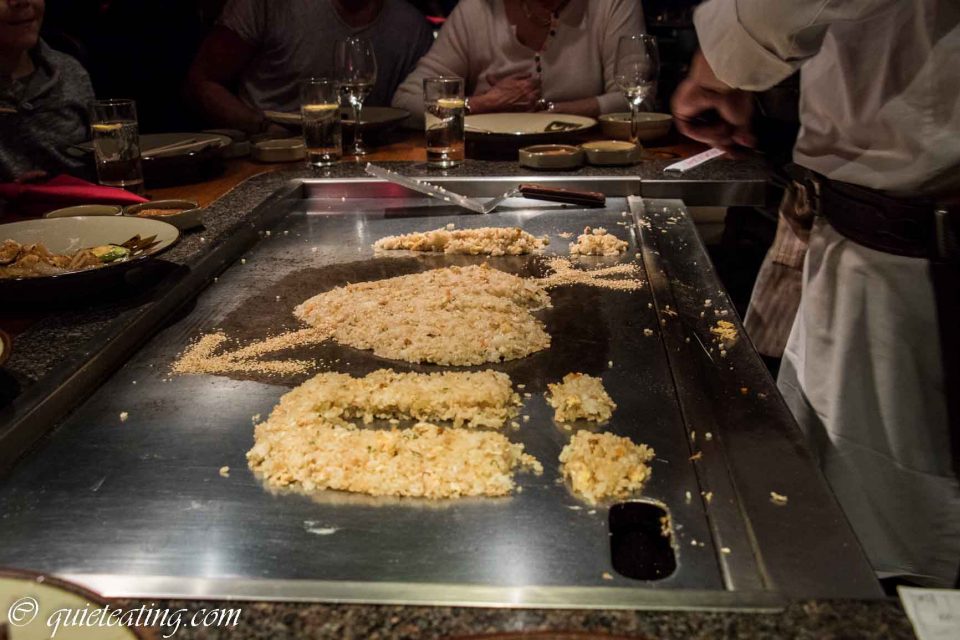 Yet it was not in vain as it was built into a rice message.  I love eggs too.
Fried rice.  This was what all that show was for.  Unfortunately, it seemed like all the flamboyant cooking didn't translate into the rice as instead of the stratospheric heights of other teppenyaki rice I have had, this was instead rather more ordinary.  Not that it was bad but just rather unassuming among the surroundings.
With such niceties out of the way, it was time for the main event.
Meat time.  Fillet mignon being the great slabs.  Wagyu, the rather more elegant strip.
A little close up of the wagyu.
A close up of the chef's holster.
The fillet mignon arriving with mushrooms.
The wagyu joining it.
Hibachi miso black cod. The fish joined the meat.
Hibachi chicken.  Lastly the bird came to roost with the cow and the cod.
With this platter of more meaty (and seafoodie) delights, we tucked right in.  As for the two types of beef, there was a notable difference between the two, although both were good.  The wagyu was more tender, more moist, more flavourful and more expensive.  An exercise in more.  Both were great though, although the wagyu more so.
The cod was cooked just right, showing me what fish was supposed to be like.  Flaky, succulent and with a depth of flavour offset by the sauce, this was an excellent specimen.
Chicken was a rather more ordinary beast.  Thankfully, although I was initially worried that it would be a bit dry, such doubts were not to be realised.  Bouncy and tasty, although it was not subject to the same number of air miles as the egg, this lack of showmanship did not translate into a more subdued taste.  Its more plain meat provided a delightful counterpart to the deeper beef and cod.
Ice cream tempura.  So this is how we arrived at the end.  As our chef departed to the locker room to recover from his performance, we were served a contrasting end.  Deep fried ice cream.  Creamy inside, crunchy on the outside, a great end to an amazing meal.
I arrived with many doubts, I left with many memories.  The food was good but it was the show which lifted it towards the excellent.  Perhaps there is a reason for dining at the bar around an open kitchen.  If all chefs could cook in such an entertaining manner, it would be well worth it.  Yet, the most important thing at the end was recognition of what a master food player could be like.  Now, if I could cook like this, I would encourage everyone to play with their food.  Especially if after all the applause you end up with something like this.  If you physically can't or just won't be bothered, why not settle for Benihana?
A quiet eating 8.5/10.
We were invited to review.  Dinner (one main dish instead of the cod, two steaks and chicken and everything else) is estimated to be about GBP35 excluding drinks and service.
77 King's road
London SW3 4NX
---
---