Le Gavroche
This restaurant seems to court news almost as well as some politicians.  In these turbulent times, with surprises at every corner and seemingly impossible situations coming to pass, I thought that I might as well live a little.  While the iron is hot, or perhaps before inflation takes hold of this most pricey establishment, it seemed a sensible time to visit before things became even more dear.
In a basement in Mayfair, the birth place of many acclaimed chefs, holder of the first Michelin star in London, the meal started off quite well.
The  laughing man.  I hoped this was a herald of happy things to come.
Soufflé Suissesse, Cheese Souffle Cooked on Double Cream.  This is a dairy intolerant diner's worst nightmare.  Too bad I was dining with one.  He had to have the carrot soup instead which was rather less impressive.  My cheese dish was cheese inside, cheese outside, cooked in double cream.  It was delicious and you could have never guessed, cheesy.  This was something that I have never seen or tasted elsewhere.   The dish managed to avoid overpowering cheesiness as surprisingly it was not too salty; instead it was just right.  I loved it.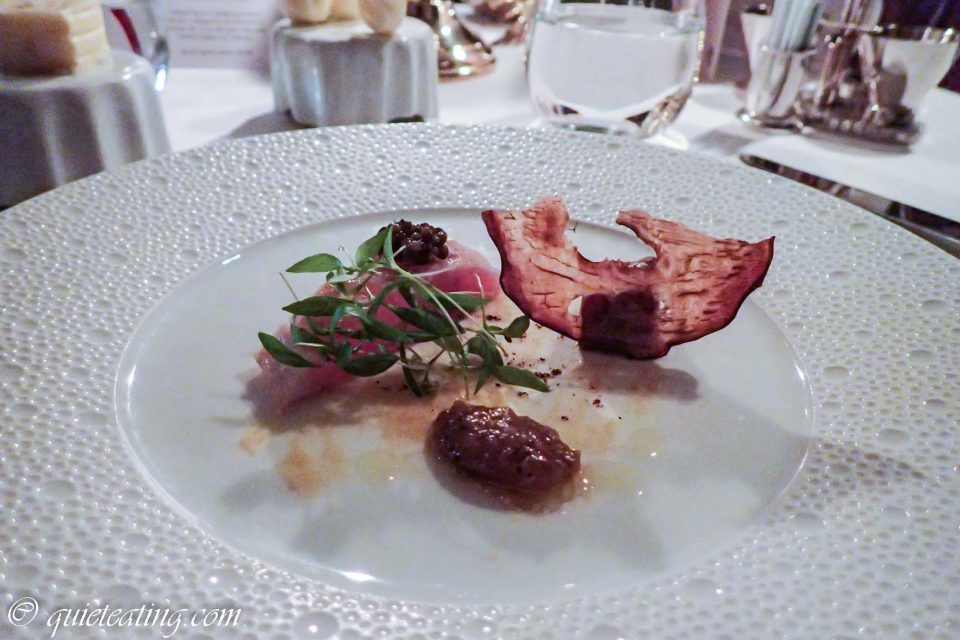 Dorade Marinee et Mi-Cuite, Aubergine au Vinaigre de Riz et Caviar, Marinated and Seared Bream, Aubergine, White Miso Cream and Caviar.  The bream was the absolute star of this course.  Seared and cooked just right, it reminded me of days of sashimi gone by when the outside of mackerel, for example, would be slightly seared by blowtorch leaving delectable raw flesh inside.  This was the same.
Coquilles St. Jacques Grillées et Minestrone de Palourdes, Grilled Scallops with a Clam Minestrone.  This was cooked expertly, not overcooked so becoming rubbery, not undercooked so being a bit more "interesting" but instead the happy medium.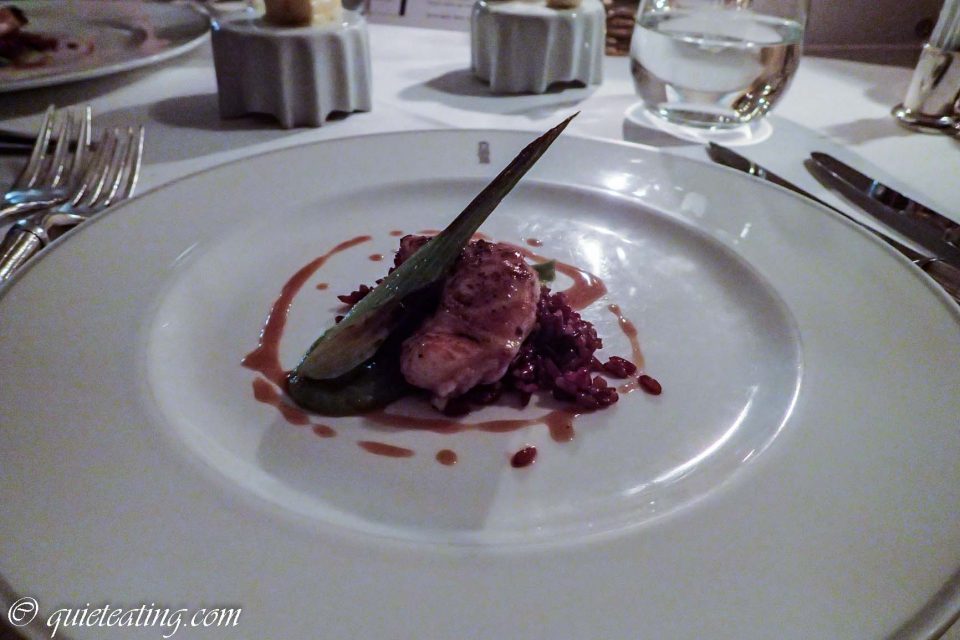 Queue de Lotte au Ras el Hanout, Riz Rouge et Fenoil, Monkfish Tail Dusted in Arabian Spice, Fennel, Red Rice and Meat Jus.  Absolutely delicious.  Springy yet meltingly soft inside with the gamey flavour of the red rice to set it off.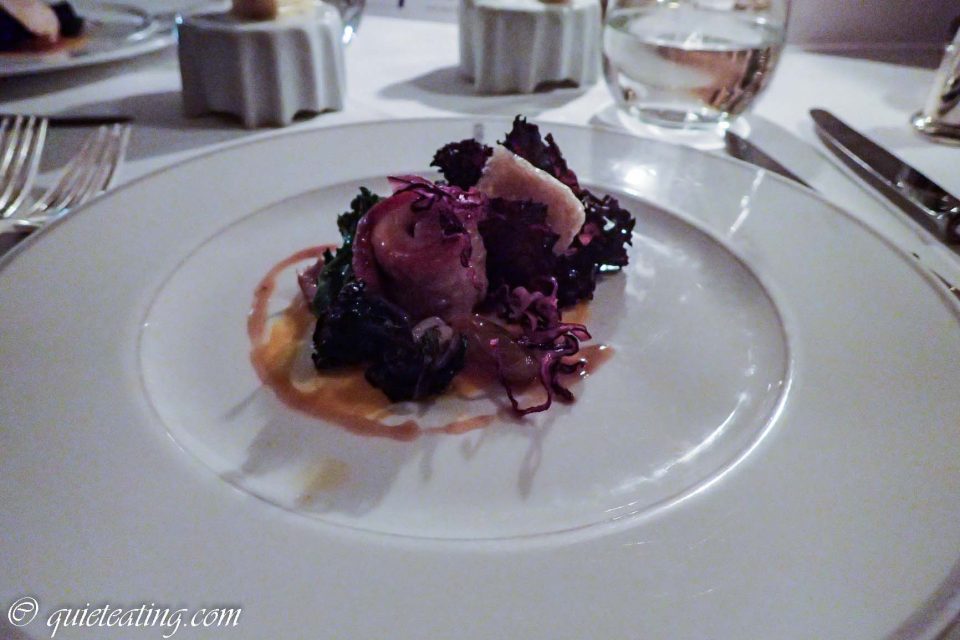 Poitrine de Porc Confite, Potirons et Feuilles de Chou, Crispy Pork Belly, Pumpkin Puree, Seasonal Cabbage Leaves and Golden Raisins.  Sadly, a bit uninspired and uninteresting.  This was when things started to come apart, as the pork fell to pieces.
Longe de Chevreuil, Roquette et Oignons Rouges Just au Genievre, Roast Loin of Venison, Rocket Condiment, Potato Galette and Venison Jus Scented with Juniper.  Probably the rotten egg of the bunch.  I found the venison to unfortunately be tasteless.  The meat was also extremely dry, almost as if they had somehow managed to suck the moisture out.  Which did puzzle my diner and I as the outside was carefully seared and the inside seemed to have a slightly pink tint.  Yet, skillfully, the meat seemed absent of flavour.  In our detective mode, when we asked the waiter for a explanation of how it was cooked, he replied that it was cooked.  You know, cooked.  And he would find out if it was seared and why it was so.
That was to the be last we heard of the matter.  I guess some things will forever remain a mystery.
Le Plateau de Fromages Affinés, Selection of French and British Farmhouse Cheese.  Forgive me but I cannot recall the names of these cheeses.  They were just exceedingly good from a particularly impressive cheese spread.  Again, my dairy intolerant friend looked on slightly green.  Yet, this just meant more for me.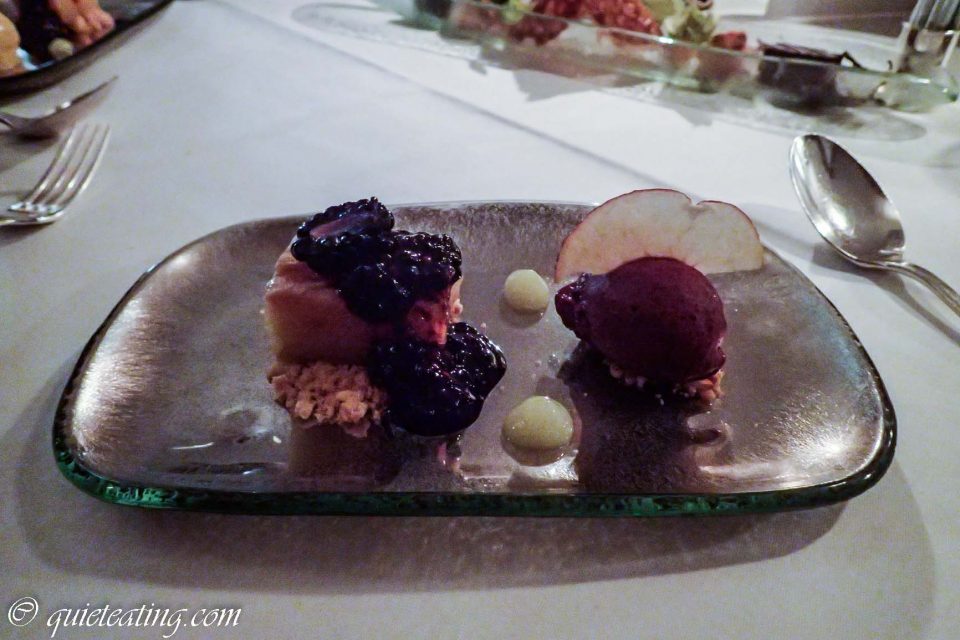 Les Pommes Pressees, Crumble aux Amades, Mures en Compote et Gelato,  Pressed Bramley Apple with Almond Crumble, Macerated Blackberries and Gelato.  Ok, tart without becoming too tart.  Soft without becoming mushily so.  This was ok, it didn't seem to really hit the spot.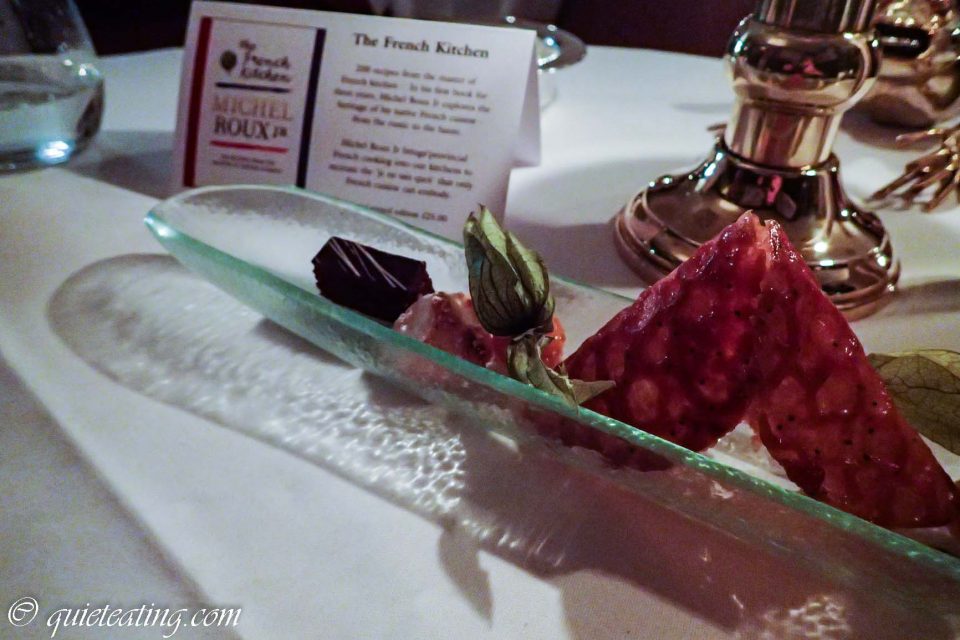 Petits Fours, dark chocolate rectangle, coconut lolly, candied kumquat and crispy crepe.  The chocolate was soft and intensely rich.  The coconut lolly tasted like licking one.  The candied fruit somehow managed to find the delicate balance of sweet, tart and refreshing.  The crepe was crunchy and airy, sweet without becoming cloyingly so.  The petite fours were excellent and a great way to end.
Dinner started off so well.  I am tempted hear to make comparisons to the populist politicians of this day and age.  They started off so well. Well, at least they seem to.  At Le Gavorche, the start was almost inexplicably good, the middle rather disappointing, the end almost making some type of apology.  I entered with such high hopes.  I left with gladness that I had tried it once.  I had hoped that in the basement where we were sat, there would be hidden gems among our food.  Yet, although there were sparks of precious diamonds, things didn't seem to go that well all the time.  Maybe I just need to be more patient and if I come back again, I might find a diamond hidden in the rough.  Yet as I walked home in the rain, I did hope that the politics of these days might go better.  That would make up for the lack here.
A quiet eating 7/10.
Dinner (tasting menu so all of the above) was GBP130 excluding drinks and service.
43 Upper Brook St, Mayfair,
London W1K 7QR
---
---