Rabbit
Sometimes I think I should pay more attention to the tingle that something bad is going to happen.
There is usually something which provides a clue that I am about to have a bad time.  Unfortunately, this is usually when I am already committed and unable to back out.  Instead, I choose to see such experiences as providing a more interesting article for my readers.  My pain is their enjoyment.  Oh so I try to console myself.
That was not strictly true in this case though as I could have cut and run earlier on in my meal.  As I arrived to wait for a table, I was told to wait while one waiter spent the next 5 minutes stirring drinks for another table and the other waiter stood rather dumbly in the corner and refused to meet my eye.  When we were finally seated, I was asked if I had been here before and knew how things were.  I answered in the negative.  I was then told that worrying phrase, "food is for sharing and will be brought out as it is ready".  Ok, so one of those places then.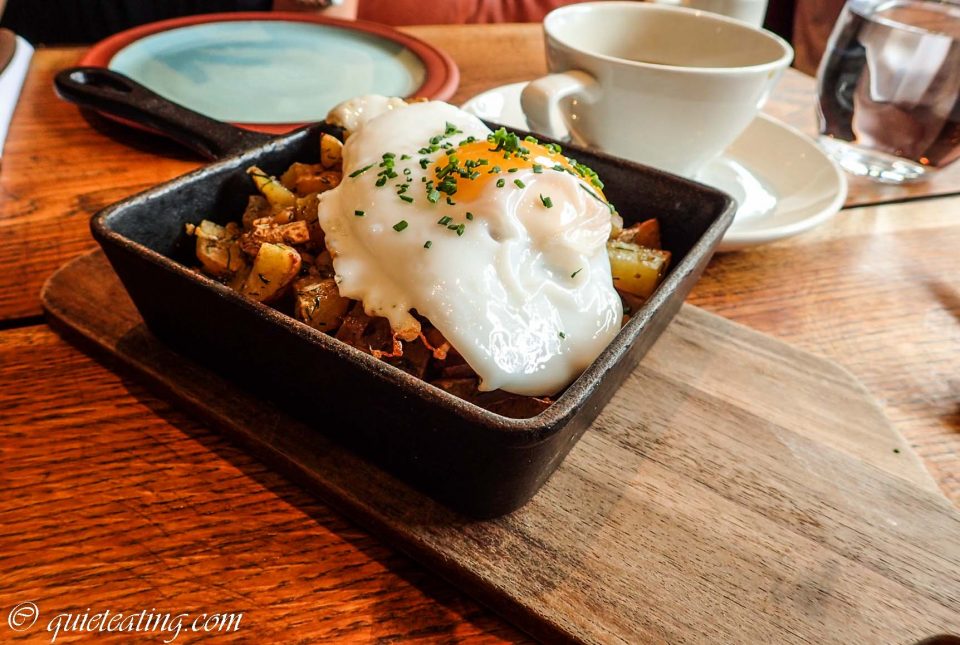 Pink fir potato hash with fried duck egg.  Looks good, tastes anything but.  The potatoes were sadly uncooked.  Although cunningly cubed to look delectable, when I bit in to a mouthful, there was a too fresh juicy bite.  Not soft and happy like I would have preferred to have.  Potatoes are not meant to be juicy, or full of water or crunchy or best described with other uncooked adjectives.  I also failed to see and taste why the egg was any different from the normal one you could get from the supermarket.  It tasted like it had come from the value range.
Nutbourne veal patty, sumac yoghurt, pickled cucumber and fermented chilli.  They could have otherwise just called it fried hamburgers.  As any self-respecting butcher/cook will tell you, mince meat is where it is easiest to hide the bad cuts of meat.  This was a good example as it tasted rather cheap.  On the positive side, this was an achievement of managing to disguise all the bits that they would usually throw away into something people would pay for.  Perhaps they deserve kudos for managing to palm off dog food.
Here I must stop for a moment to talk about my waiter.  If he has a shiny and expensive looking watch on but otherwise dresses in a T-shirt with youthful demeanour, it seems to suggest that perhaps he lacks common sense or has inordinately generous parents.  Either that or he sees all the customers as beneath him.  I guess this type of behaviour seems to permeate the restaurant as from the quality of the food, the kitchen seems to be similar too.
Lamb chips, sweet and sour harrisa, lemon and parsley.  I ordered this out of curiosity.  Yet, curiosity killed the cat.  Perhaps they weren't really that bad but for something which looked good but tasted of much less, I could not really think of something in recent memory that so deeply disappointed.
Sticky spatchcock quail, basil pesto and pickled shallots.  This small bird was carefully dressed up.  To hide the fact that there was not really any substance beneath.  I could say the same about some politicians but they don't even manage to dress well.  This dish was bony, bland and altogether unimpressive.
A note to waiters.  It generally is a bad idea to throw the cutlery onto the table in front of your customers.  Kind of leaves a bad taste in the mouth.  Although you don't know me, I have been told that you don't want to see me in a less than complimentary mood.  I tend to get more cutting and sarcastic as time goes by and the vitriol can be a sight to behold.  Then again, if you are bored, maybe you do enjoy poking the bear.
Rabbit mess, raspberry, marshmallows, elderflower creme and strawberry sauce. If I had a blueberry allergy, things could have gone much worse.  As there was no mention of said ingredient in their description.  Instead, it went badly for the chief reason that it lacked finesse.  It seemed to look like a lesson of how you lump together the various leftovers in the kitchen regardless of taste.  It tasted as bad as you can imagine.
As I was sitting near the door, it was interesting to hear new customers being greeted.  It would always start "have you been here before"?  It seemed to always be "no, but the front looks good so we thought we would come in".  As my meal progressed, I was tempted to make a side remark to this conversation.  "You might want to re-think your choice, I wish I did".  The food was bad, the service worse.  Now if only someone would listen to me.
A quiet eating 3/10.
Lunch (3 courses) was GBP25 per person excluding drinks and service.
172 Kings Road Chelsea
London, SW3 4UP
---
---