Harwood Arms
Service.  Service… Service!!!
When sitting around an open kitchen, I had often heard this being hurled around with some abandonment.  It would inevitably seem to herald an amusing experience.  When this exclamation wasn't acted upon quickly by the serving staff, it was flung around almost as an expletive.  Chefs, not the most patient of breeds, would at times lose it if the food wasn't being served fast enough.  Interesting episodes could follow as when a dish was summarily deposited on the floor as part of a particular vehement tirade by the head chef to apprentice.
This was why I found this dining experience of particular note.  It was not what I was expecting.  To explain what I'm referring to, perhaps it might be best to start with explaining what I think makes a place worthy of a Michelin star.
Although the Michelin scoring system is shrouded in mystery, I had thought from my experience that to achieve said acclaimed shining light, that a restaurant had to fulfil certain service standards, even if the food wasn't that good.  Yet, as my personal experience provides a rather small sample size, it is perhaps best substantiated by turning to that most rigorous and scientifically sound source.  The movies.
In Burnt, a movie about food, the arrival of the Michelin inspectors seems to be subtly announced when a waiter notices that a guest places a fork on the floor, to test how fast it would be noticed.  Much frantic movement in the kitchen then ensures.  Personally, I think that is a good method of assessment and I might try it myself one day.  If the serving staff can't spot a potential hazard in the floor what is to say something more untoward might happen to the food.  Like unwanted protein (e.g. a fly).
Yet this preamble has to lead somewhere and as you may have correctly guessed, it is about my experience in a Michelin eatery.  In this case, a pub.  Not a place you would usually associate with the pinnacles of waitering.  At first, I was not unduly worried as when we arrived, we were treated very well with attentive yet discreet service.  However, that was not to last.  After the first five minutes or so, the rest of the meal was soon to devolve to rather absent-minded pretence of attention.  If your eyes seem to skip over me even while I am doing a fist pump to attract your attention, there better be something far more distracting as an alternative.  Just to be clear, I'm not talking about my dining companions, that might be more understandable if not really forgivable either.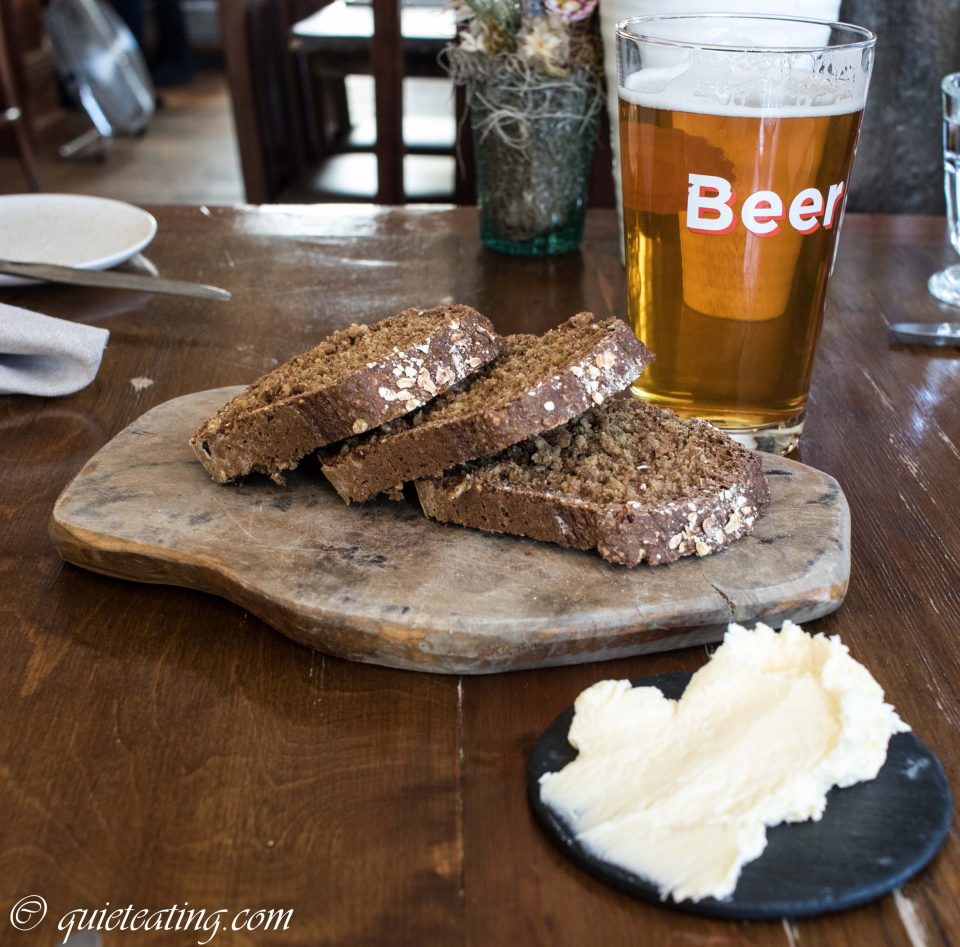 Guinness soda bread.  When we did manage to get some bread, I found it pleasantly squidgy in the middle, crusty on the outside with deep yeasty and earthy taste.  This was good.  With the freshly whipped butter, it was even better.  So much so that I had to ask for a second helping.  This bread definitely has to rank up there with some of the best.  So even with distracted service levels, I was content.
Cornish crab on English muffins with pickled lemon and coastal herbs.  Creamy and full crab, with a delightful zest brought upon by the lemon sauce, these were great.  The light muffins provided contrast to the more substantial crab.  Excellent.
Charred Cornish mackerel with laverbread mustard and pickled cucumber.  Meaty fish with a hint of fire from the mustard.  Set off by the clean and cool cucumber.  Great, if not as superlative as the crab.
Wye Valley asparagus with soft boiled quail's egg, duck ham, juniper cream and hazelnut.  It is now asparagus season and it shows.  A collection of clean tastes with interesting counterpoint combined to make something great.  Strong asparagus, nutty hazelnut, creamy egg and flavourful cream.  Unfortunately, it was a rather small portion but perhaps an example of how good things can come in small packages.
Roast fallow deer with baked crapaudine beetroot, smoked bone marrow and walnut.  With what had gone before, I was excited.  Which made the disappointment even more dreadful.  The dear deer was not bad, just mediocre.  When trying a dish that Robin Hood would feast on in the forest, I expected more.  It was sadly rather bland.  The beetroot and nuts tried to bring things up but were not really up to the task.  Although, I do admit that perhaps this was just not up to my own (someone would say unique) tastes and others might find this superlative.  Just not me.
Potatoes.  The potatoes were ok, if nothing really that special as they were, to use the words of many a better food blogger than I, these were "well cooked".  Such informative statement is all the descriptor the potatoes deserved.
Lemon curd doughnuts with Earl Grey cream.  Interesting and decent.  The hint of Earl Grey to add a touch of interest to the cream was a particularly inspired touch.
Raspberry ripple pavlova.  Creamy, tart, sweet, crunchy.  A great combination and this was a good note to end with.  At this point, I wondered with an ending like this, what more could I ask for?
Actually, I do have the answer to that.  I would like service.
Not decent or fawning waitering but just something less than sporadic.  By the end of my meal, I think I would have even settled for slightly intrusive.  I know I am sometimes accused of being "Mr Mayfair" but there are certain things which I have come to expect from a place with a shiny star and a high price.  Such as keeping glasses of water topped up (not great when in 15 minutes, you have to retort to dealing with things yourself).  Or perhaps when I was doing my own version of the fork test, leaving my chair with napkin left behind and strewed awkwardly on the table.  When returning after some time after engaging in rather prolonged business, I noted interestingly that nothing had been done.  It was exactly as I have left it.  Then again, it was not as if I was eating at some storied restaurant.  As I reminded myself that I was eating in a pub.
Yet perhaps the straw that broke the camel's back was that they wouldn't let us go.  Waving around trying to get the bill for 10 minutes or so is exhausting enough but if I can't get your attention to pay the cheque, fuming remarks boil in my mind.  Yet, perhaps they are trying to make the place look full.  There was an ample amount of seating around.  Although, perhaps I am being too harsh here.  As at lunch time there was something far more important going on.  A royal wedding.  I guess at least that is some kind of a valid excuse.  I'll need to keep that in the back pocket next time someone complains about something I haven't done.
A quiet eating 6/10.
Lunch (3 courses) was GBP48 excluding drinks and service.
Everyone deserves a second chance.  Well, when I was a little boy in school, that is what I would always say to my teachers.  Although in most cases I would be ignored, at least in the important situations my imploring worked and I should be offered the chance to try a second time if things did not turn out well.  Generally, things turned out for the better, except maybe for that one time in chemistry class, but moving swiftly on.
Following my above experience, the Harwood Arms kindly contacted me and asked if they could try again.  In the interest of providing objectivity, I had to accept.  It is what the little boy within me would want.
A dear deer head.  Seated underneath this ornament, I couldn't help but feel a bit of pressure as last time I had complained about the sibling that I ate.  Perhaps if I didn't have a good time today, he would drop down in vengeful wrath and impale me…
Our waiter pointed out something unusual that they did.  The Harwood Arms does a very interesting (and welcome) thing.  They cater for the teetotallers among us (me).  Most of the time, if you wish to avoid the alcohol, sodas are all you have to choose from are a few random juices.
In this case, the elixirs above are to be mixed with tonic water.  Been a while since I've had peas in my drink.  These were surprising.  The aromatic with a spicy kick, the herbal with vibrancy.  The tonic served to top it all of.  A welcome start to the meal.
Soda bread.  The unusual drink was accompanied by their house bread.  With deep earthly flavour and churned butter, simply a delight.
Hobnob with chicken liver, rosemary and jam.  It has been a while since I have been subject to a food surprise.  Sweet crumbly base, thick creamy pate set off with savoury herbs and topped with jam.  The combination was inspired.  I think the deer would have been proud.
Harwood Arms' black pudding scotch egg.  An intriguing take on black pudding.  I know that many visitors (and myself) turn their nose up on eating pig blood but it didn't taste as unappetising as that might sound.  It was meaty and rather pleasant with its crunchy exterior and soft boiled interior.
Summer vegetable salad with Yorkshire pecorino cream and mushroom crumble.  A startling moment here as clean and fresh mixed with cream and crunch.  The bounce of the vegetables was  enhanced by the mushroom crumble.  Something special.
Charred Cornish mackerel with Isle of Wight tomatoes and a herb pesto.  Flaky, succulent fish with light pesto and tomato accompaniment.  I remember a long time ago when I was an impoverished student, one of my housemates just loved to serve up smoked mackerel when it was his turn to cook.  That was my first real exposure to this fish and I hated it then.  Such hostility followed me for many years yet if mackerel continues to taste like the one served up at the Harwood Arms, I think I will be peeled away from my prejudices and might actually come to favour it.  Well, at least if it tastes like this.
Slow cooked short rib of Ruby Red beef with black garlic, stuffed potatoes and pickled girolles.  An excellent balance of beef and garlic with stuffed mushroom potatoes.  This made something great which was only heightened by the presentation.  The moist beef with crispy garlic, the firm potato stuffed with mushrooms, simply decedent.
Mushrooms.  Just in case I didn't have enough fungus in the main course.  A buttery, slick and flavourful addition.
Mash.  Here some mash to contrast with the delightful potato parcels.  Smooth and creamy.
Buttermilk pudding with English berries and elderflower ice.  Pudding with tart and sweet berries set off with some shortbread cookies.  Setting off notes of tart, sweet, crunchy and smooth, life by contrast is a great thing.  A great finish.
Latte.  To polish it all of was an excellent latte on particuparti interesting chinaware.  I have to learn where that cup came from, I want some for my own home.
I often wondered if I would have been a better teacher than my teachers.  I have been told my turns that I am impatient, unruly, full of much disregard for rules and simply stupid.  Yet, perhaps that torrent of abuse served a purpose.  It taught me to grow a thicker skin and the fortitude to try again.  Sometimes all that is needed to put all things right is a second chance.  I'm glad that I gave the same to the Harwood Arms as they surprised me and showed me that I was a very lucky man.  Lucky in that I had managed to arrive on one of their worst occasions.  Lucky that I got to try what they really were like.  Lucky that I have contrasts to add spice to my life.  So next time someone doesn't so well in something, perhaps it is worth giving them another try.  I'm glad I did for the Harwood Arms and learnt that this is why they are held in such high regard.
Service was also excellent throughout the meal.  With attentive but unobtrusive waitering, my glass was always kept up, my every whim catered for and most telling of all, when I disappeared off to the bathroom for a short break, my napkin was neatly folded for my re-arrival.  A marked and welcome contrast with my earlier visit.  This is what service should be and in an additional plus, the deer let me leave unscathed.  Guess everyone was happy in the end.
A quiet eating 8.5/10.
We were invited to review.  Estimated cost (4 courses) was GBP 60 excluding drinks and service.
Walham Grove, Fulham,
London SW6 1QP
---
---