Patty and Bun
I think that restaurants should carefully consider their décor.  As it is easy for artsy and kitsch to cross the line from edgy to something rather cheap and annoying.
Decoration of your restaurant with random pieces of cardboard and box cartons and distressed looking furnishing might work if done tastefully.  However, when design starts to impact functionality, there is a problem.  Take for example the taps in the toilet.  Clearance of about 5 cm from the bottom of the tap to the top of the sink is generally not conducive to ordinary use.  I know that a more industrial look is being sought but functionality should come first.  As although my hands aren't that big but they aren't that small which causes difficulty in use. Contorting my hands to fit under the tap, I think I picked up more bacteria than I washed off.  Definitely not a covid safe design.
Yet with this unpleasant task complete (the act of washing, not the washing itself), I hoped that things would only improve from there.
With wax paper mats and burgers all wrapped up, Patty and Bun are definitely consistent in style.  Using a definite fast food style in presentation, they have captured the associated mood feelings of fast and cheap.  However, on actual price, I'm not sure there was as much success.
Ari Gold cheeseburger, beef patty, cheese, lettuce, tomato, pickled onion, ketchup, smokey P&B mayo, bacon and brioche.  I had forgotten what American cheese is like, I was swiftly reminded of my youth.  I.e. an unnatural yellow colour but lacking in taste.  The lettuce, tomato and onion seemed a bit wilted and compacted into an indistinguishable mess.  The patty was nothing to write home about and the bacon rashers easily lost in this rather compacted burger specimen.  Before the days of Bleecker Burger, Patty and Bun would have been something way above average.  However, those days (like my humour) are long gone.
Chips with chicken skin salt.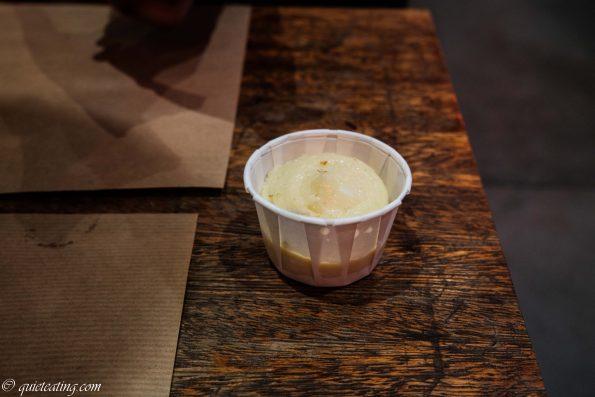 With roast chicken mayo.  The chips were at least a more generous serving than in other places I have been.  Although not including these with burgers but instead requiring an additional financial uplift for these comes across as a bit cheap.  Apparently fries are only included at lunch, so at dinner, you pay almost 50% extra to get fries with your bun.  Taste wise, fairly nondescript, with a sprinkling of extra salt.  I'm not sure what chicken salt is supposed to taste like as this tasted of generic salt.  The roast chicken mayo just seemed like a more glutinous version of mayonnaise.  Although I could have skipped these, a burger without fries seems like a boat without an oar, missing something fundamental.
A particularly amusing event also happened whilst I was here.  When I tried to get some service, I waved at the waiter.  As my dining companion and I were the only two in the entire restaurant, we thought that they might be a bit bored and would rush over to serve.   Instead, the lady promptly waved back.  I laughed.  I waved again.  She waved back.  I put on an annoyed face.  She tapped her colleague to respond to us.
When said waiter arrived at our table, we asked what he thought about particular types of burgers.  The answer was that they were ok but not something he would particularly jump for joy at.  Exercising self-control, I held back biting comments.  Then again, perhaps I am being a bit mean here, the service, food and décor all seem very consistent.  Consistently sub-par.
A quiet eating 6/10.
Dinner (burger and chips) was £16 excluding drinks and service.
15 Park Drive
London E14 9GG
---
---