Bleecker Burger
I had heard so many times places described with many slang phases.  It's da bomb, dat hits the spot and my personal favourite, its the bee's knees.  I always did wonder, did bees really have knees?  Have you ever held one down to check?  I would think not so unless you are immune to stings.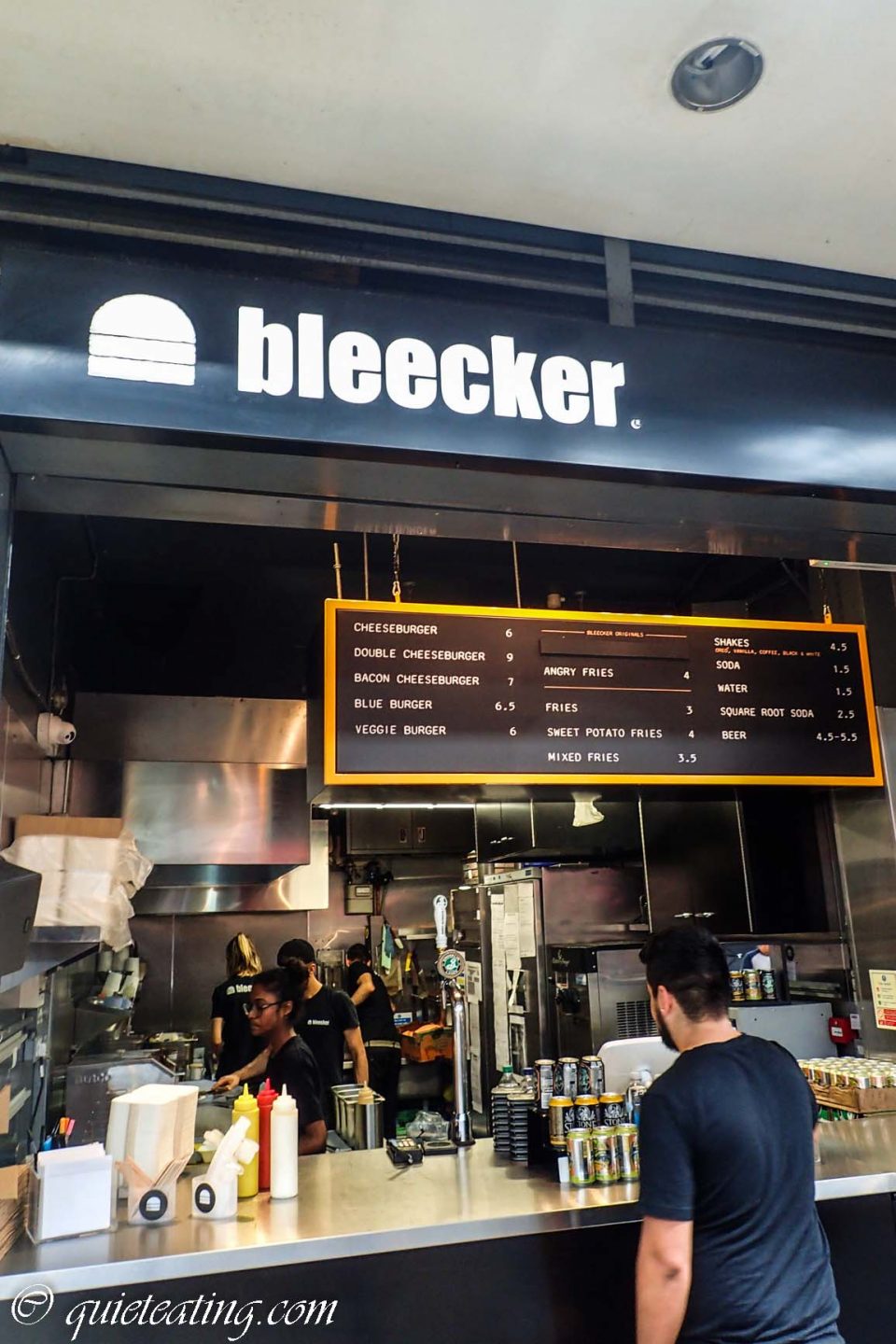 As Bleecker Burger seemed to be on the lips of seemingly every burger devotee, I thought that I had to eventually, to use an oft used phrase, see what all the fuss was about. While conducting my investigation, I did note with particular interest an item on the menu named as "angry fries".  I did wonder idly, which turned into deep pondering, how fries could carry emotions.  Perhaps they were angry as they sat there waiting to be stuffed into someone's maw?  When they arrived, some, but not all questions were answered.
Angry fries.  What were they angry at?  At the person who seemed to so artfully lather them in Tabasco sauce?  At the less than helpful directions to the store?  (We spent 15 minutes looking rather lost while trying to find any sign to show the way.  Google maps seemed rather useless at this task.)  Or perhaps the anger was more a description of what you would feel like after eating these.
If so, these definitely hit the spot, were a great treat.  The cheese and Tabasco mix was extraordinary.  The fries soft, crispy and with not too much oil adding to the underlying punchy potato taste.  Now I know why perhaps they are called angry fries, as after having gobbled these down, I was annoyed there were not more!  Some of the best fries I have ever had in London.
Bacon double cheeseburger.  Epitome of sin. I jest but I have trouble thinking of a burger on this island that could be described better. With a rakishly seeded half sesame bun, medium rare double beef patties lathered with cheese, onion and a bacon to top it all off, this was good.  Juicy, succulent and falling apart in all the right ways.  My only comment, pointed this direction by the fries, was where was the hint of fire?  Some french mustard on the patty might make things just that little bit better.
So here I was, eating out of polystyrene boxes, perched on wooden benches in a busy market while trying to avoid the hopeful gazes of many pet dogs, it was a far from ideal place to carefully savour the bite of an unusually good burger.  A little pricier than expected for a burger in such an ambiance, it was nonetheless a treat.  Probably the burger joint that gets closest to transporting you to heaven on earth, in the erstwhile days before Brexit (as usual, don't believe what politicians say).  Although I hope that burgers will not be affected by such political maneuvering.  And on that thought, time for another serving of fries, I have enough to be mad about.
A quiet eating 8/10.
Lunch (burger and fries) was GBP12 excluding drinks and service.
Old Spitalfields Market
Unit B SP 4
London
E1 6EA
---
---