Ombra
It has been several years since this has happened to me.  The lack of frequency is a good thing.  This particular event is having an exciting meal (read bad food).  Good for readers, not for me.
I had heard many bad things about this restaurant (seems they were embroiled in controversy some time ago) on account of adding extras to the bill without consent.  There were positive remarks on their food though.  So I entered hoping that they had put monetary issues behind them but perhaps the first warning should have been that I was quite easily able to get a booking several hours before for a Saturday brunch.  I naively thought that perhaps the rail strikes might have been an inhibitor on attendee numbers but apparently it is something more structurally amiss in the kitchen that keeps people away.
Arriving at the restaurant, it looked ok, if nothing special.  So overriding thoughts of misgivings, I (and my unfortunate companion) decided to give it a go.
Our Focaccia, grissini & extra virgin olive oil.  I wonder what "our" Focaccia actually means.  Perhaps they mean that it was produced on site.  In which case, I am impressed as this was very light, springing and nicely done with a sprinkling of salt and olive oil.  Even if this was the unasked (and charged for) double portion when we actually only ordered one.  A bit sneaky to put this all on one plate but only when the bill arrived did we find out that this was two.  If this was only one portion, that was a rather underhanded add on.  However, there was worse to come.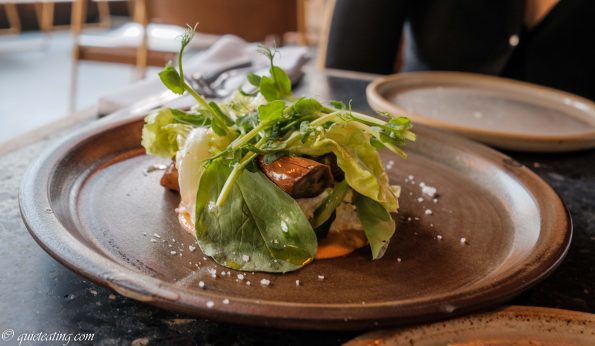 Cornish crab, sheep ricotta & pickled aubergine.  The description is misleading here.  They forgot to mention that they used copious amounts of ricotta as a bulking agent.  I could taste some crab and I could see the aubergine but the ricotta overpowered all.  I mistook it for store-bought mayonnaise in that overpowering and sad way it overcame other flavours.  It tasted overwhelmingly of cheese with a few leaves.
Ravioli, sheep's ricotta, sea aster & summer truffle.  I was surprised that this came with a generous helping of truffle.  Much as you would expect as there were 8 raviolo for the princely sum of £19.  The ravioli was not bad but not particularly good.  I could have just bought these from Tesco as they were rather boring.  No fire, sparks or excitement here.  That was to arrive in the next dish.
Paccheri, mussels, Nduja & Friggitelli.  First, on the positive side, the mussels were cooked just enough, the nduja tasty but the pasta slightly undercooked.  Most of all this was where I was to experience excitement.  This was the offending dish where I had metal wire appear in my food.  So I can add this to the list of hair, string, shot and broken glass and additional servings of bread which have appeared unasked.
As I was chomping through some pasta, I suddenly felt a sharp pain in my gum.  Much as my friends complain that I can be a pain in the mouth, this was actually happening to me.  It was not pleasant. It was caused by some steel wire in the pasta.
Upon alerting the waiting staff, the dish was quickly whisked away.  I made the mistake of not taking a photo of the offending extra but I was preoccupied with pain management.  Once I had recovered somewhat, the only recompense offered was that they took this dish off the bill.  However, they still did a few other things to try and increase their profit margins as well as ensuring that the full-service charge was applied.  Perhaps the addition of metal wire is the extra service they provide.
Although, on the positive side, now I think I know why they are less than one-third full on a Saturday lunchtime.  With the lacklustre, painful or perhaps more aptly described as bad food (click here for another recent example), I guess I should not be surprised that they continue to try and squeeze every little bit out of their patrons.  I was duly charged for the tap water and an extra portion of unordered bread.  The metal wire was on the house though.
A quiet eating 3/10.
Lunch (2 courses) was GBP 30 excluding drinks and service.
1 Vyner Street,
London E2 9DG
---
---