Lime Orange
Whenever I hear the word orange, I cannot but think of the last particularly stand out memory connection.  It involved somewhat over zealous application of rub on sun tan.  So much so, that said user looked like they would glow in the dark.  I thought that was not a particularly healthy look but then again, to each their own.  As I am often reminded (at times vehemently) what do I know about health?  All I do is eat everything in sight.
I would temper that statement somewhat.  I will eat anything GOOD in sight but am not afraid of trying most things in search of new sensations.
Radioactive remarks aside, I hoped that Lime Orange would be stellar.  We had just finished a pretty (and pretty long) hike at Seven Sisters.  Somewhere to recommend if you are looking for somewhere to go and you are at a lost for things to do around London.  The scenery is great.  The food there less so.  Best bring a picnic if you go.  As a consequence, on return to civilisation (London) we were looking forward to some hearty food to fill up the empty holes in our stomachs.  Lucky for us, there was a Korean eatery right outside the Victoria rail station where we arrived in the great metropolis.  It almost seemed that the sun smiled down on us.
Yangyeum chicken, deep fried chicken wings coated in sweet chilli sauce with ground nuts sprinkled on top.  In my vain search for fried chicken, I have had much experience of fried bird.  This was better than the rest in London.  Although, given the rather low average I have experienced, it's a bit like saying that you won a foot race when everyone else's legs were tied.  There wasn't much competition.  Although I guess I should feel thankful for this as the below will soon show.
Japchae, glass noodles stir fried in soy sauce, vegetable and little beef.  Note the word "little".  It was a particularly miserly portion of food.  Not only was there a fairly inconsequential amount of beef but everything else seemed to have been measured out by someone a little tight.  Although maybe this was for the best, as it didn't taste that good either.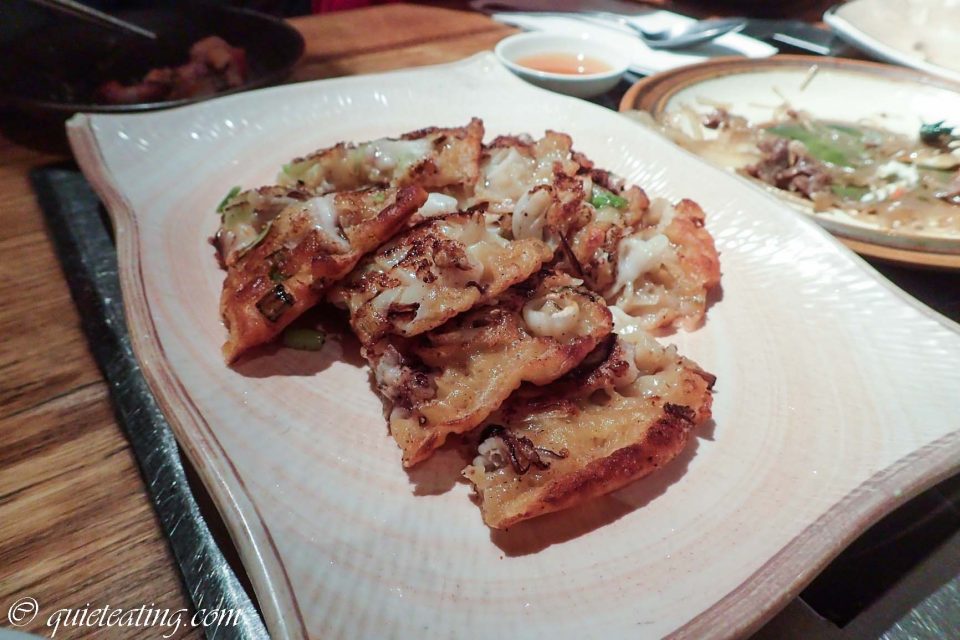 Pa jeon, savory Korean pancake made with spring onions and mixed seafood.  The best of the lot.  Although that is not hard considering the things to compare it to. It tasted ok but the texture was rather weird.  It was disappointingly spongy almost as if it had been left standing under a lid, collecting moisture, for quite a while.  Yet, perhaps they were trying to age this food.  Not everything is like kimchi and is meant to be fermented…
Soft tofu soup, mildly spicy hot pot with soft tofu, vegetables and egg.  I guess it should have been good.  It just tasted somewhat, for lack of a better word, tasteless.  Although perhaps I am being a bit too harsh here as it did taste of things, just not what I really wanted.  While hiking, I had had plenty of water, thank you very much.
Jjambong, spicy soup made with seafood, vegetables and udon noodles.  These were tasty.  Although it may have been because of a liberal seasoning of  MSG.  Kind of makes my hair start to fall out, a particular worry for males around my age.  The seafood was rather sparingly added and tasted like it had come from the Iceland freezer reach in.  Not that I have anything against Iceland but when you are a restaurant, surely you have better sources available.
Beef bulgogi, thinly sliced beef marinated in a delicious blend of fruits and soy sauce.  The preceding sentence is directly from the restaurant menu and fails to do the dish justice.  It was neither delicious or full of fruits.  It might have better been described as tough, insipid and with vegetables. An unfortunate combination.
It could have been so much more.  Like many things in life, it promised much, failed to deliver.  Although it lingered on some of us.  As some of us glowed for some hours after leaving.  That was the MSG and not as the victim of radioactive poisoning as the Russians have deployed in the past.  I am of course not making any allusions to recent events surrounding poisoning on British soil.  Perhaps they just ate at a bad restaurant, like we did.
A quiet eating 3.5/10.
Dinner (2 courses equivalent) was GBP15 per person excluding drinks and service.
312 Vauxhall Bridge Rd, Westminster,
London SW1V 1AA
---
---