Violet Cakes
Space is at a premium in this cosy little cafe.   The word cosy always makes me laugh somewhat.  As you could otherwise call it cramped, squashed or mole-like.  Yet, cosy is a much more palatable word conveying warmth and happiness.  Although, in this case, I think cosy is an apt description.
The cafe's cosiness was so much so that I found that I was sharing the long table with a member of staff.  Before you think that I might have to watch my behaviour, in case I was under close scrutiny, let me disabuse you of that notion.  She was too busy to pay me attention.  Instead, such close proximity provided entertainment.  Yet, some antics may not provide delight for some.  Luckily for me though, I am easily entertained by some of the most mundane things.
As she was sitting so close, and the cafe was so quiet, I couldn't help but eavesdrop on her side of the numerous phone conversations she had.  From what I can gather, business is booming from the amount of orders pouring in!  However, if you are hungry and hear the fantastic treats on offer, the anticipation and saliva begins to build.  That can lead to an embarrassing event if you are habitually easily excited and have your mouth open.
However, let me rewind a bit to show you how I found myself to be seated inside.  While trying to find the place, I was rescued by discreet signage outside.  To help in case you had trouble discerning where the cake shop was.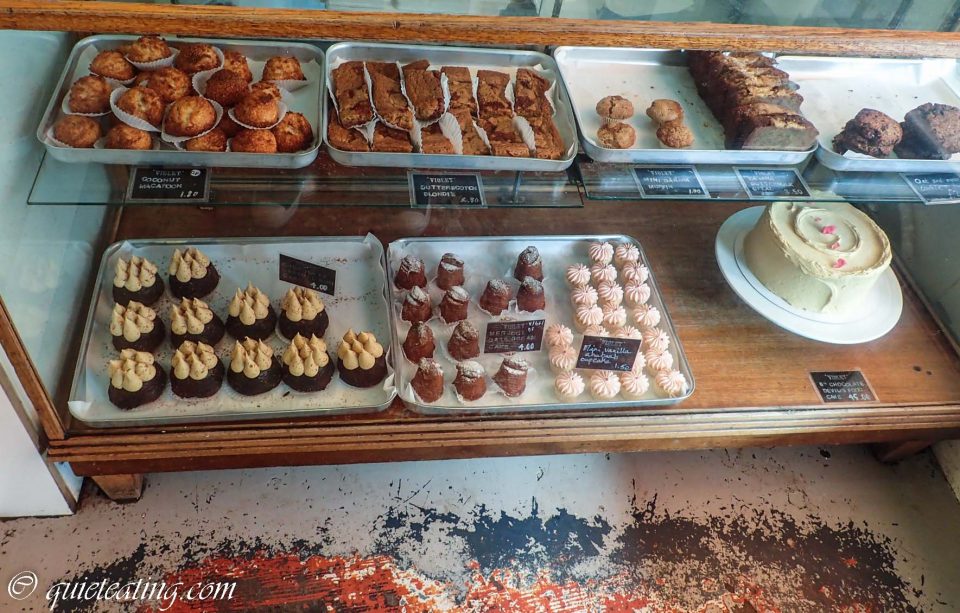 The selection of treats to choose from.  Things became a bit difficult here.  Choosing that is.
Inside at the seating area.  With the flowers, antique desk and little van, fulfilling a struggling artist's dream of a good place to Sit And Think.
The two objects for consumption.
Latte.  Not bad although nothing especially special.  Although that is coming from someone trying hard to be a coffee snob so greater palates than mine should probably weigh in.  I don't really know my drinks that well.
Chocolate caramel rum cake.  Yet what I do know is something more solid.  This cake was good.  Full, deep chocolate with a splash of rum taste set off with caramel icing.  With such augmenting delicate decoration, it was a beauty to eat and behold.
While I was sitting back with my coffee and a book held comfortably in the crook of my hand, I thought that this was a great place to take a break.  The warm light of a sunny day, the worn wooden tables and chairs with charming signs of aging and the welcoming staff made it an ideal place to stop and just smell the roses.  Or perhaps I should say rum.  When you are looking for a place to curl up with a book and just watch the world go by, you could do far worse than this cosy cafe.  Now, it's time to get back to reading.
A quiet eating 7/10.
A coffee and cake was GBP7.
---
---