Kutir
It is the unexciting which is the hardest to write about.
Mediocrity is rather boring.
On the flip side, something with is extravagantly, undeniably good is also rather difficult.
Come to think of it, it is only when things are quite bad, that it seems that the words flow from my pen, keyboard or mouth.  With that introduction out of the way, I found myself in a pretty place.
Careful placing.  It always helps when the setting brings happy thoughts to my mind.  Like the birds on the trees on my plate.
The plant without birds on the outside.  No matter.  Even if the little pink flowers are rather plastic.  As long as that did not carry over into the food, I would be satisfied.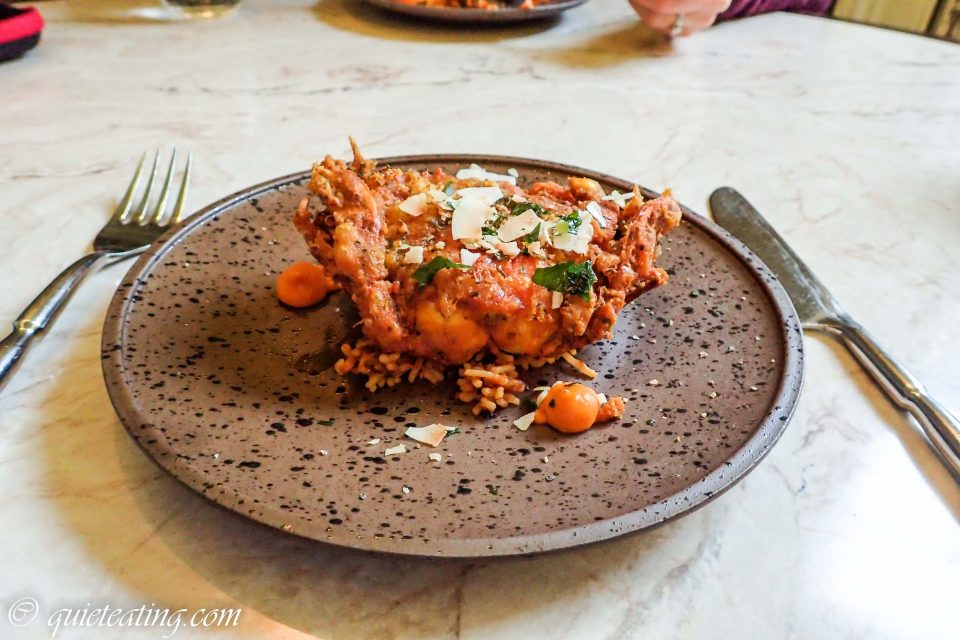 Soft Shell Crab ~ String Hoppers, mustard, aubergine, lemongrass.  Turning to the food, crabs are one of my favourite things to eat (and to watch).  I am brought back to those times at the breach when a crab waved its large claw rather warningly at me.  They could sense the menace from my smaller self.
Then think about it being on your plate.  Tastes even better when you don't have to undertake any manual effort to gain it.  Especially spiced just right, crunchy and on top of rather good string hoppers.
Lamb ~ Black Cumin, Tandoori chop, roscoff onion, yoghurt.  Ok, if nothing especially special.  Carefully cooked, it was decent with succulent pinkness inside and sharper elements to the left.  The yoghurt and onions could have done with a bit more bite though.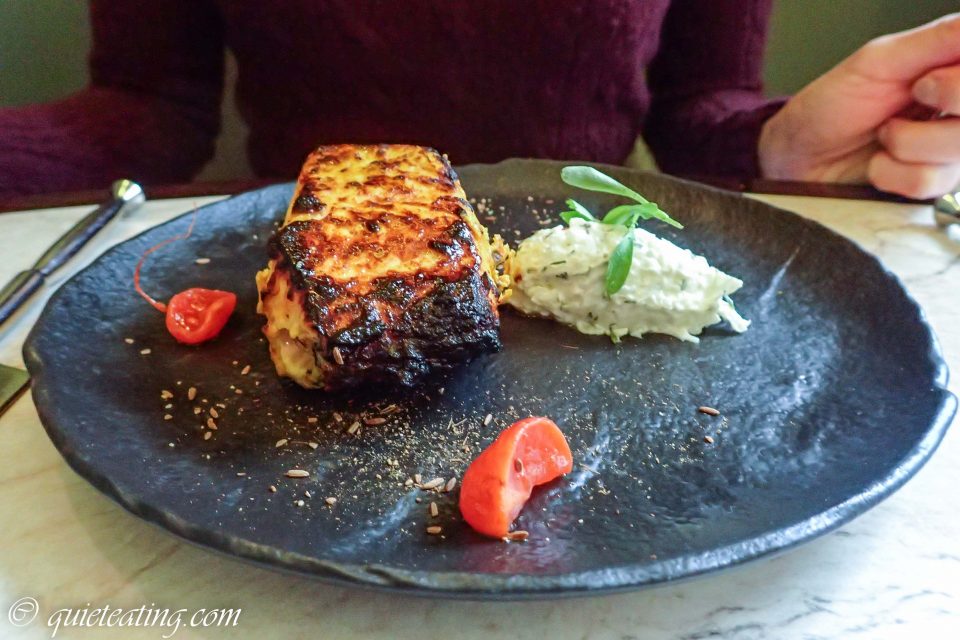 Salmon ~ Mooli, Tandoori tikka, dill raita, pickle.  Someone in the kitchen clearly knows their hot from their cold.  Their charred from their blue.  This salmon was delicately pink inside and the creamy raita was an excellent parring with smooth fish.  A good dish.
Chicken Tikka ~ Masala, Fenugreek, tomato, Kashmiri chilli.  This was not bad with rich tomato sauce to highlight the spiced chicken.  Although two small pieces of chicken seemed a bit miserly.  A slight upscaling in quantity would not have gone amiss.
Jheenga ~ Mappas, pink prawns, curry leaf, coconut.  Not bad as the prawns were predictably cooked just right.  Although, annoying person that I am, I would say that it erred more to the smaller sizing.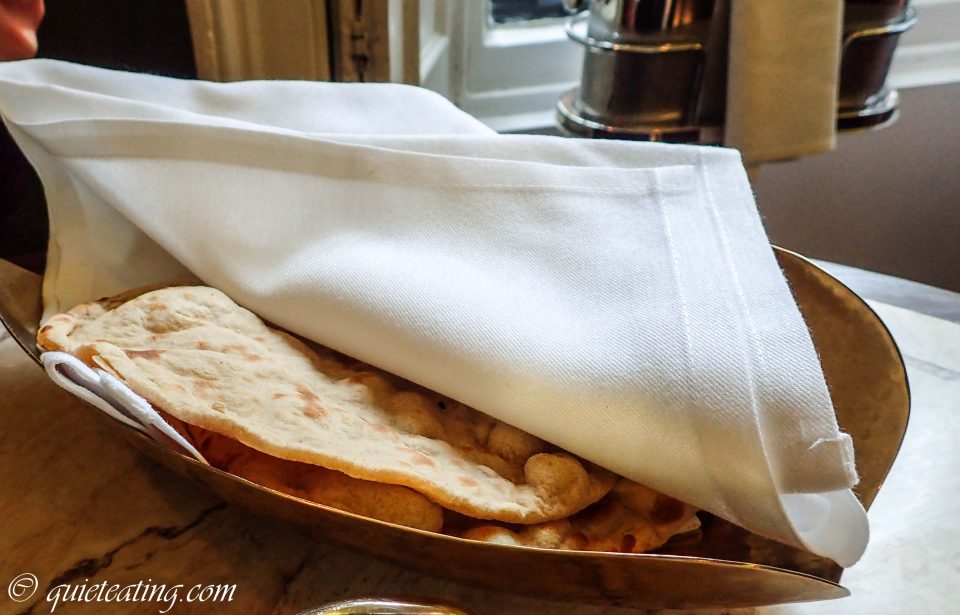 Roti and naan.  Nothing out of this world, they were rather ordinary.  At this stage, I was a little sad as breads have often set fireworks off in my mouth.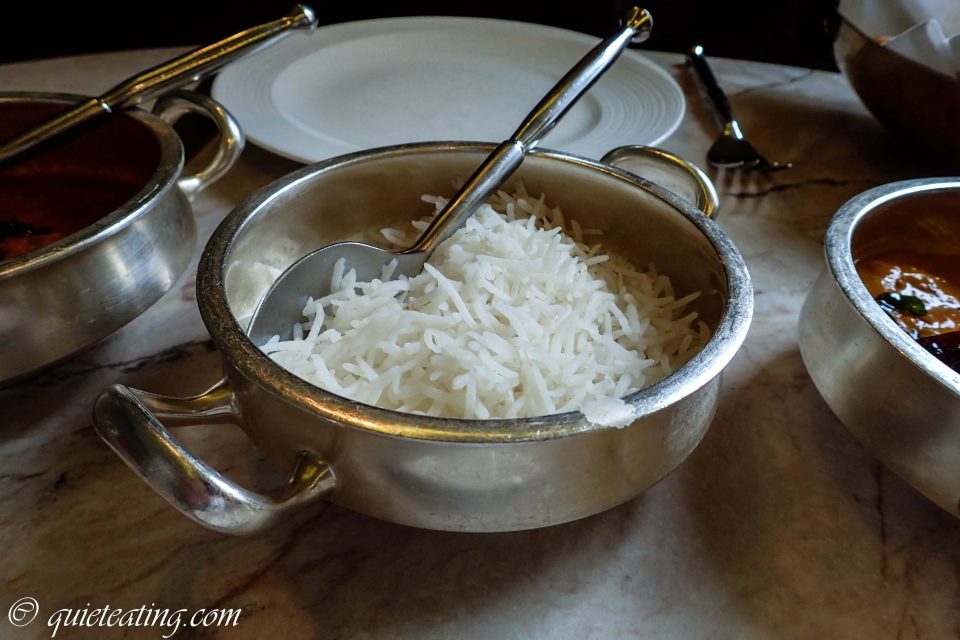 Basmati rice.  I shouldn't say what it says on the tin (as I don't think this is where this came from) but no real comment here.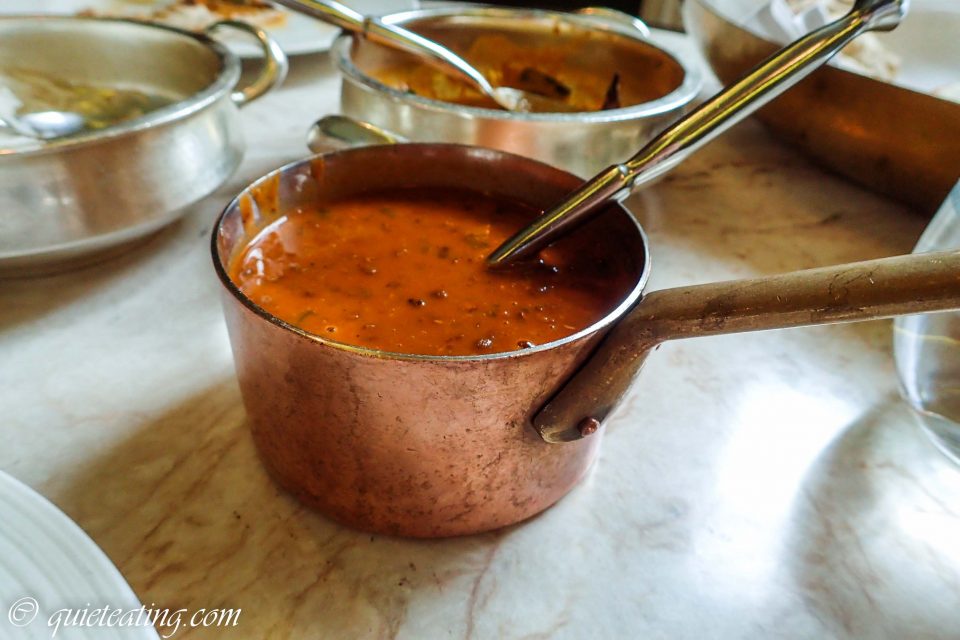 Kutir Kaali Dal, black dal.  This was probably the highlight of the meal.  Silky, full of umami taste and surprisingly filling, I ended up spooning this all over my rice, my bread and then just the plate in my desire to shovel more into my mouth.  Should have just ordered this from the menu.
Pear ~ Star Anise, melon, raisins, saffron, wine.  The pear was soaked in wine and potent.  The sorbet cleansing and the little puff stuffed with raisins rather good with its sweet (but not too sweet) nature hidden in a crunchy parcel.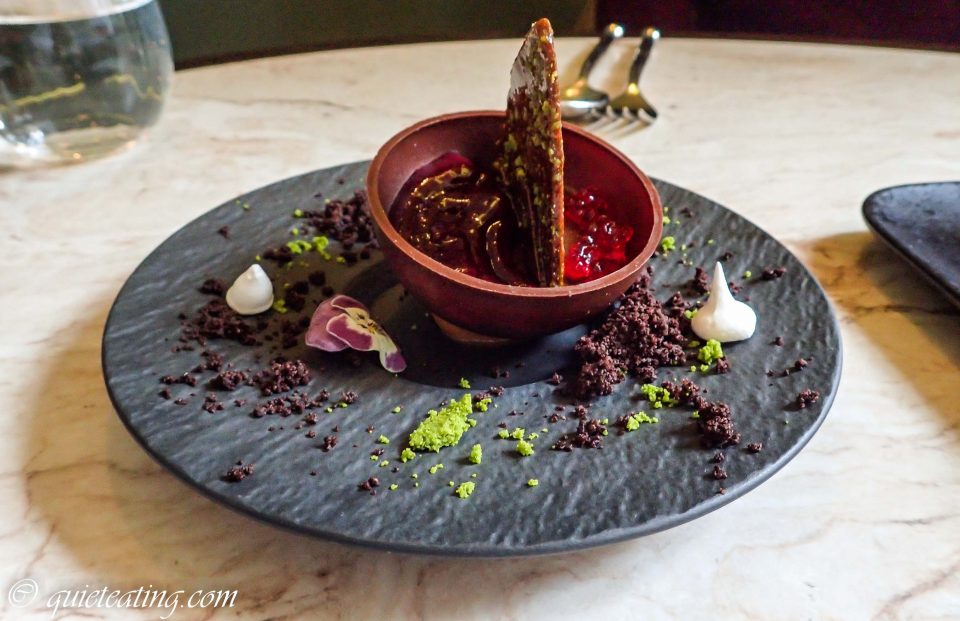 Chocolate ~ Rose, pistachio, soil, meringue.  I always laugh when a restaurant lists "soil" on their menu.  I eat enough dirt at work, thank you very much.  Don't need more.  Although I do know that what they mean is "chocolate" dirt, perhaps someone should perhaps come up with a better name.  In any case, this was rather pretty to look at, rather ordinary to eat.
Red velvet bites.
Something that is neither hot nor cold, good nor bad is the hardest to talk about.  Although, the meal was decent, it did not set off any fireworks but neither did it set me on fire (or pour hot water over me).  So, I guess I should be glad that it is something in the middle and on the positive side of the line.
A quiet eating 7/10.
Lunch (4 courses) was GBP35 excluding drinks and service.
10 Lincoln St, Chelsea,
London SW3 2TS
---
---