Jin Li
The last time I was in Chinatown was over six months ago.  How things have changed since then.
It was deserted then.
Now it was just not so busy.
I guess that people have gotten over their initial terror of covid originating from China.  Actually, seems like the Far East had coped the best of all the regions in the world.  There are some advantages to living in a totalitarian state. Then again, seems like some Western countries are following the same style with lack of benefits, e.g. giving kickbacks to pals, threatening to break international law and getting people to pay for flat renovations under the table.
In usual bombastic tones, the reopening of outdoor eating was heralded with much fanfare.  Only problem is that British weather was not particularly conducive to it.  Being forced to sit outside, I was also subject to something that ruffled my feathers.  Being forced to pay for my food before I had even tasted it.  Even more cheekily, I was asked to pay the full-service charge.  When I asked what would happen if I didn't get good service, the question was unskillfully avoided.  As it was explained to me, the staff were too busy, so collecting the money, being the whole reason for the restaurant, could be missed.
Somehow I doubt that.
Boiled rice.  Rather scraggly in look, this bowl cost us over GBP9.  A bit dear…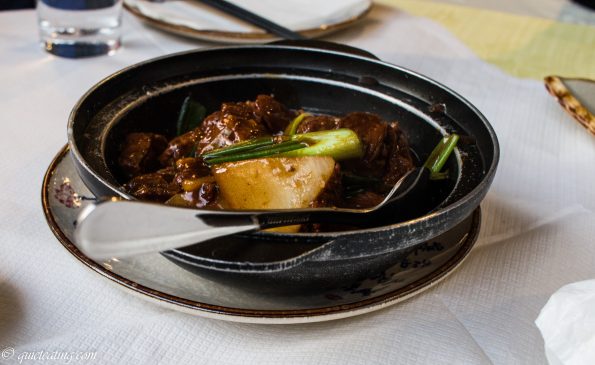 Braised beef in hot pot.  A bit bland and rather uninteresting.  The beef seemed a bit too tough and could have benefited from significantly more time cooking.  It might have soaked up a bit more taste then.
Grilled lamb with cumin.  This was thankfully something that would not follow the beef as it was tasty and crunchy.  Lamb has a rather strong taste so the liberal use of cumin was welcome.  A tasty dish.
Sliced fish in hot chilli oil.  The mound of chilli was a bit misleading.  Things weren't really that hot.  You could say that it lacked a spark.  Although the fish was sadly a little bland the hot chilli made up for its blandness.  Perhaps better described as chilli with fish, this was nonetheless rather good.
As this is the first Chinese food I've eaten outside for more than half a year and as a result of this gap and my craving for this, cognitive dissonance probably meant that this tasted better than it actually was.  This is in addition to ageing dulling my senses as I was recently reminded which increases the chances of error.  As I was rather bluntly advised this bright, sunny day, I am getting old.  My tolerance for idiocy is decreasing.  My snarky remarks are quicker to come to the fore.  Perhaps my tastebuds are also failing me, although as I mature, I do think that there are worse ways to go.
A quiet eating 7/10.
Dinner (the above for 3 people) was GBP 18 per person excluding drinks and service.
Unit 15, Central Cross, 16 -18 Newport Pl,
London WC2H 7PR
---
---