Hong Kong City
I especially bemoan what seems to be hyperinflation in the London dining scene.  It seems that once restaurants opened up without restrictions, that it was a signal that the customers' wallets were fair game too.
In such circumstances, I felt like to have a full meal, not even a good one, it would almost cost me an arm and a leg.  Even my neighbourhood Chinese restaurants, not known to be particularly pricey if you were judicial in what you choose to eat, were jumping on the bandwagon.  I like to leave the restaurant with a bit of skin on my back, thank you.
Such changes have forced me to look further afield when I have a hankering for Chinese food.
This is Hong Kong City.  With a very Cantonese decor with a massive gold mural on one wall.  The clientele also seemed to be mostly of black hair.  I know that that is not a guarantee of good food as it could just mean that it was a place for Chinese people to congregate over bad food but that was better than nothing.
As an additional plus, a restaurant frequented by such people like me (a bit tight on the wallet at times) would not hike their prices much.  As they would be deserted by their regulars.
Taro cake with mince meat.  Crispy outside, fulsome inside, the yam with mince meat fulfilled my meat desires.  Was a bit too oily but still alright.
Char siu baked puff.  These were not that good.  They were a bit too heavy and the pastry too dense and the pork inside struggled to overcome the almost overpowering pastry taste.  Although, at least they were cheap.
Deep fried prawn parcel.  Eaten with a helping of mayonnaise on the side, these were decent if not particularly difficult to do.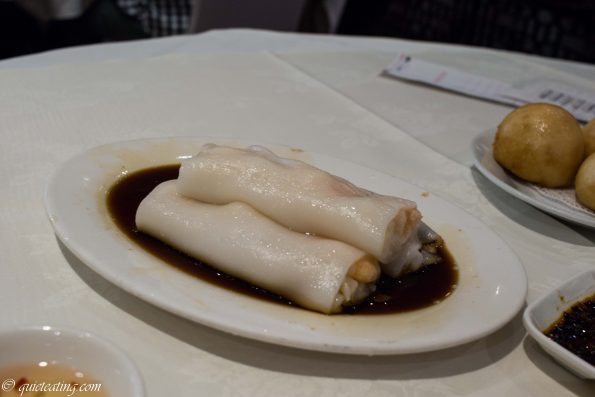 Prawn noodle (or as some English translations called it, Chinese lasagne).  Plump juicy prawns in a light noodle casing these were alright, if nothing that special.
Custard bun.  Also known as lao sai bao (diarrhea buns), as when these are done right, the custard is supposed to ooze out on a bite (just like rather rude nickname).  Unfortunately, the insides had been cooked a bit too much so it was solid inside.
Steamed prawn dumpling.  Decent with thin enough casings on the prawn to make them rather nice.
Steamed pork dumplings.  Alright, if not anything particularly earth-shattering.
Given the above description, you may be wondering why I still think they are worth a repeat visit.  This was as the service was professional and prompt, the dinner when I came by a few days later was much better and the decor reminded me of home. Most importantly though, at the end of the meal I got to keep my arm and my leg attached to my body.  Much as I hate to use this word, this "literally" means that it is easy to come back soon.
A quiet eating 8/10.
Lunch (all of the above for 2) per person was GBP 13 excluding drinks and service.
Hong Kong City (there is no website)
43 New Cross Road,
London SE14 5DS
---
---