Flor
As my dining companion was educating my other dining friend who does not often go out with the two of us (and probably will accompany us even less now), lunch on Saturday is where the less experienced staff are unleashed on the clients.  This is the graveyard shift of restaurants where they try new foods and virgin staff on unsuspecting customers.
At least that is the excuse I would like to use to explain the haphazard, fawning, heavy-handed and erratic service.  The alternative is that they are just like this all the time.
Scarlet prawns, sea buckthorn, yuzu kosho.  An interesting Japanese slant on things.  These were decent (i.e. not cooked) even if the prawns seemed sadly a little lacking in flavour.  I am used to raw prawns having a slightly sweet taste but this was missing here.  Or perhaps that is due to the rather lengthy wait between ordering and the first dish appearing (25 minutes).  Perhaps it isn't just the waiters who are a bit green.
Head of the same.  The cooked part, these were grilled and had all the internal organs packed inside patiently waiting to be eaten.  These were sadly a bit morose as they didn't really add that much.  What I would note to Flor is that if they wished to serve up the heads, they might also consider deep frying these in the Japanese style.  I have never had a prawn head as good as my out of this world experience at Kyubei.  That is how to eat prawn heads.
Raw oyster, cucumber, caviar.  Good oysters if a little steep.  Each of these was GBP5.  The sauce was good, the oysters rather tasteless.  Not something that I thought was particularly exciting.
Burrata, climbing beans, peach.  Alright I guess.  Great expert on cheese that I am (I can tell a rotten cheese from one that is supposed to be eaten that way), this seemed fairly alright if a bit flat on flavour.  Then again, I understand from people greater than me, that is the way that burrata is supposed to be.
Butter.
Bread.  We had to pay extra for this as apparently when you are paying this premium for food, it only goes as far as paying for substandard service.  The bread was good though.
Palourde clam flatbread, vin jaune, spenwood.  Excellent bread spoilt by a cheese and clam (and something?) topping.  A bit too oily for me but perhaps this was the way it was supposed to be.
Mojama, toast, broken eggs.  Mojama is tuna.  Broken eggs are eggs?  I'm going to assume the toast is bread.  Alright, if not particular awe inspiring.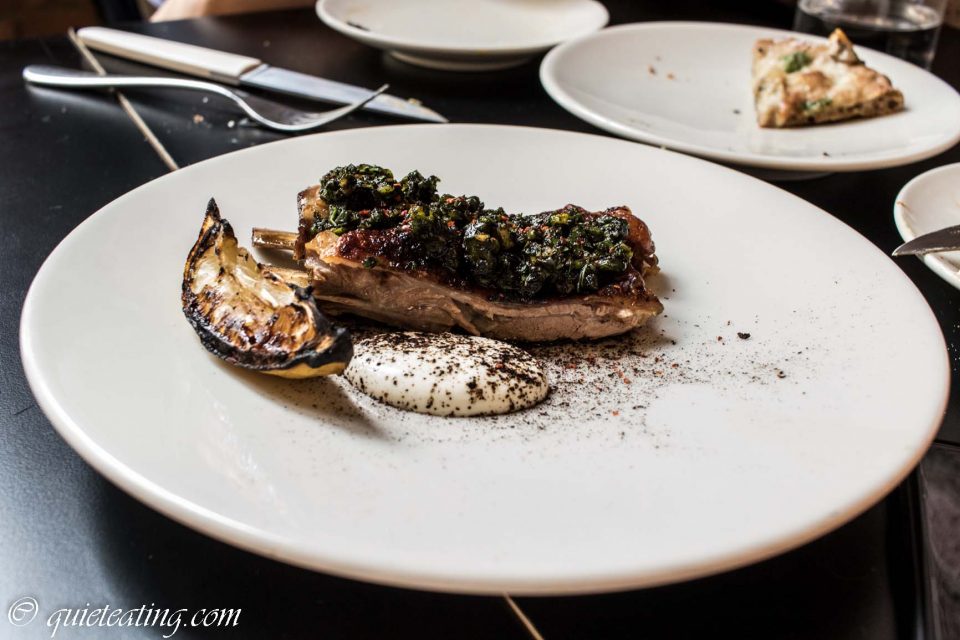 Lamb rib, pistachios, yoghurt, black lime.  The best of the dishes, the succulent meat fell easily off the bone, the nuts and yoghurt enhanced the umami lamb taste.  Unfortunately, at just 2 ribs, it was a little too small.
Brown butter cakes.  Delightful with firm crust and sweet and soft inside.  I could easily see myself eating several (read many) more of these.  However, these were a little too late to wash the sour taste out of my mouth at the end of my meal at Flor.
From the same team that brought London Lyles, I had high hopes.  Yet the food proved to be strangely inconsistent.  Some of the items were good, some less so.  However, what was more steady was the lack of service and the rather heavy-handed approach when they finally appeared.  With these two issues combined, I guess I should just be happy that food didn't end up on the floor.  Or perhaps I should say Flor.
A quiet eating 6/10.
Lunch (3 course equivalent) was GBP27 per person excluding drinks and service.
1 Bedale St,
London SE1 9AL
---
---