Din Tai Fung
At Din Tai Fung, London, I was treated to something that doesn't seem to go together with Chinese restaurants.  I was previously not one to shy away from a lack of cleanliness in my eateries.  As some of my friends back home in the Orient would tell me, the dirtier the street store, the tastier the food.  Look at that build-up of years of grease on the wok.  Cleaning that would take away that signature taste.  See the bargain for those foods!  Probably because cleaning products are counterproductive to the taste!
However, events of recent years have challenged this view.
I now try not to live dangerously, as risks abound and are much more in your face.
This is my way of saying that Din Tai Fung is one of the cleanest and most spacious Chinese restaurants I have been in.  It has extremely polite, quiet and rapid service unlike most eateries just a stone's throw away in Chinatown.  Where they would almost be a show to see how rude the service could be.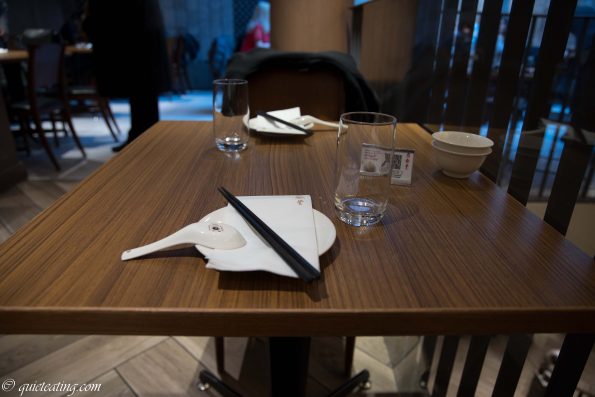 That table looked like it was clean enough to eat off.  Not that I'm ever so clumsy to have my food end up on the table, on me or on the Flor.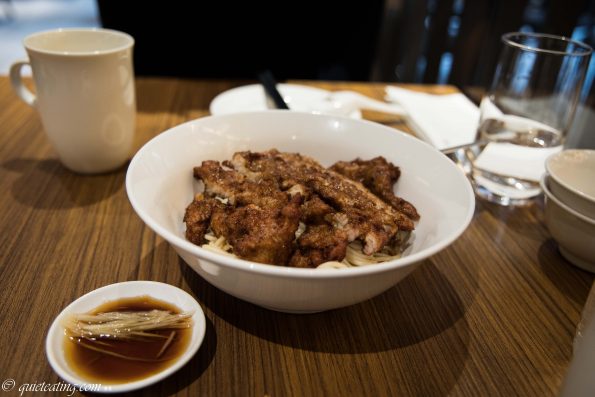 Pork chop and dry noodles.  The pork had been battered with skill and then carefully fried as there was very little residual oil left.  It was crunchy without being dry, moist without being oily and flavourful without being overwhelming.  When paired with delightfully bouncy noodles with light silky taste, this was excellent.
Although this came first, this was not what the place is known for.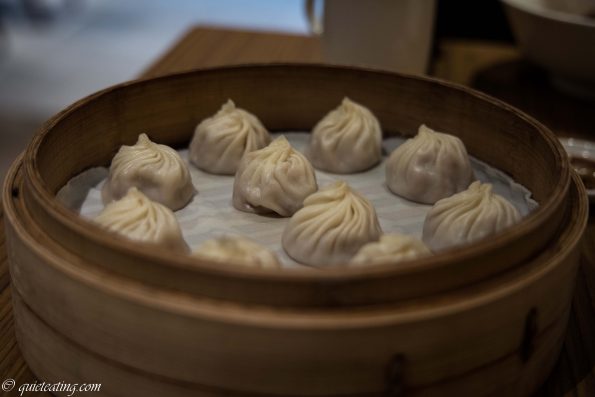 Xiao loong bao.  Shanghainese soup dumplings, are little parcels of delight.  When dipped in a mixture of soya sauce and vinegar with thinly slightly ginger, the combination almost made me swoon.  If you make sure that you get the entire dumpling into your mouth in one bite, you are rewarded with a taste of heaven.  Paper-thin pastry, rich soup with pork filling combined to remind me that life is worth living even in these somewhat boring times trapped at home.
The problem with this is that sooner or later you are done.  Unfortunately giving into my hunger and stuffing my face with more is too easily done as they are deceptively small.  However, there is a cost to dumplings created with such skill and cost.  If I indulged my fancies, I would be a larger but destitute man.  Perhaps I should stay with my cheap (but dirty) eats then.
A quiet eating 8.5/10.
Dinner (2 courses) was about GBP30 per person excluding drinks and service.
5-6 Henrietta Street, Covent Garden,
London, WC2E 8QH
---
---