Clarke's
I heard that Clarke's was an outpost of the gentrified, so I couldn't resist a visit after my trip to Paris to check if cultured people in white table cloth restaurants in England acted the same.  Hence, my visit to this institution.  Clarke's, apparently known for its agreeable food, and smooth and sublime service.  No expectations there of course.  I try to enter restaurants without too much baggage.  It generally gets too heavy to carry, or stuck in the door or is otherwise hard to fit under the table.  As I learnt through unfortunate experience, you should only go through life with carry on sized luggage.
Cornish squid salad with quinoa, fennel, shaved radishes, chives and citrus vinaigrette.  Very pretty on its plate, rather more ordinary in its tasting.  It just lacked a hint of something special and seemed a bit bland.  I fervently hoped that this was not going to be their signature, rather lacking in flavourful food.
Salad of white and green asparagus with aged Parmesan, peas, fava beans, watercress and balsamic dressing.  The other starter continued with this more tasteless theme.  The ingredients were obviously of high import but seemed a bit wasted in this slightly unimaginative dish.  The cheese was a welcome surprise though, with generous slabs to add a taste of fullness to the dish.
Rhug estate organic fallow deer roasted with orange, pine nuts and currants/raisins with baked carrots, golden beetroot and rainbow chard. From such unassuming beginnings, we began to worry that the rest of the meal would follow along the same thread.  I must admit that in my youth, before I visited England, fueled by stories of Robin Hood and his merry band of thieves, I thought that the British lived on deer. Imagine my disappointment on not finding one in sight when I arrived here years ago.  None in the parks or on my plate, to my bitter disappointment.  Gentlemen in hunting gear toting their shotguns were more thankfully absent.  I wouldn't like to be mistaken for a deer one misty morning.  Yet, this dish showed that it was actually worth waiting for proper British food.  This medium rare deer was to surprise us. Moist, gamey and just slightly cooked, the flavour of this uncommon ingredient shone through. Cooked somewhere between rare and medium rare, its pinkness allowed a glimpse into what peasants ate in secret and lords feasted on in times gone by.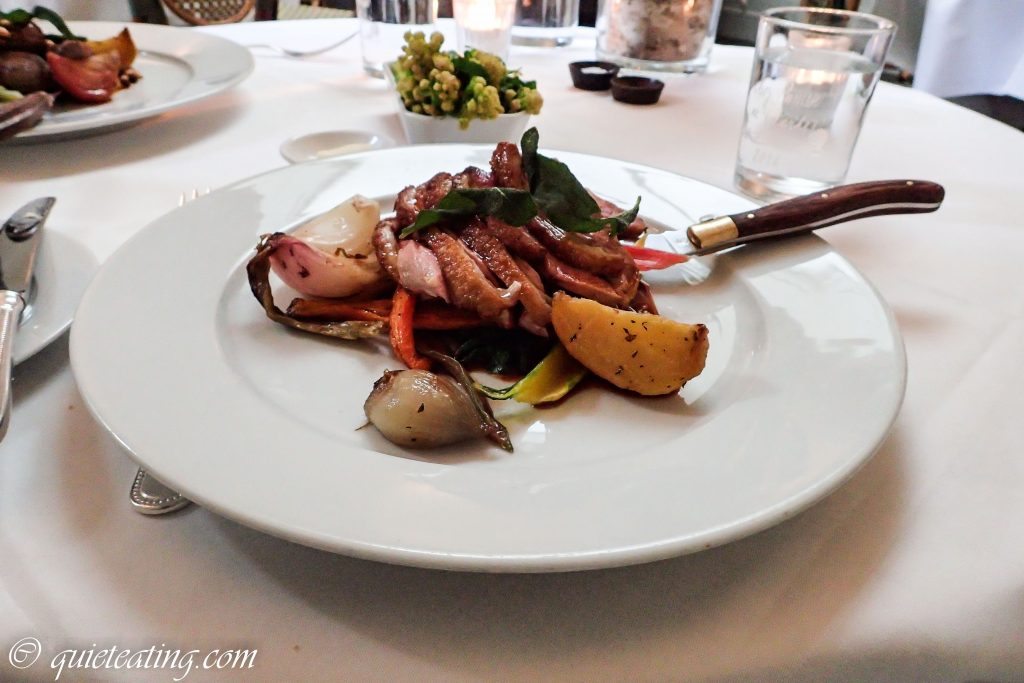 Lancaster duck breast roasted with orange, red wine and sage, beetroot, carrots and steamed rainbow chard.  Likewise with duck, another typical British dish, I had once thought that all parks in London must be teeming with their quacks.  I was crestfallen when I visited the Serpentine lake in Hyde Park and found it rather deserted of said fauna.  It was probably because they had all been hunted to bring dishes like this!  With a thin layer of fat just under the skin, this duck avoided oiliness and dryness to deliver juicy duck breast cooked with an interesting hint of orange.
White broccoli.  My fellow diner insisted on the greens.  It looked nice, tasted ok.  Nothing special here.
Olive bread, corn bread and blue cheese bread.
The bread would be worth its own story.  All the breads were good although it was the blue cheese bread that blew me away.  How had they managed to squeeze that flavour into bread?  It was almost as good as the bacon bread I had in the Ledbury years ago.  The focaccia was so good I inhaled it so quickly that there is no picture.  So much for self control.  The olive bread and corn bread were consumed with more measured pace.  They were good but nothing compared to the forcaccia and blue cheese bread.  I regret not eating more of these.  If there is any reason to come back to Clarke's, this is it.  It was that good.
Caramelized almond cake, vanilla ice cream and spring rhubarb sauce.  This was one of the best desserts I have had in recent memory.  With a buttery base of carefully crumbled almonds and more almonds on top, this wasn't too sweet, too hard or too hot.  It was just right.  The ice cream and rhubarb were the cherry on top of the cake or in this case, tart.
Clarke's started off mediocre but ended with a bang.  Things to especially note were the deer, the blue cheese bread and the almond tart.  If I had just stuffed my face with these elements, I'm not sure I could have fit through the door on my way home.  I'm glad that I arrived with reasonable expectations and baggage as when I left, it was heavier with good experience.  Got to find luggage with wheels for next time as my shoulders aren't what they used to be.
A quiet eating 7/10.
Dinner (3 courses) was GBP40 excluding drinks and service.
124 Kensington Church Street
London W8 4BH
---
---