Berenjak
You hear the most interesting things sometimes at restaurants.  And no, this is not from the other patrons but instead the staff.  I try not to be purposely nosy but when people insist on having a conversation at increasing volumes right next to me I can't help but notice.
People say the most interesting things when they think they aren't being overheard.  They do the most fascinating things too when they think they aren't being observed.  Two waiters were speaking at length about the gym while they waited for the place to fill up.  Specifically, lifting.  Plates in the gym, not plates in the kitchen.  Yet, let me tell you about some of the food first.
Taftoon, clay tanoor baked sourdough seeded flatbread and Sangak, whole wheat flatbread baked on pebbles.  These were not bad.  Airy with bounce, these were great mixed with the toppings.  Probably with more bounce than a particular gentleman's muscles as explained further below.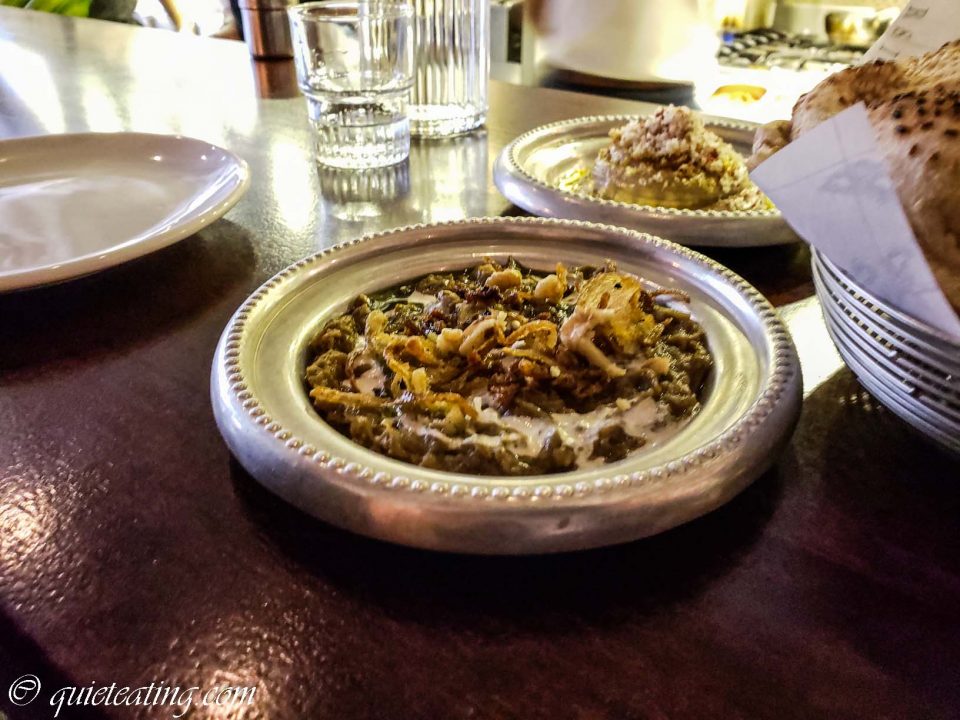 Kashk e bademjoon, coal cooked aubergine, whey, walnuts, dried mint and onions.  Deep egg plant taste set out off with nuts and onions.  A delight.
Hummus, black chickpeas, tahini, walnuts and sumac.  Appearances can be deceiving, as although this looked like something that would be best left on the road, this was smooth and flavourful.
Here I continue to detail more of about the actions of the serving staff.  Then had apparently moved on from speaking about various exercises you could do in the gym to the gentleman complaining about soreness in his bicep.  Flexing and feeling it is all normal (although irritating) in the gym but what makes it somewhat sad is when you do it in public and there nothing to really shout about.  If you prod and poke your bicep, things tend to go better if you get a bit of bounce instead of having your finger sink in when you prod.  As engaging as this episode playing out was, we were rudely interrupted by food before we could eavesdrop more.  Or perhaps that was the whole point.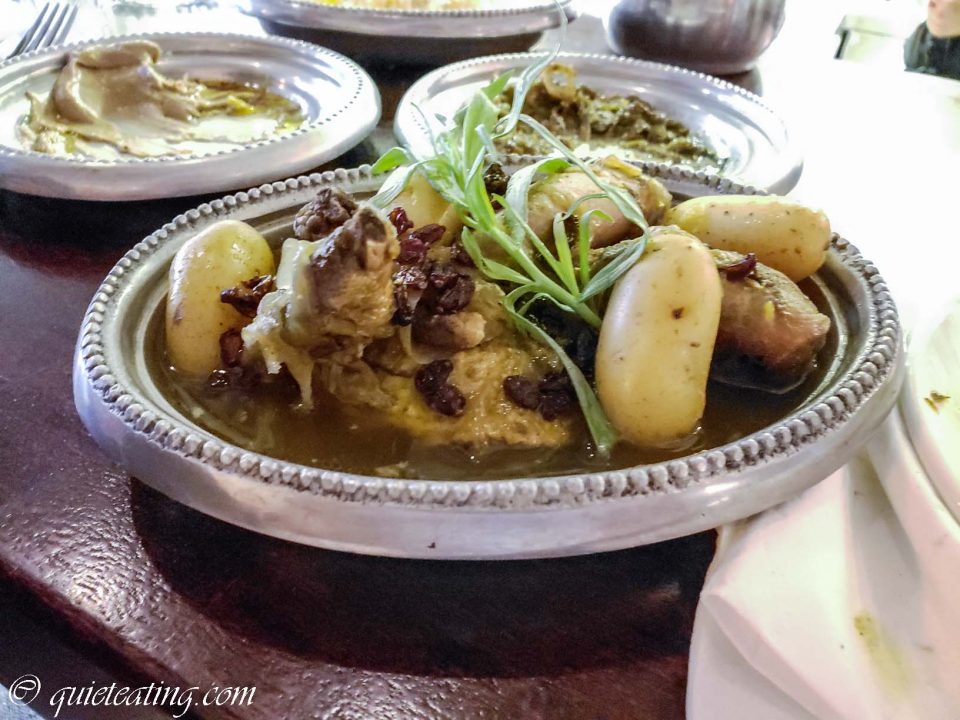 Khoresht e zereshk, guinea fowl legs stewed with saffron, onion, potatoes and barberries.  Food barbarian that I am sometimes, like many unidentified things I've had in my life, it tasted just like chicken.  Good chicken though with sweet touches of blueberries, a hint of saffron and meltingly soft potatoes.  So something which was not bad.
Chenjeh kabab, lamb rump chunks marinated in chilli, tarragon and yogurt.  With the bread happily soaking up the juices, the lamb stared at me hungrily.  I returned the favour.  Looked great, tasted kind of dry.  Being an annoying amateur food critic, I would point out that the lamb seemed to lack depth of flavour (not favour).  The insides were somewhat tasteless and it seemed like the outside was all for show.  Here I will refrain from making any allusions to the staff.  I think I should leave them alone.  If only they wouldn't do the same to the lamb…
House rice, saffron rice, goats butter and tadig.  It was the rice that was to be the highlight of the meal.  Smooth, crunchy at times and always delicious, this was a good undercurrent to the meal.  Too bad the rest of the food wasn't like this.
Darlish baklava ice cream sandwich.  It was exactly as described.  An icecream sandwich with a perhaps more fancy casing than usual.  Nothing to really shout about, similar to some musculature.
It was towards the end that our rather vocal waiter continued his tirade against his own body.  "I'm too inflexible to do stuff."  He went on to elaborate that he just couldn't "flex" enough to do pull ups.  That piqued my interest as pullups usually do not require bodily contortions to complete.  You know, you reach up and pull yourself up.  Easy as one two three.  Then again, it could be a problem if (a) you were carrying a bit too much extra weight or (b) your head was so big that it got in the way of your arms.  One would be easier to rectify than the other.
Sadly enough, I didn't really feel like lingering over at Berenjak, even with the riveting conversation.  Although some dishes were great, the majority were something closer to average.  So not somewhere that will contribute primarily to (a).  With that said, it's time for the gym.
A quiet eating 7/10.
Lunch (2.5 course equivalent) was GBP22 excluding drinks and service.
27 Romilly Street
Soho, London
W1D 5AL
---
---