Tonkotsu East
Sometimes nagging gets to me.  At times (which I guess is the aim), I just give in and do what the voice says in order to get it to go away.
Although I have to be careful not to encourage such behaviour.  It might backfire rather badly.  So if you know me personally, know that if you nag too much, there will be consequences to bear.  I can be a rather difficult person if I put my mind (or even half) to it.
Yet sometimes, I just want a bit of peace so this is how ended up at Tonkotsu against my better judgement.  Someone wanted ramen.  So being as we are, in east London, we went to the imaginatively named Tonkotsu East.  Once we had arrived, things didn't start off that well.  We had a pitcher of water angrily banged down on our table with two empty cups as the waitress scuttled off to tend the only 2 other people in this restaurant.  Kind of looked a bit empty as there was space for 50.  Then again, maybe it was just my face… Although that was a bit uncalled for as I wasn't even giving her my special scowl.  My whining aside, we then ordered.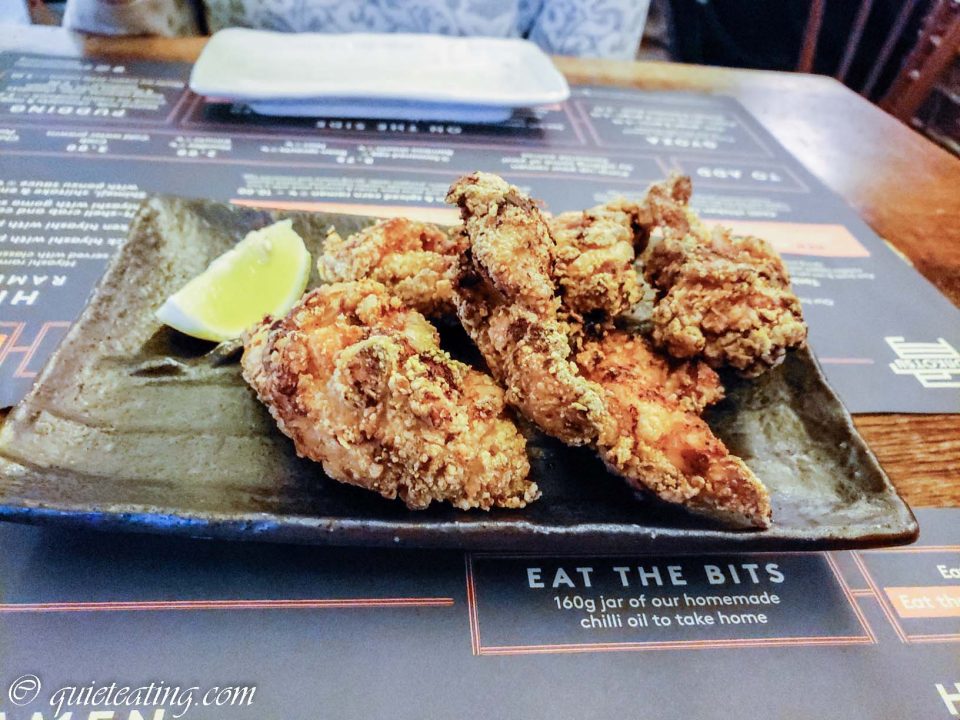 Chicken kara-age, fried chicken.  It was cooked, crunchy and was not over fried.  I think those words are the most generous thing that I can say about it.  On the more critical front, it was dry, rather bland and sad.  We were given the option of paying some more for mayonnaise (who charges for mayonnaise???).  In hindsight, maybe we should taken them up on that offer as it would have at least given some taste to this.  Mayonnaise with chicken (as opposed to chicken with mayonnaise) anyone?
Tonkotsu ramen, pork broth & sea salt base, enriched with lardo. Thinner-cut homemade noodles topped with roast pork belly, bamboo shoots, bean sprouts, spring onions, burnt garlic oil and seasoned egg.  With a particularly verbose description, looks like they are going for quantity instead of quality.  I know that people sometimes accuse me of being verbose but then are those that love the sound of their own voice (or text) and those that love the sound of their own voice (or words).  Sadly the food didn't live up to either characteristic.  It wasn't quality and it wasn't quantity.
Someone annoyed person that I am, I would question the description which refers to "thinner" noodles.  Thinner than what?  I don't like menus that confuse me.  Thinking a bit more, actually I do know what thinner might be a reference to.  Perhaps Tonkotsu's general lack of substance.  In which case, thinner sounds about right.
Half way through my noodles, I was interrupted by the waitress again who wanted to clear my bowl.  As I waved her off, I thought there something to commend about her quick service.  Got to turn the tables as fast as possible especially when there are 6 people in the restaurant.  Then again, maybe she is being run ragged by her boss.
As time goes by and I continue to age, it is becoming even more abundantly clear that I know very little.  At least that's the reason that I did not let my displeasure show too blatantly at the restaurant.  Wouldn't have been helpful in any case.  Instead, on reflection, I can let rip on paper once I've had some time to reflect.  That is some compensation for a less than satisfactory meal.  Although, perhaps this is just a lesson that I need to be a thicker skin.  Got to let the nagging bounce off me next time.
A quiet eating 6/10.
Lunch (a ramen and a side) was GBP 18 excluding drinks and service.
1A Dunston Street, Dalston,
London E8 4EB
---
---