10 Heddon Street
Creatively named.  Just like 10 Greek Street up the road.
I guess when you are not so very imaginative, you could always name your restaurant after its address.  Or perhaps I am being a tad harsh here as perhaps such a straightforward name is suggesting that they have other more important things in mind than trying to come up with a fancy name.  Like Sexy Fish (I don't look at fish that way), Bao (it is what it says on the tin) or perhaps something to raise eyebrows such as Bubbledogs (I'll leave you to figure this one out).
Focaccia.  Delicately buttered these were rather enjoyable.  As they very much should be as these were sadly not complimentary.
House made mortadella.  Tasting like a softer, more juvenile ham, the mushy texture was interesting but perhaps a tad too much for me.  Reminded me  a bit of baby food, not that I have ever tasted that but it had that rather mushy texture.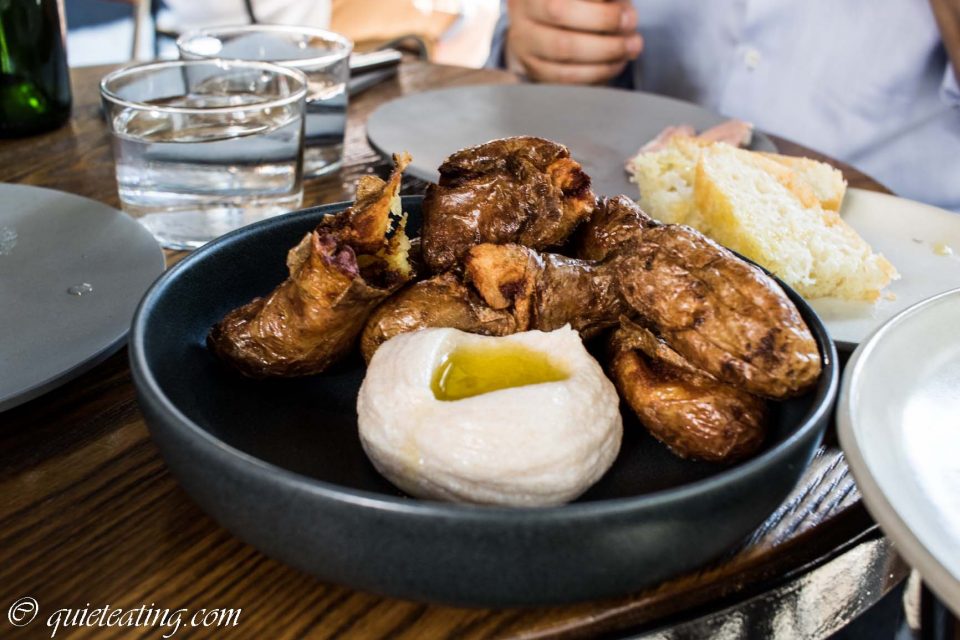 Pink fir potatoes, cod's roe.  These were the stand out dish of the meal and would give even the Core potatoes a run for their money.  The potatoes themselves were great but the cod roe served to almost turn this into a new type of food.  I wonder if I can call these potaods.  Potato and cod.  Then again, although potaods kind of rolls off the tongue, it sounds something like an insult, so maybe not.
Fried pig's head, apple ketchup, crispy skin.  Apple ketchup didn't really go that well.  Something with more body perhaps?  The pig's head a bit too overpowering and the skin a bit too airy (i.e. lacking) in taste.  Perhaps best given a miss.
Pappardelle, ox cheek ragu, fried rosemary.  This is what attracted us.  Keenly priced good pasta is thankfully becoming a bit mainstream in London.  Led by the likes of Padella, followed by Flour and Grape and then other places like Bancone and now here.  Long may it endure.  The pasta was cooked al dente preserving its bite and complemented by a small helping of ragu.  I was surprised that they had managed to keep such a grainy consistency with the ox cheek as this usually falls apart when cooked, so well done.
Rigatoni, pumpkin seed pesto, ricotta salata.  This was surprisingly good.  I would never have thought that a vegetarian pasta could taste so good, with pumpkin seed (I wonder if this dish was inspired by the new Brexit date of 31 October, Halloween).  If Brexit was half as good as this, I would have nothing to worry about.
Agnolotti del plin, pork, brown butter, hazelnut.  Lovely little parcels of pig set off by nuts, this was good if rather small in the portion with slightly thick pasta balanced with a more fulsome filling.
Tagliatelle, seaweed butter, agretti.  Delicious, with buttery pasta set off by seaweed (both ground and sea versions as agretti is known as land seaweed), cooked just right to retain a little bite, these went down a treat.
Tonnarelli, brown crab cacio e pepe.  The heaviest of the pastas, in a cream and crab sauce with pepper, this reminded me of the heady delights of Padella's pipi cacio e pepe.  The pasta slipped down my throat, the crab delivered highlights and the pepe finished it all off.
Sweetcorn ravioli, girolles, nasturtium.  I do like girolles as minute mushrooms.  Their size seems to belie their taste.  With the sweet corn stuffing and a light dusting of Parmesan cheese on top, these were rather good.
As we stood back at the end of the meal and debated the finer points of life (how was the food), we agreed that it was a welcome addition to the London food scene.  There was one problem though, a lack of imagination in its name.  In their defence, as this is a pop up, I guess that the owners of this pop up had something more on their minds than what to call their establishment.  When we enquired of the waiter where they would end up, they said that their permanent establishment would be somewhere in Soho.  When asked about its new name, they were rather less committal.  I just hope that they don't set up on [street name] and call themselves [number street name].  That would be a shame.
A quiet eating 8/10.
Lunch (2 courses equivalent) was GBP20 excluding drinks and service.
10 Heddon St, Mayfair,
London W1B 4BX
---
---