Theo's simple Italian
I was bemoaning the other day to a friend that it's been a while since I've had Italian.  So when my astute fellow blogger noted that there was a new place in town serving this food from the continent, I thought it was predestination.  We had to go.
In the affluent west, tucked into the bottom of a boutique hotel, the restaurant's setting was exemplary.  High ceilings, large windows and comfortable chairs, it had the makings of a simple yet solid eatery.
As the restaurant was still in its early days, we ordered all (yes, I had to repeat myself to the waiter) of the nibbles x 2 and a large portion of the rest of their menu to give their food and kitchen a true test.  Having surprised the waiter with our verbosity (we can all talk a lot) and I assume traumatized the kitchen through our wide ranging order, we sat back to wait.  For a very long time.  Although as this was their second week open, we expected teething problems but generally an hour's wait between dishes tends to irritate even the most hardened of us.
I entertained myself by admiring the salt and pepper shakers.  With the candle, it was just right.  I did entertain thoughts of gnawing on these. I idly wondered what varnished wood salt shaker tasted like.  Yet I was rescued by the arrival of real food before I could indulge in my experiment.
Bruschetta Theo's style.  The crisp bruschettas were topped with lovely, fresh and flavourful baby tomatoes.  Straightforward and a definite stand out dish.
Grilled polenta topped with white cod mousse.  These had a very interesting flavour; however, the cod mousse seems a bit too salty for me.  I departed back to the bruschetta after a quick bite.
Fresh focaccia.  Although unfortunately missing the olive oil as per their menu.  A bit too dry.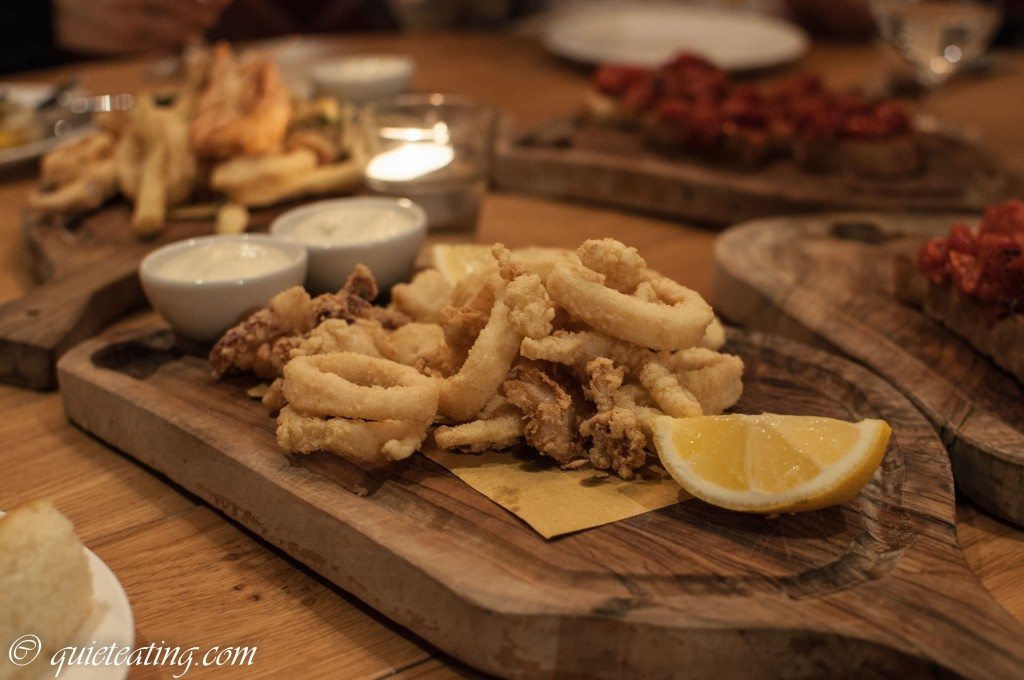 Calamari fritti.  Crisp and refreshingly relatively oil free, with a squeeze of lemon and the mayonnaise sauce, these were a little treat.
Fritto misto of prawns, squid, red mullet and courgettes.  More deep fried food to warm my heart.  Unfortunately, though, it seemed that the prawn had spent a little too much time swimming in the oil and was sadly overcooked.
Veal, beef and pork spicy meatballs.  A definite star of the show, the meatballs were succulent.  The tomato sauce deep.  I did find the promised spiciness a tad more difficult to find though but still a definite hit.
Marinated black Angus beef.  Not that it was bad but it was just bland.  In comparison to what had come before, it was rather average. Unfortunately a miss here.
Tuscan gnudi with parmesan, sage and noisette butter.  These dumplings were cheesy but lacking a kick.  They tasted a bit like licking up some flour, just not as messy but just as unsatisfying.  A bit too basic for me.
Taglierini with datterini, guancale, rucola and parmesan.  When this arrived, we queried with two different waiters whether this was the LARGE portion that we had requested?  The first took a second glance and hurried away to check.  We never saw her again.  Maybe in my half-starved state, I scared her away.  When I cornered the second, he emphatically responded when queried, of course these were large!  You see, because it's so buttery we don't want to serve much as it will soon fill you up not leaving space for other delights.  Well, I wasn't particularly keening for more of this dish in any case.  Lucky me.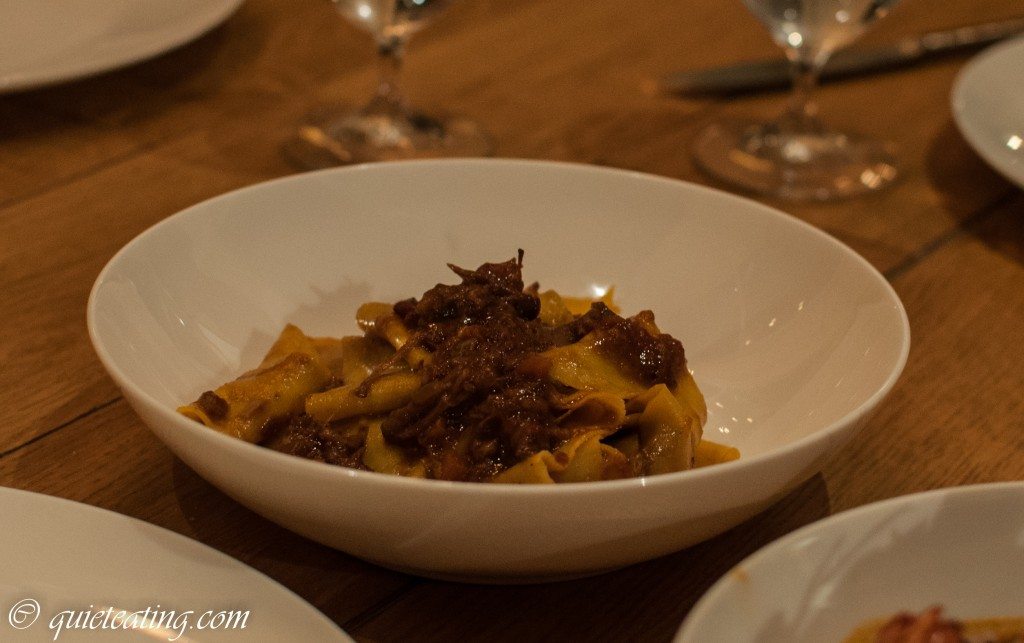 Pappardelle with an oxtail ragout.  This was meaty and simply left me wanting more.  Unfortunately, my fellow diners agreed with me and it was quickly polished off.  Good but missing one essential element, a decent portion.
Courgette frittis.  Uncomplicated and good.  Crispy and fried with skill to avoid an unappetizing pool of oil at the bottom of the bowl.
Risotto al castelrosso with roasted radicchio tardivo.  A very smooth risotto.  However, missing a vital ingredient at this price point.  Some type of umami taste.  I tend to be satisfied mostly by meat or seafood, transparently missing here.
Fish stew with red mullet, prawns, squid and crostini.  This stew was simply a little overcooked.  The seafood tasted as if it had been nuked out of existence seperately and then dumped into the stew in an attempt to redeem.  Unfortunately, it didn't work out.
Veal Milanese served with…
rucola and potatoes.  The veal was in contrast to the seafood, cooked just right.  The same applied to the sides.  The veal was delightfully just pink inside avoiding the toughness of overcooking experienced in the other dishes.  Although, I would expect so given that it was almost double the price of any other main.
At the start of the meal, I was worried that we had ordered too many main dishes. Good thing that we did as these rather minuscule portions left something to be desired. Simply put, they should have served normal portions of food.  Disregarding this issue, while some of the dishes were good, there was more than the expected misses, bringing down the average substantially.
Service-wise, I think they definitely have a long way to go.  It took us 2.5 hours to have a starter and main course.  Yet the best example of the service was yet to come.  When we were done, I attempted to attract some attention to do the politically correct thing.  Not pull a runner but instead pay the bill.  Although it seems that I have recently managed to pick up a very useful ability.  Being the invisible man.  As in Low, Slow and Juke, I waved and waved and made funny faces to no avail.  The waiters' didn't want to come to take my money.
Although I was tempted to give up in the end, we managed to pay our dues.  It is a great pity as the restaurant holds so much promise but is let down by a rather slow and inefficient service complemented by inexperienced and uninterested serving staff.  So, in conclusion, I would avoid.  Simple enough.
A quiet eating 6/10.
Dinner (3 courses) was GBP17 excluding service and drinks.  Although this is the launch period so we benefited from 50% off.
34-44 Barkston Gardens
London SW5 0EW
---
---