The Gate Islington
So I decided to dare to try.
Vegetarian.
I love meat more than the other guy but I thought I had to give herbivores a chance.
Bread basket.  A fairly standard offering.  The bread was decent but not outstanding.  Although the olive infused bread was quite tasty.
Courgette flower filled with sweet potato, goats cheese, pine nuts and basil, coated in crisp batter, served with puy lentil salad and a garlic & lemon aioli.  We managed to trick someone else by photo that these were deep fried chicken pieces.  Actually, they tasted a lot better than that.  Flashed fried carefully, they contained minimal oil to coat the lovely flowers which went deliciously with the healthy nuts and goats cheese.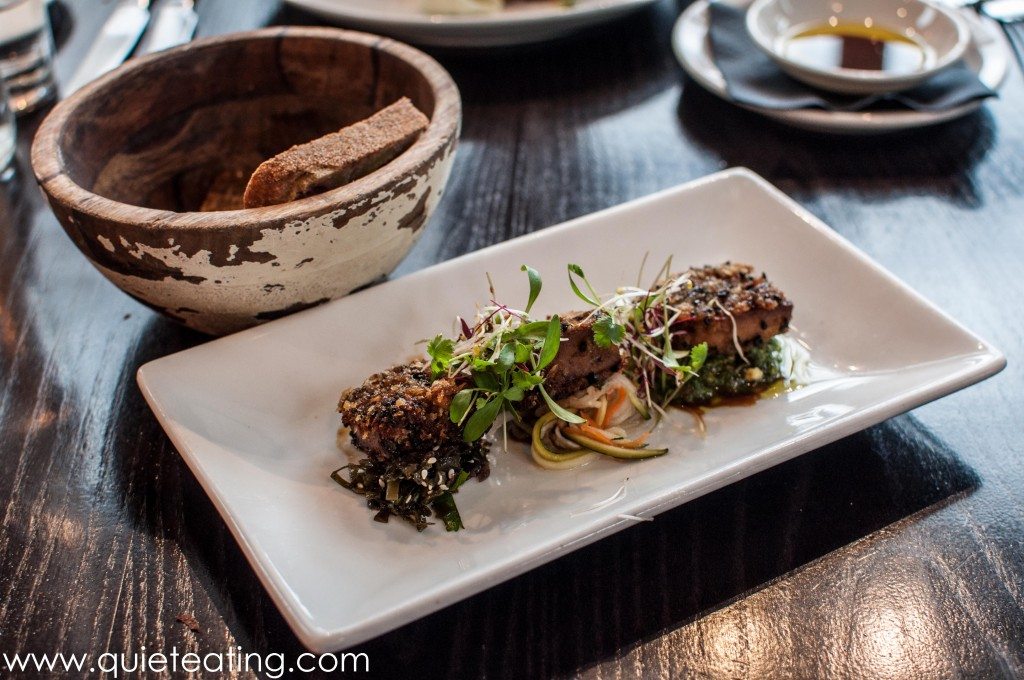 Sesame coated smoked tofu with coriander pesto, pickled vegetables and seaweed salad.  Unfortunately, this was where things started to go wrong.  The tofu tasted like someone had accidentally dropped these into the salt pan.  I think I drained half the bottle of water to get the taste of the sea out of my mouth.
Three onion tart with leeks and shallots baked with creme fraiche in a cheese pastry, topped with caramalized red onions and finished with herb oil.  This tart made up for the previous dish though!  The tart was very light and smooth with the tart seeming to have a little bounce as if it had just come out of the oven.  This lovely little dish more than made up for any imperfections of the previous dish, imaginary or not.
Wild mushroom risotto cake with sauté girolles, king oysters and Paris brown served on a pan fried risotto cake garnished with creamy cep sauce, rocket and cheese shavings in lemon and truffle dressing.  Delicious with the mushrooms lending a meaty air.  Although, maybe, I am imagining things in my meat deprived hours.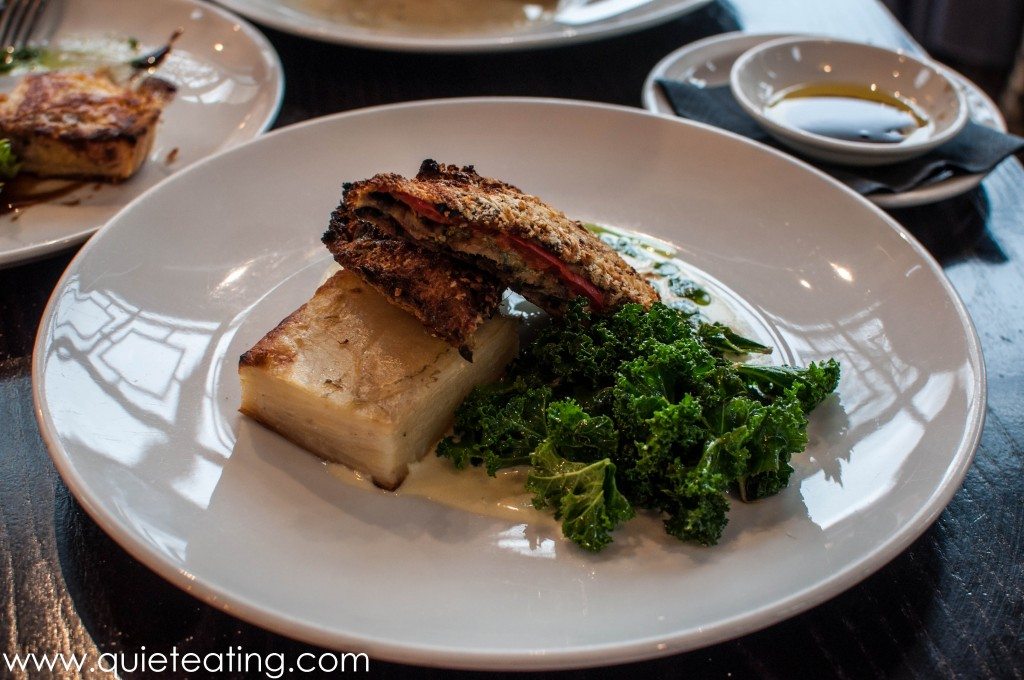 Aubergine schnitzel layered with applewood smoked cheddar, basil pesto, roasted red peppers and plum tomatoes, served with potato dauphinoise and pan fried kale, finished with a horseradish cream sauce.  I got a little excited here as it looked so much like pork belly.  It tasted almost as good though (and much healthier!)  A very carefully constructed dish as the egg plant schnitzel was an inspired dish, with layers of egg plant carefully encrusted in a herb baked casing.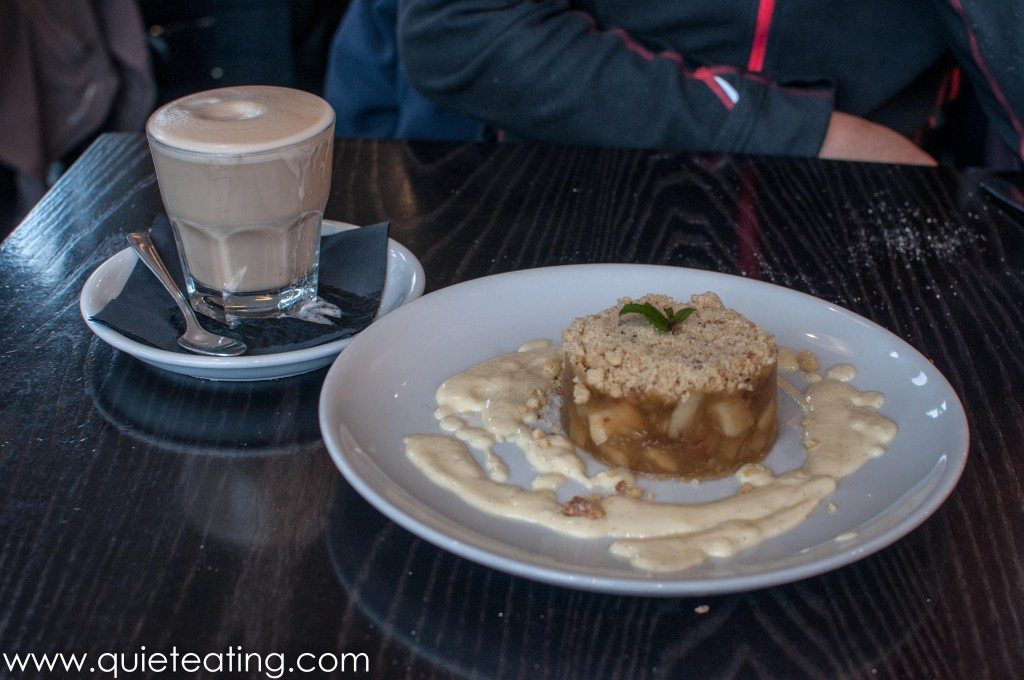 Apple, fig and cinnamon crumble served with vegan chantilly creme, with a latte on the side.  The crumble combined both sweet and tart, jelly and grainy to leave an aromatic aftertaste.  What impressed me most about this was how well the taste of the apple shone through as I expected the sugar to overpower the taste of the apple. Well, at least that is usually what happens when I try to make this.
It was with trepidation that I entered the Gate to the land of vegetables but I left with a smile on my face.  If you are looking to try vegetarian food but are scared of being traumatized, this is a good place to start.
A quiet eating 7/10.
Lunch (3 courses) was GBP25 excluding drinks and service.
370 St John Street
Islington
London EC1V 4NN
---
---