Dirty Bones
I had a very interesting invitation pop up in my inbox recently.  For a cocktail mixing masterclass and brunch.  Neither of which are generally up my street, so I admit to being rather apprehensive.  Worries of being sucked into some unforgiving American gala full of booze and rather more fatally overcooked and liberally salted food haunted my nightmares for countless days before.
So when facing such an intimidating adventure what to do?
Invite a friend.
That's what friends are for right?
Inside the basement restaurant, I was pleasantly surprised with a tastefully decorated dining room.  So much so that at times I almost forgot I was 10 feet down.
When we stepped into the private room, we were greeted by the setup for the mixing competition.
As well as the other humble contestants in this event.  Amusement was already apparent on some faces even before any of the activities had started.
All eventualities were carefully prepared for as menus with our names were helpfully in place to guide us to our seats.  Just in case we, err…  drank too much and forgot where to go.   Not that we did of course.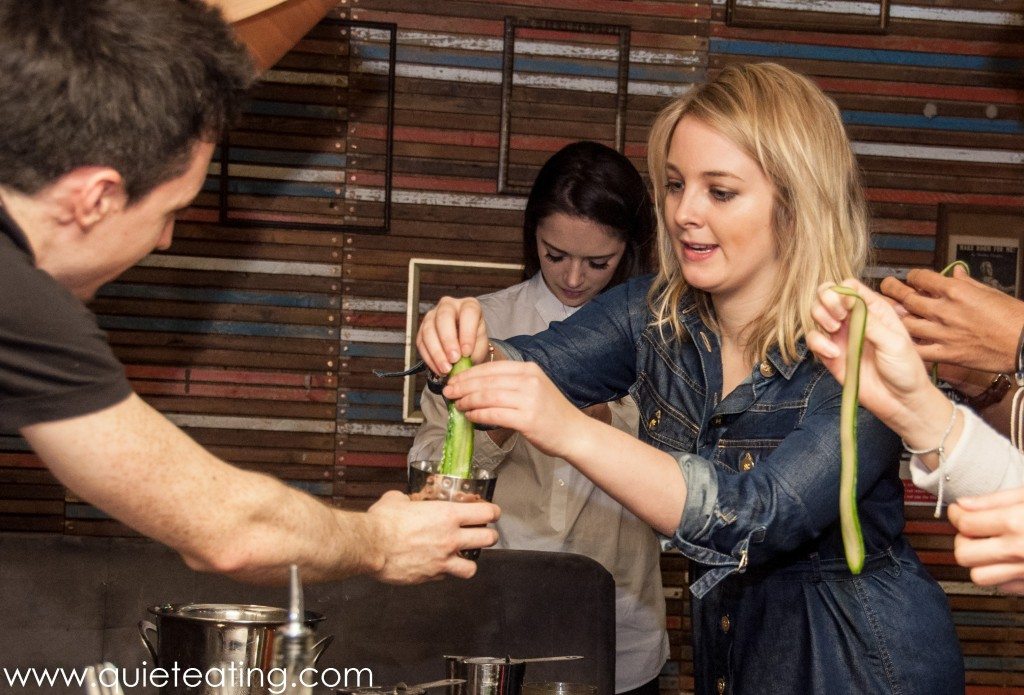 The first task of this game show was to make something worth drinking.  We were tasked with creation of dirty marys.  This picture shows the happy namesake of the beverage.  When you are mixing a drink named after yourself, it's hard not to be happy.
A dirty mary is made of a shot of vodka, sourthern chilli pepper sauce and sour cream.  Sounds bad, tastes better!
It made Jot especially happy.
The product of all that work was a joy to behold.  A little dirty mary to start off our elevenses.  I think we all past the first test.
Yet although the drinks distracted us, we still felt that something small was missing.  We laughed and joked nervously while we waited for the next task while free flowing Prosecco filled our glasses.
The second test was to separate the food bloggers from Joe Bloggs on the street.  Food bloggers are elusive and hard to detect.  They look just like us except that they profess to have talented tongues.
So the next examination task was to see if we could tell good soul food from the bad.
Green cheese toastie, triple stack toastie of avocado, tallegio and cheddar on sour dough.    This double cheese delight with avocado was tasty and smooth but it was the bread that stole the show for me.  As a self confessed bread snob, I delighted in the sourdough as it had a delightful spring lacking in the limp bread I would sometimes eat for breakfast.  Snobs can eat bad bread breakfasts too.
Slow 'n' low toastie, triple stack toastie of beef rib, charred gherkin, english mustard, taleggio and cheddar on sourdough.  The beef rib was so soft and moist I thought at first it was pulled pork.  The gherkin added a sour note which when combined with the mustard and beef rib made a sandwich worthy of a food snob.
Benedict burger, 6oz aged steak burger, treacle bacon, poached egg and hollandaise.
We had to have a small break here.  As this was a blogging event everyone had to whip out their trusty sidearm, cameras that is.  The incessant chatter of the table was soon replaced by the sound of snapping cameras.  Studied looks of concentration replaced previous carefree expressions.  After all, everyone knows that looking focused is proven to help you to take better photos.  Just look at all those people sticking their tongue out of the corner of their mouth when vying for the next photographer of the year award.  They have to be on to something otherwise they wouldn't do it.  Baring teeth also helps sometimes.
But I digress from an artsy view of the half demolished burger.  Things had been going so well up to here but this dish was just… ordinary.  Maybe I have been spoilt by the likes of Honest Burger, Patty and Bun and Burger and Lobster but although there was nothing bad about this, it just seemed to be a drop in standard.  It seemed that the bread was the biggest let down as the spark displayed in the afore mentioned sourdough was sadly absent.
A crowd pleaser followed the burger.  French fries with grilled eggs.  Flashed fried in oil searingly hot the potatoes were crunchy and refreshingly absent of visible oil.  Reminds me of myself when I look in the mirror, good on the outside but clogged with fat inside.  Oh well.  What you can't see can't hurt you.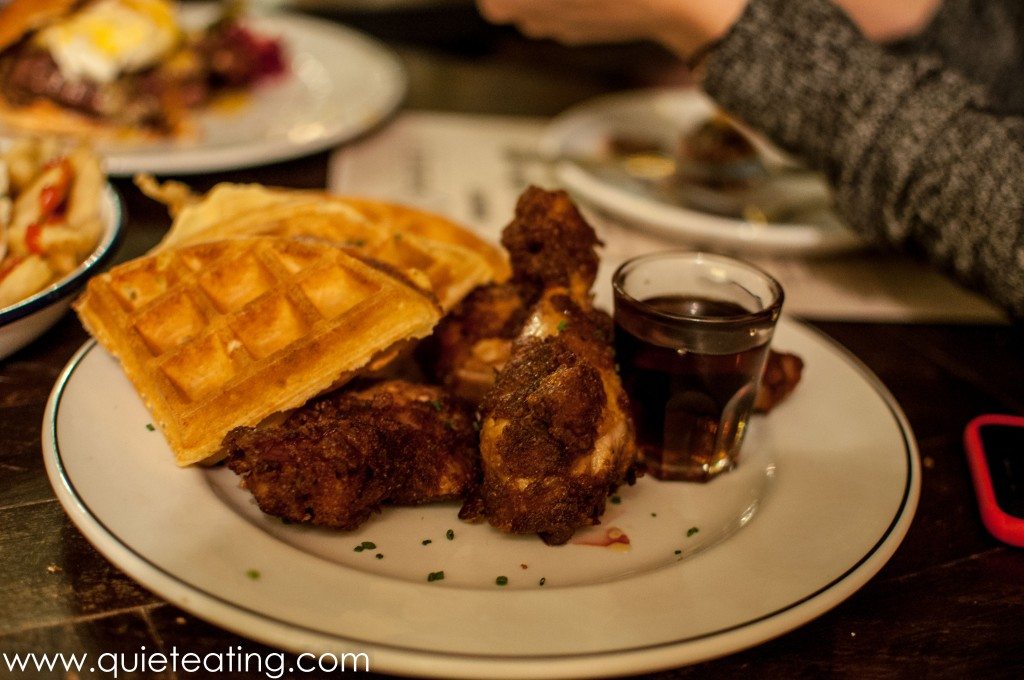 Chicken and waffles, crispy fried chicken with waffles, maple syrup and bbq sauce.  Now.  HOW does savory and sweet mix together???  Well I must say, remarkably well.  The chicken, cooked suos-vide style before being battered and deep fried, was the standout dish of the brunch.  The chicken was delightfully juicy inside and appealingly coated by a crunchy and superbly tasty crust.  If there is one dish to come back for, this is it.
So far I was confident in my culinary discernment.  Not too much to challenge my tongue yet.  I passed test two with flying colours/ketchup.
Having finished test two, we now progressed to the final coup de grace.  Dessert.
Milk and frosties, pannacotta served with frosties.  It tasted…  Like how it looked.  Milk and cornflakes.  It didn't really tickle my fancy, I could hop over to trendy Shoreditch to the cereal killer bar if I really wanted to spoil myself.  Or I could do something marginally easier, like pour some frosties in my bowl at home with some milk on top.  I did wonder why this seemingly basic dish was making an appearance at an event to showcase the restaurant.  This was a miss.
Banana toblerone-tella waffles, bananas, toblerone-tella, bluberry jam, peanut butter gelato, crushed nuts on waffles.  After the cereal and milk, I thought that I was in for a treat with the next dish.  Waffles, bananas AND PEANUT BUTTER ICECREAM. I love peanut butter so much that I will happily eat it straight from the jar with a spoon to the horror of my friends.  Attacking this dish in an eager frenzy I quickly crammed the icecream, banana and waffle into my mouth (I have a big mouth as my friends will tell you).  It was…  Ok.  Sadly the peanut butter taste was a bit too mild for a peanut butter veteran like me.
I did wander idly if test three was to see if we could discern good food from the bad.  Or in this case, food well done from the merely average.  Dessert was ok, not as good as I was expecting though.
So what did we think at the end?
It was a very fun brunch (probably helped by the free flowing alcohol) although we felt that we needed to work for our meal at times by providing a bit of entertainment in the first challenge.  The food was full of some surprisingly dishes, far beyond my expectations, and was an ideal introduction to a brunch virgin like me.  Although we had to sweat for our fare at times, I think that we acquitted ourselves well through our trials and tribulations.  If the reward for being a snobby food blogger is brunch at Dirty Bones, sign me up any day.
A quiet eating 8/10.
We were invited to review.  Estimated cost for the food (assuming 3 courses) was GBP25 excluding the many drinks and excellent service.
20 Kensington Church Street
London W8 4EP
---
---