Sabor
I hate waiting.
Although I have come to understand that for food, I am actually unduly patient compared to my peers.  Events that would drive acquaintances to rage would not bother me.  Things that would soon have my friends running for the door do not seem to faze me.  Although even I have limits.  In particular, the surge in popularity of "no booking" restaurants sometimes makes the wait tolerable if the food is good and cheap.  However, if you plan ahead, there is one fairly foolproof way to avoid the inevitable queue.  Appearing unseasonably early.  There are some benefits to a staycation, you can beat the line by arriving at uncivilised times.
Sabor is run by the former chef of Barrafina.  Her departure (that is her back above) really shows, as on my last visit to what used to be one of the best Spanish restaurants in London was less than pleasant.  Instead, this is where she ended up.  Her absence at Barrafina definitely shows…  With the chef in the house, we wondered if her culinary delights had followed her over.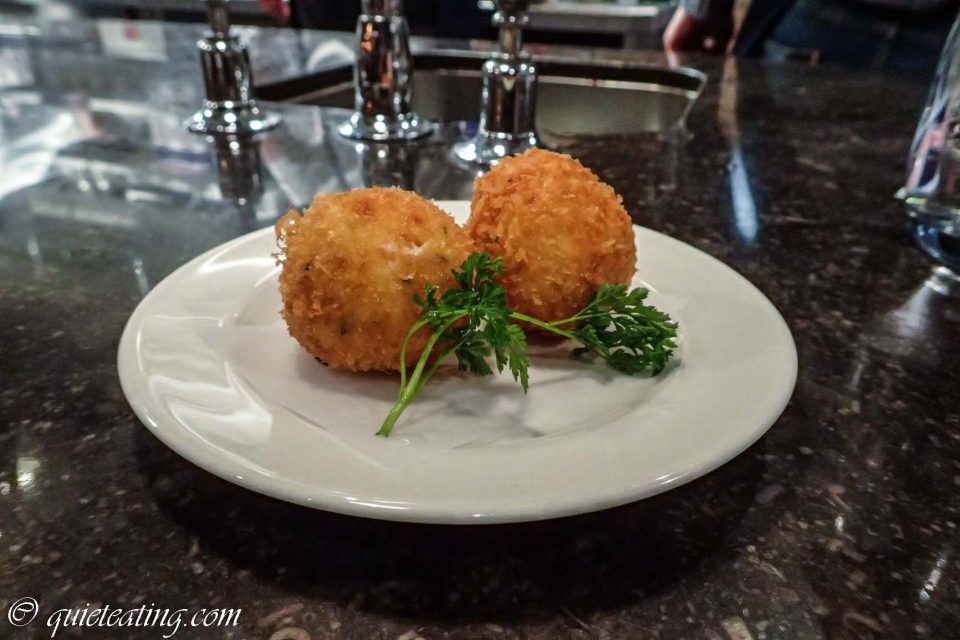 Prawn croquetas.  Although pleasant, when biting in, I did hunt around for the prawn.  Unless we were being served with minced or perhaps prawn infused filling, I had trouble identifying where these little critters went.  It was ok, despite the menu item being slightly misleading.  Perhaps they could have called it a prawn surprise.  Surprise!  There isn't any prawn here.  Yet, as my friends say, I shouldn't be so bitter.  So moving on.
Salt cod ajorraiero tortilla.  It was nicely runny inside with a great collection of vegetables and fish.  Best of all, it was not fantastically, inedibly salty like its Barrafina cousin.
Frit mariners.  The squid was good, the vegetables avoiding overcooking but it was the prawn which deserves special mention.  Cooked just the right side of cooked, the creaminess transported me back to days of perfect prawns in Japan.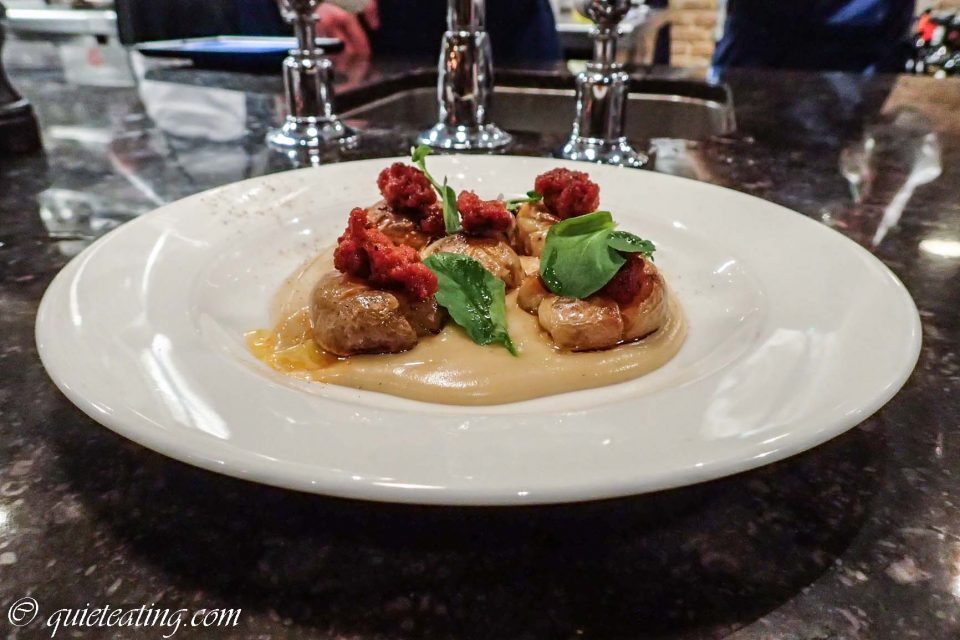 Chargrilled baby potatoes and dill.  Although rather minuscule in portion size, what they lacked in quantity, they made up for in taste.  Smooth, flaky and with a great touch of meat on top to add a solid texture, this was a great component of the meal.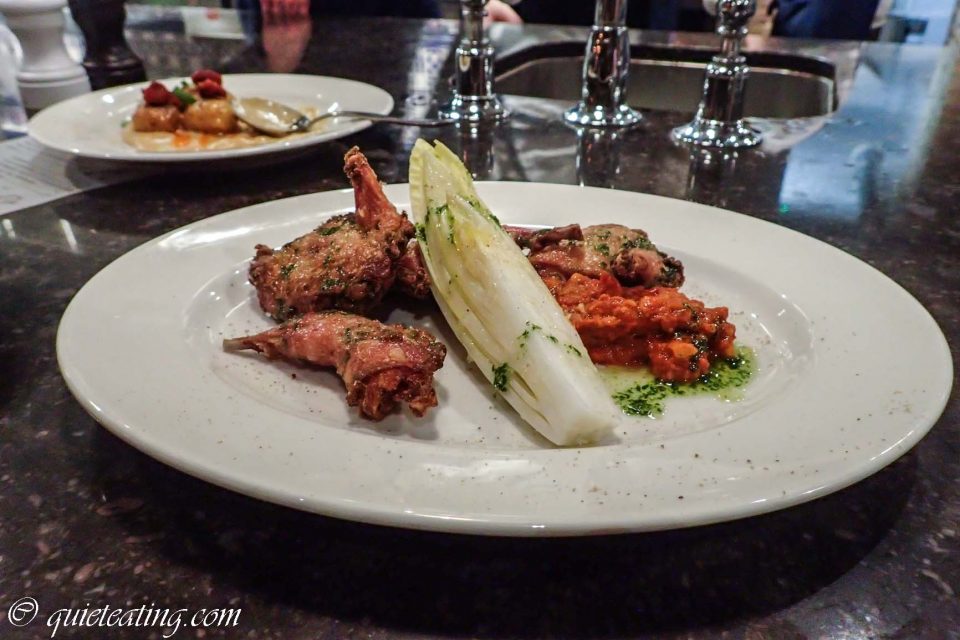 Crispy quail, chicory and romesco.  Moving on to poultry, the quail, although nice, did not leave any otherworldly impression.  The romesco was a nice touch but didn't manage to lift the dish beyond the merely ordinary.
Presa 5 jotas, mojo verde.  The green mojo verde (garlic, olive oil, cumin and cilantro) was good, the potato crisps crunchy and crisp and the pork shoulder interesting.  The pork retained its juiciness and a hint of the acorns it had been reared on.  Although it did seem a tad overcooked.
Goat's cheese ice cream, liquorice sauce.  Tasted a bit like vanilla ice cream with chocolate sauce.  Perhaps testament to the chef that they had removed most of the nasty liquorice taste but it just seemed lacking a spark.
Bombas de tres chocolates.  Dark chocolate, milk chocolate and white chocolate with nuts inside and out.  Decent but no fireworks here.   If I had had to wait around in the cold for this food, I would be a tad annoyed.
I hate waiting.
I'm not talking about the line to get into a restaurant here but rather what I experienced inside.  I know it is all the rage to have dishes "comes as they are ready".  That just seems to be a thinly disguised excuse as to the haphazard nature of the kitchen.  With an open view of the galley, the sometimes frantic nature of service can be observed firsthand.  Even though this is a new restaurant, having to wait 15 minutes in between each course is a bit much.  Even if it is early days, it is not their soft launch period.  Be that as it may, I can forgive it if the timing of the food delivery is slightly off.  However, when paying the bill is split into an arduous affair of four or five events and over 20 minutes, it seems a bit much.  I would hope that there would be no cooking of the bill.  I generally like to pay for what I ordered.  As much as I do love to warm a seat, I have places to be too.
A quiet eating 6.5/10.
Dinner (all of the above divided by 2) was GBP 31 excluding drinks and service.
35-37 Heddon St, Mayfair,
London W1B 4BR
---
---