Oliver Maki
Attempting to summon to mind the most similar episode to this, I was reminded of particularly torturous visits to the barber as a child.  I would be bundled onto the bus, subject to a walk in the scorching heat at the end and then even when I was in the barber's chair, chiding when I "closed my eyes to rest".  In such a situation I would just dream of when I would be let out to run free and long to acquire the skill of a particular classmate, being able to sleep with eyes wide open.
So this was similar to how I approached Oliver Maki.  Being the rather annoying inquisitive person that I am, I had searched around for reviews before I arrived.  They seemed to be uniformly less than complimentary.  I do try to ignore other people's opinions about food, as they sometimes can be running horribly off piste, so I tried to approach this meeting with an open mind.
The setting was fairly straightforward and minimalist.  However, alarm bells were soon to start ringing.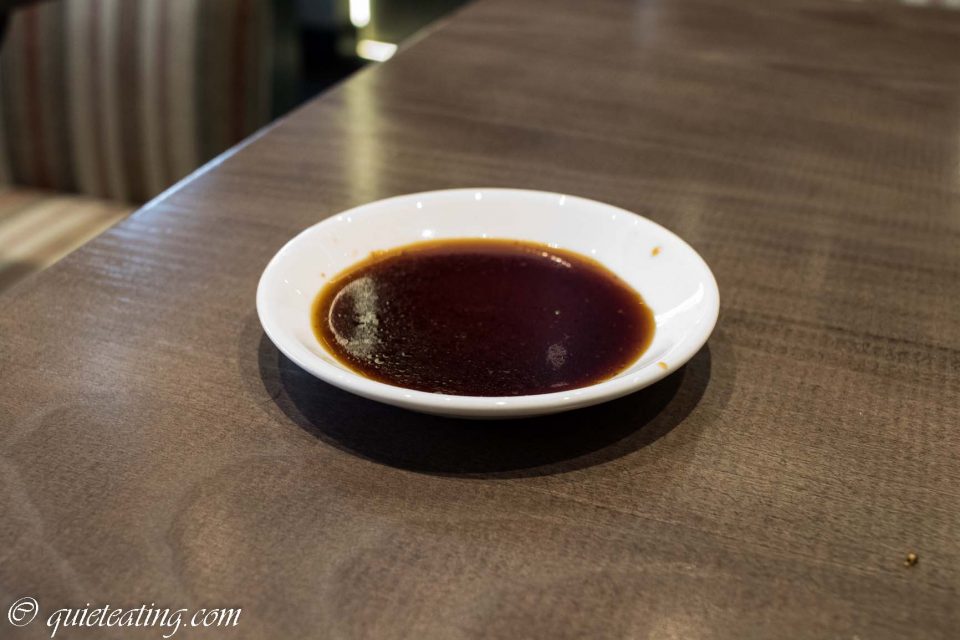 Signature olive oil and soya sauce. Proudly delivered to table by way of pretentious pipette.  I had a bad feeling at this point as I (a) had never heard of a mixture like this, sounds like someone trying to make a truffle based cocktail and (b) I am naturally suspicious when people try to distract me with smoke and mirrors.
Tepid miso soup.  Obviously from a packet, I think I should be grateful at least that this was not delivered in a bombastic manner.  The plastic bowl might have provided a hint of what was to come.
Issai Maki, Green Salad, Chicken Plum Sauce with Fried Vegetables and Rice.  I usually do not take much issue with the intricacy of how food is presented unless it is towards either extreme.  So, I will spend time on a critique here.  Who thought that serving food in jewellery boxes was a good idea!?  I hope that the idea was dreamt up in an opiate den as at least it would provide some drug induced rationale as to why such a hare-brained idea was put into play.  It made the food feel cheap and mass produced, was rather difficult to get food out of and was frustratingly gimmicky with round holes at the end allowing for food to spill out as you frantically dug away at the food with chopsticks.
Yet, let me not leave you without a description of the food.  I could not puzzle out what Issai Maki was made out of, some crab sticks and vegetables squashed together?  Pretty to look at, rather less so to eat.  The salad was a weird mix of salad, smothered in lemon, soya sauce olive oil and topped off with avocado. Not really for me.  The fried chicken with rice and vegetables, probably the best dish of the day although that is not saying much in present company.  Probably as it did not pretend to be high end fusion Japanese cuisine.  With brown rice and edamame beans, it did scream trendy, healthy, hipster and consequently suffered from the curse of such contemporary foodstuffs, it was very much form over substance.
Snow crab on the left.  However, I wouldn't want you to miss anything or think I forgot to include all the food, so here is a photo of the left side.  Reminded me of other faux Japanese food, like Californian rolls.  Like most fake things, it failed to impress.
Snow Crab Maki, Green Salad, Issai Maki, Salmon Teriyaki, Fried Vegetables, Rice, 3 Pcs Nigiri and Salmon Ceviche.  My fellow diner had a more deluxe version of what I had.  For an extra 50% you get a few more pieces of sushi.
On the drawers, for extra money they substitute the chicken for the salmon and put in some more salad but everything is the same as my cheaper meal.  So I will focus on the differences here.  This salmon was rather overcooked, dry and almost inedible in its state.  It didn't so much fall apart as flake into oily, almost desiccated chunks which tasted of oil.  The salad was rather limp and uninspiring.
Close up of of the sushi.  Yellow tail, salmon and tuna along with some weird crab stick rolls.  Fairly bland and insipid, not to be tried again.  The nigiri was a strange mix of fake crab sticks, greens, uninspired rice (where is the vinegar??) and token sesame seeds on top.  To be avoided.  As for the other sushi, glistening and shining with oil, they tasted as if perfectly good fish had been washed repeatedly of taste and then salted heavily.  The unique (in a bad way) mutated soya sauce dip only served to make the bad become truly horrifying.  To sum it all up, as we tried to hurriedly leave the premises, it seemed they did not want to let us go.  It seemed that when staff looked at me waving my hands around in the universal sign language for the bill, that their eyes glazed over.
I guess I shouldn't try to stereotype but I can now say with the benefit of hindsight that my suspicion about this Middle Eastern inspired Japanese food was right.  I know that others will no doubt complain that I should not be seen to give a stinging rebuke to this establishment.  Yet, I think it is deserving.  Japanese food is meant to enhance the underlying flavour of the ingredients, now drown it out in heavy (and weird) seasonings, badly thought out flashy gimmicks and slapping expensive ingredient names on everything to make things taste better by implication (o-toro was a prominent feature in their menu).  I would have been happy if I could say that my experience with the strange and weird, the pompous serving and the extremely forward looking presentation was just eminently forgettable.  Lucky person that I am, I will now have a memory to cherish, that of how bad you can make Japanese food.  Although I guess things could be worse.  At least unlike a bad haircut the consequences did not linger for weeks.  Once I was out of the door walking down a Soho street, the garbage on the sidewalks was actually a welcome sight.  At least it was being honest about what it was.
A quiet eating 3/10.
Lunch (1 course) was GBP15 excluding drinks and service.
33 Dean St, Soho,
London W1D 4PW
---
---