Kua 'Aina
Arguably the only thing in greater abundance than ramen chains in London is upmarket burger stores. At the start, it was probably a good thing to try starting a superior version of MacDonalds.  Now, like lice, they seemed to have multiplied and now we have multiple burger joints pretty much everywhere.  Although at least they aren't all radiating the same colour of the golden arches.
So, what sets Kua 'Aina apart from the rest? It's old.  As they proudly exclaim, founded in 1975. It is also very Hawaiian – think bright pastel colours, with fronds of some sort in the ceiling.  I feel like I am in the tropics already.
Another point of boast is that they claim to grill their burgers on lava rocks.  I would assume they were imported unless there is a volcano here that I had somehow missed.  These must be some of the best traveled rocks in the world.  How's that for a unique selling point, you could say your dinner was grilled by things from the molten core of the earth.
The menu itself is pretty extensive, cow, chicken or fish is up for your selection and if you are hankering for something extra, you could always choose a pineapple, avocado or chilli to spice things up.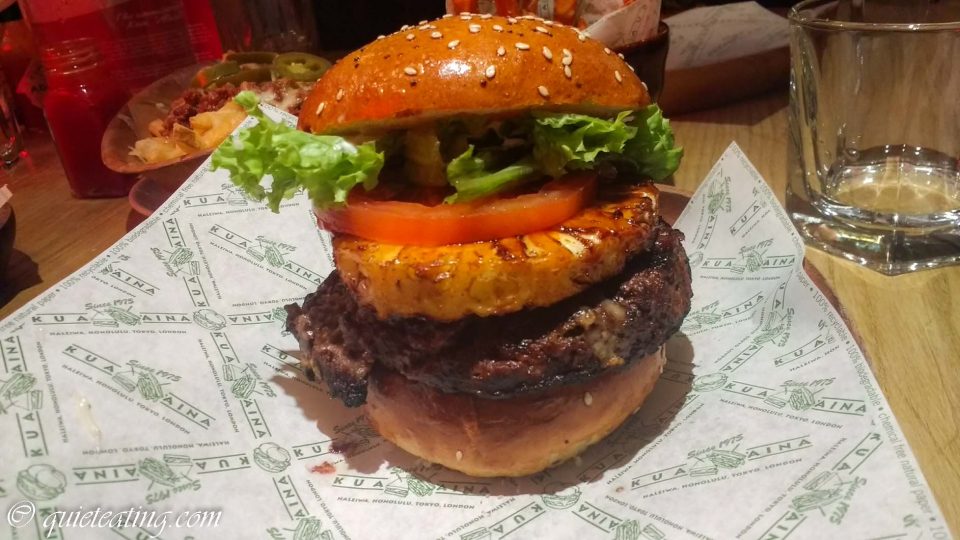 We opted for one of their classics. A standard beef burger with grilled pineapple. The meat itself was chunky and flavourful (with a nice chargrilled taste) although a bit on the dry side. Those at the meal who ordered the double patty found theirs to be juicier, so perhaps a thinner patty might have been the issue.
Sides were pretty decent as well. The sweet potato fries were good and went well for the burger.  Unfortunately, chilli cheese fries were not quite in the same league as the sweet potato version – although it came in a pretty sizeable portion.
It seems that in this case the oldey is able to hold its own against some of the newer kids on the block.  Although other joints may be flasher, more trendy or just plain louder, sometimes age has its advantages.  Afterall, if it is losing market share to some of the young upstarts, sometimes a dirty old trick is enough to put things right.  Like lava grilled pineapples.  So there.
A quiet eating 6.5/10
Dinner (a burger and fries) was GBP15 including service but excluding drinks.
Kua 'Aina
40 Goodge Street
London W1T 2QP
---
---