Pimlico Fresh
Seems like the internet is a ubiquitous presence in our society, so imagine my surprise that this restaurant does not have a website.  Yes – you heard that right.  The first restaurant I have seen in recent memory that doesn't have a website.  Pop ups and supper clubs don't count. Extraordinary, especially for a place as hipster and trendy as this.  I thought kids these days were born with mobile phones in their hands? Whatever happened to the humble pen?  And to think I used to bemoan the inability of people to get by without a calculator when in the corner shop.
Life just got a lot harder.
So reduced to guesswork and hearsay regarding cuisine and price at this establishment, I was a bit apprehensive before I arrived.  Although, I'm getting used to this as it is becoming the usual state of affairs when I visit restaurants.  I've been floored (in a bad way) too many times to count.  No expectations are better than low ones.  You can't be surprised.
Latte.  With a hipster pattern in the milk.  It was decent, as only trendy hipster coffee can be.  I would guess that in the back there was some twirling and dancing to create my cuppa.  Unfortunately, I was not witness to such activities to create a mystical brew but was soon to experience my own exciting (not for me for a change) experience.
While waiting for our mains to arrive, I was witness to an extremely amusing episode.  A poor gentleman had tea poured all over his shoe by a harried waitress.  I felt immediate sympathy, having being a victim of such an action myself.  Although, unluckily for me in my case, with significantly less protection.  The said gentlemen in this case was very fortunate to be wearing waterproof hiking boots.  Embarrassment, but no real damage done.  I wish I could say the rest for the other unfortunate events that have happened to me in restaurants.  There was the time I almost choked on string in a well known ramen joint but that's a story for another day.
Green eggs, sourdough, avocado, baby tomatoes and eggs.  The bread was crisp and nice.  The avocado ripe and delightfully squishy.  The tomatoes tart and fresh.  The egg was cooked the way it was supposed to be.  All together, it was a not bad dish.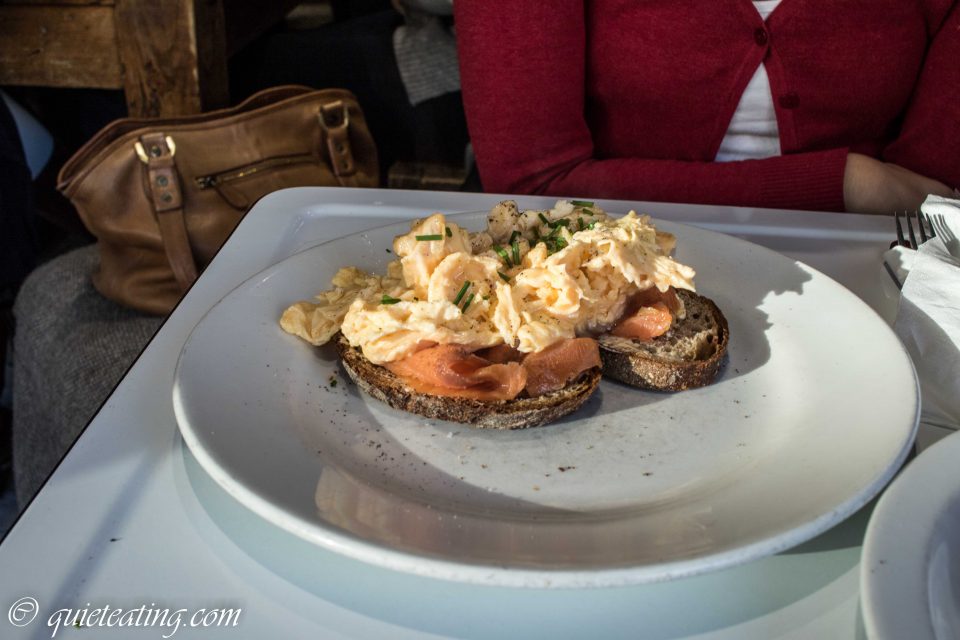 Smoked salmon on toast.  Fluffy eggs with salmon on toast.  The eggs were quite oily though.  But the bread was good.  I did wonder if they baked their bread themselves but then again noting their lack of square footage, probably not.  The green eggs were better.
We had to queue for quite a while to get a table here as it is clearly a popular spot, luckily with aforementioned amusement.  With the large communal benches, it is also somewhere that encourages you to mingle and linger over your brunch.  With food like this, it wouldn't be hard to dawdle over your food, as long as nothing inadvertently contributes to the decor of your shirt.  As long as it happens to someone else, I am content.  I like mine the way it is, thanks.
A quiet eating 7/10.
Lunch (1 course) was GBP 9 excluding drinks and service.
Pimlico Fresh
86-87 Wilton Rd, Victoria,
London SW1V 1DN
---
---