Coriander
When I first arrived in the UK those many years ago, one thing I found quite puzzling (and was to later find out was quintessentially British) was a preoccupation with talk of the weather.  How was your day?  Rainy?  Oh, how unfortunate. Must have been hard to walk the dog then.
When confronted with such banal greetings, I was sometimes tempted to respond with something atypical to shake things up.  So let's start again.  How's the weather?  Hailing?  Maybe you deserve it?  Sleeting?  Maybe it's karma trying to tell you something.  Snowing?  I could repeat the saying "before hell freezes over" but you get the point.
Actually, the day of the review, it was actually snowing in London.  And no, it wasn't because I had done something to offend culinary sensibilities.  Not in recent memory anyway.  When we sat down, we were presented with a rather full menu.  Rather difficult to pin down the choice so we pondered while partaking in some munchies.
Chutneys.
More chutneys.  To go with…
Poppadoms.
And more poppadoms.  The chutneys were interesting with fire, sweet, sharp and cooling all available depending on what you fancied.  This breather gave me plenty of time to think about what to order and to slowly work through the menu.  Yet, even with a bit of time and energy to think, long minutes into the chutneys, I was still rather lost in their cavernous menu.  So I just asked them to choose for me.  So with our future held in their hands, this is what we had at Coriander.
Shingara, pastry filled with spicy veg.  So began our surprise journey.  Fried balls of vegetables which in my famished state were delightfully filling.
Meat samosas.  A more carnivorous dish to sink my teeth into, these crisp parcels were filled with minced lamb. Delightfully crunchy and savory.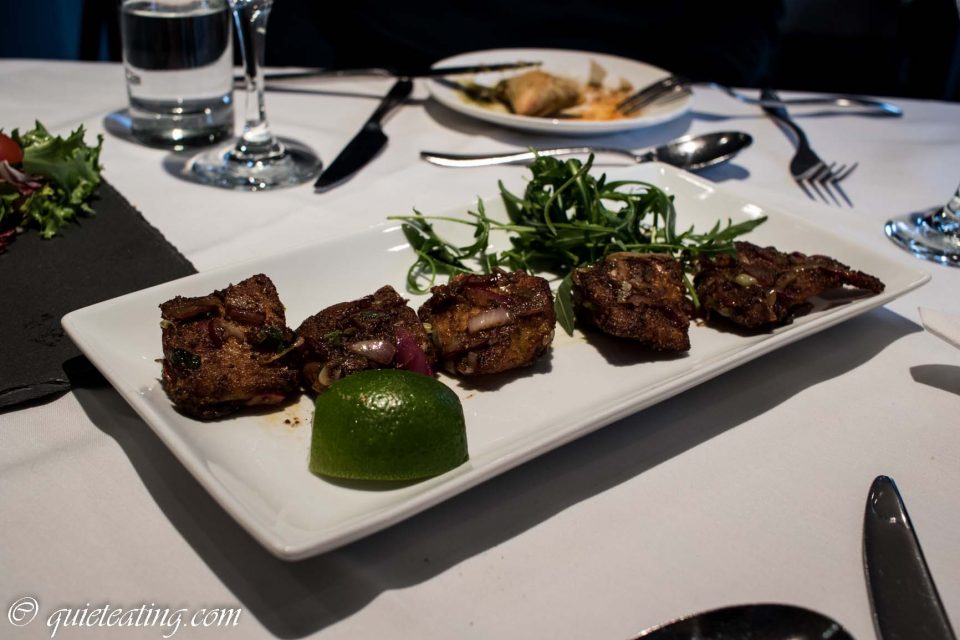 Fish tikka.  Flaky fish flesh with fabulous flavouring.  Rubbed with spices, the fish was cooked just right and the taste contrasted excellently with the manifold rubbing.  Probably the best of the starters we had.
King prawn butterfly.  Flavourful, although slightly overcooked.  Unfortunately providing a slightly chewy dish.  Although these were not bad, they could have been so much more by being so much less.
Chilli paneer.  Although I previously would have turned my nose up at cheese, with the value of perspective from my month long enforced vegetarian regime, I had acquired a taste for this Indian cheese.  It was not bad and brought back memories of Nepal.
Lamb tikka.  I won't say falling apart but rather these had a rather ideal structural integrity.  Lovely lamb with lime in the corner.  One of our party ended up eating 3 of these following encouragement by the rest of us.  It was a particularly enjoyable exercise to bully someone into eating food.  Not that this was bad but said target didn't want to fill the tank too early in the meal.  The weight of collective pressure prevailed and our victim eventually caved.  I think he was secretly happy in the end though when eating something that tasted like this.
Tandoori chicken.  The chicken was not as good though as it was a bit dry and lacked depth of flavour.  Although it was presented quite well, probably better to move on.
Chicken korma, mild and creamy with coconut.  Mild and milky, this was interesting but I would have enjoyed a little more bite.  Although I knew that korma was  on the low end of the volcano range, we had hoped that our earlier comments to the waiter to up the spice level would maybe have made a difference.  Decent but we would have preferred something with more fire.
Vegetable bahar.  A rather hearty combination of vegetables, this was ok.  Not really my cup  of tea though so my opinion might be best ignored.
King prawn karahi – thick sauce with peppers and onions.  Cooked right, tender and tasty prawns, this was definitely something to recommend.  Yet it paled against the next dish.
Lamb shank xacuti, well seasoned slow cooked thick sauce with home made ground spices.  The highlight of the meal. With meat that softly peeled off the bone into a secret sauce.  Mysteriously good.  I think the lamb that donated this would be proud that it was done so well.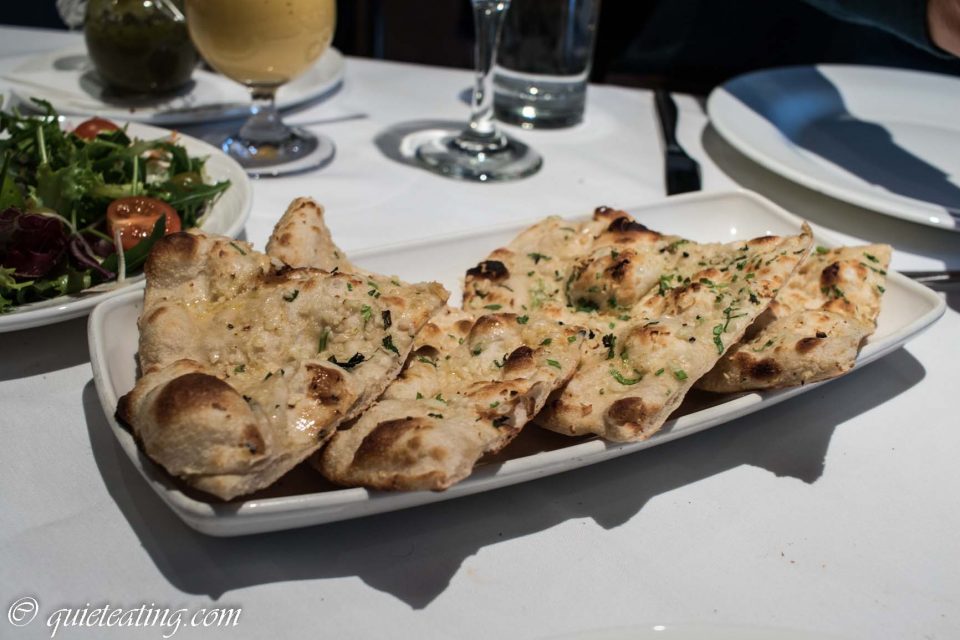 Garlic naan.  Crispy and a great way to mop up errant sauces.  What's more, it even had small elements of char to add some character.
Gulab jamun.  Decent and avoiding the sometime unpleasant sugariness which sometimes accompanies this dessert.
Rasmalai.  Cream, milk and sugar, many of my favourite things.  This was not bad although I think I probably need a bit more acclimatizing to get used to such a liquid dessert.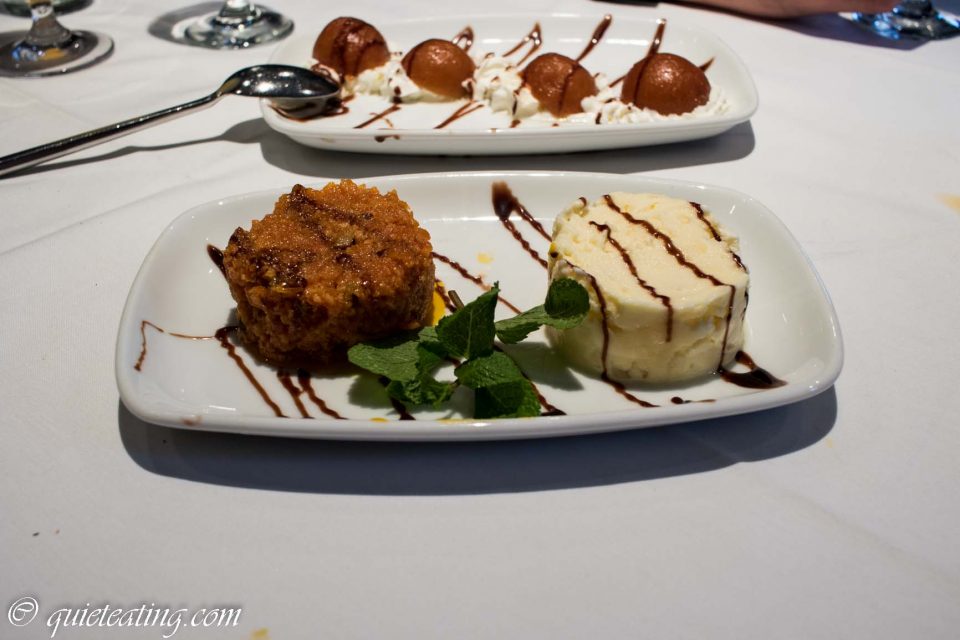 Gajar ka Halwa with ice cream.  Hot and cold.  Shredded carrot with ice cream.  A weird combination that puzzled the bullied diner.  He wondered how you made this thing?  How could carrot taste so good?  Well, like most good things in life, it's made of butter and sugar.  No need to search high and low for an enigma or a revelation lurking just around the corner.  This was the first time I had carrot as a dessert but it's probably not going to be the last if this is anything to go by.
Kulfi, Indian ice cream.  Sometimes I feel I have to educate my diners.  No gobbling the food before I take a photo!  And things were going so well.  Yet, the bullied one attacked this with so much vigor that the kulfi almost disappeared into his mouth as if inhaled.  Eating the leftovers, I enjoyed the nutty and creamy combination of this Indian gelato.
As we came to the end of the meal, we saw that the clouds had parted while we were inside.  So when asked about my trip to Coriander, I would reply – it was a balmy day at the end, sun peaking through the clouds with brisk weather.  With a pleasant surprise at the end.  Oh and have you tried Coriander?
A quiet eating 7/10.
We were invited to review.  Estimated cost (3 courses) is GBP25 excluding drinks and service.
282 Uxbridge Road,
Hatch End,
London HA5 4HS
---
---