Kiln
I had often idly wondered, what was the worst thing that a restaurant could do to its clientele.  Every so often, this wondering is not so idle as unhappy things happen to me.  I have by turns been fed food with glass shards, rope and string, flies and in one particularly burning memory, had hot tea poured on me.  Although I have also had to deal with my share of rude, negligent or purely incompetent staff, this time I ran up against something new.
Novelty is one way to stave off a boring life, so I guess I should thank them for that.
Kiln is one of those popular, no booking and food will come as its ready type of restaurants.  My thoughts on such attempts to play up popularity and reduce the load on groaning kitchens has been amply expressed elsewhere, so I won't repeat it here.  On arriving, hopeful diners are asked to queue along the wall until called forward for a seat.  That seems like a fair system as long as everyone plays by the rules.  Yet, when that is not the case, tempers flare.  As it seems that  prime seats, easily seen from the outside and so advertising its high ranking on the food envy scale, are reserved for particular types of people.
Perhaps they would like to display attractive women.  My friend and I were decidedly not that.
Perhaps they would like to present comely men.  Again, my dining companion and I failed (although not as badly as the first criterion) on that account.
Then again, perhaps it was something else that explains why we were determinedly ignored.  That they just forgot where we were in the queue.  At least such a conclusion is more palatable than other alternatives as 2 pairs were pushed in front of us.  Must be difficult to track the arrival order of the 6 customers waiting in line…
This is the dining room.  On the right is where we stood in uncomfortable anticipation, for over 45 minutes.  When we were finally shown to our seats after being studiously ignored for others, this is what we ate.  We tried to divorce memories of what we had endured to get here and instead taste the food in isolation.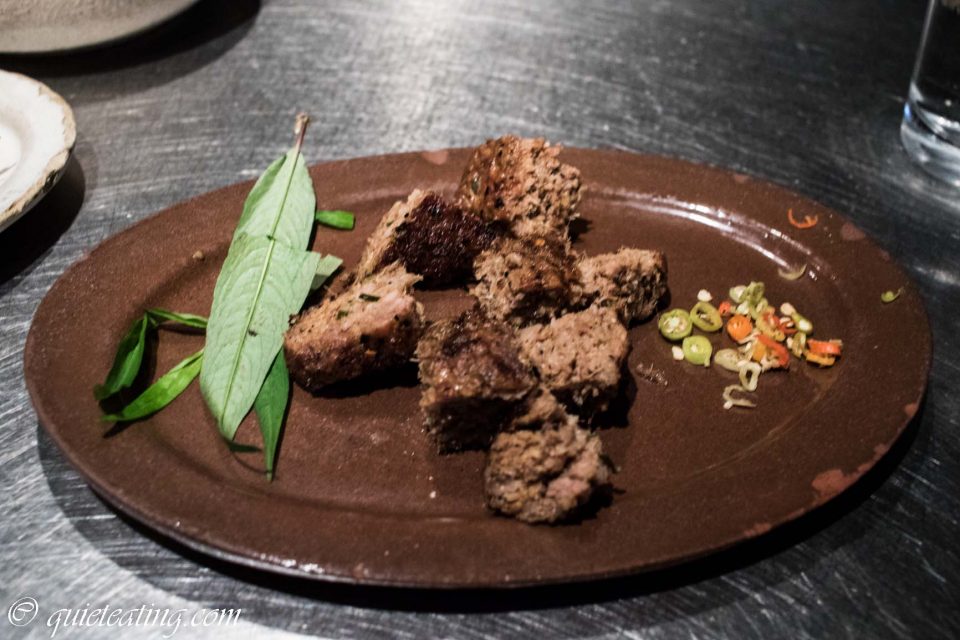 Isaan Style Grilled Tamworth Larb.  I initially thought this was a typo of loin.  It isn't.  This is minced grilled meat.  It was tasty with a bit of spice and a nice warm up.
Aged Lamb & Cumin Skewer.  Tender, succulent, delightfully charred, this was a highlight of the meal.  An excellent little morsel.
Grilled Tamsworth Loin.  Delicately pink but strangely enough, a bit dry.  This was somewhat remedied by the sauce but bizarre nonetheless.
Curried Aubergine and Summer Courgettes.  This was ok but puzzled me.  It tasted like the aubergine and courgette were seemingly cooked separately and then only dunked into the curry as the flavour had not really seemed to seep in.
Slow Grilled Lobster with Curried Eggs.  A slightly messy dish to eat with knife and fork only.  The fullness of the curried eggs with a hint of fire contrasted well with the clean meaty taste of lobster flesh.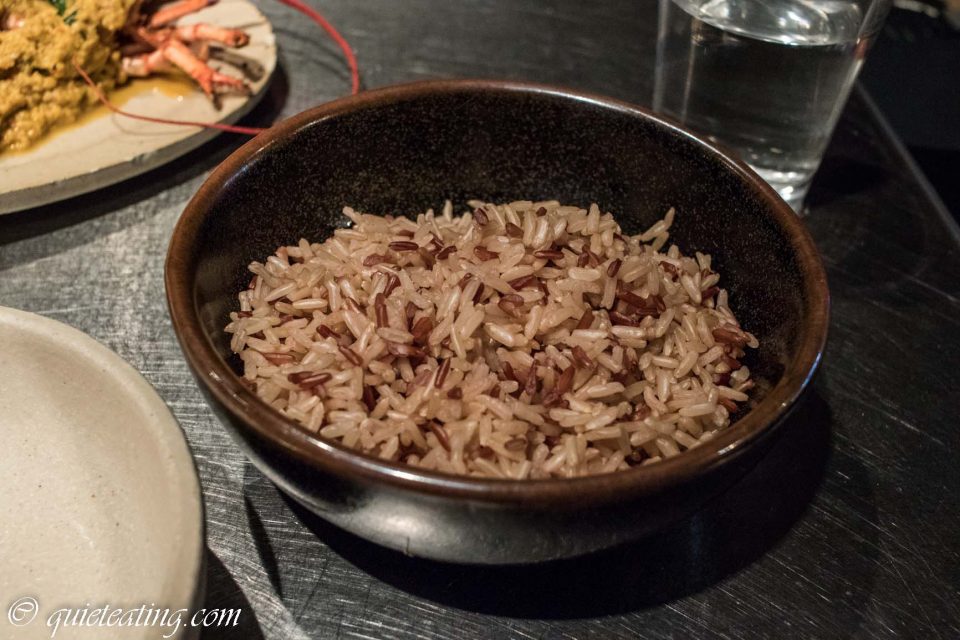 Brown Jasmine Rice.  The healthy way to eat although I do think that its earthy taste detracts from the main events.  Just a bit too much going on here.
Wild Ginger & Beef Neck Curry from Burma.  A heavier curry with depth of flavour.  Welcome full taste of beef, notes of vegetables mixed in, although could have done with a bit more zest.
Although our initial treatment left much to be desired, we thought to try and rise above the pettiness.  As we reasoned, maybe their booking service ran the same way as their food delivery, it will come as and when it is ready (translation, whenever the fancy takes them).  It also wouldn't be fair to the rest of the staff to present disgruntled faces, not after they served us such wonderful food.  After all, we wouldn't want to be accused of stereotyping everyone with the same brush.  Wouldn't want to repeat the mistakes of Brexit.  It would have been a good meal if we had been treated not great, not average but just not badly.  Trying to avoid the broad generalisations of the Brexit campaign, I will be specific here.  The staff had that winning combination of rude, negligent and purely incompetent.  #couldhavebeensomuchmore
A quiet eating 7/10.
Dinner (all of the above for 2) was GBP30 excluding drinks and service.
58 Brewer St, Soho,
London W1F 9TL
---
---