Katsune 100
When restaurants add numbers to their names, I do wonder why.
I know that for some, it might make sense if you are struggling to come up with a catchy name, naming your place after an address is a way out of this dilemma.  Alternatively, perhaps you are looking to game the search engine results and if you put the number before the words, you might be bumped up to the front of the list.  Yet perhaps on a more sad note, sometimes putting numbers is a misguided attempt to make something sound better than it actually is.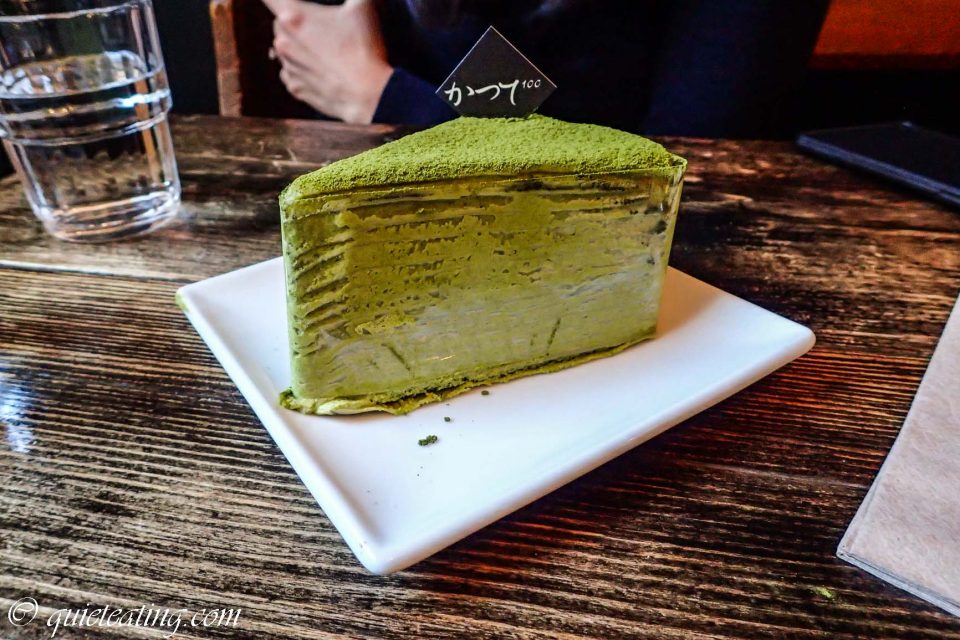 Matcha crepe cake.  With logo prominently displayed on top, this was a rather good cake.  Although, I have my suspicious about whether it is made in house or if instead it is from the Japanese bakery Lanka and just presented again.  Regardless of its origin, it was rather good with carefully layered cake and deep matcha taste making something worth eating.
Hojicha latte.  I had high hopes for this, given my experience of this at Toconoco.  Long may that cafe continue to prosper.  This was the opposite of that.  I saw the staff preparing this while they studiously ignored me as I wanted to order more.  They mixed the latte with apparent indifference – taking powdered powder, mixing with hot water, adding some milk on top.  Voila, you have milky substandard milk coffee.  It might look like that but one sip reveals its lack of substance.  
Although, I guess Katsune 100 did teach me something.  How important it is to get the name right.  In which case, stay away from the watery drinks.  They don't deserve the name "latte", as that just isn't what they are.
A quiet eating 4/10.
Coffee and a cake was GBP10.
100 Islington High St, The Angel,
London N1 8EG
---
---