Jugemu
There was an interesting dynamic at play while I was eating this meal.
I wouldn't know if I would finish.
It seemed that the lone chef of this establishment was looking for a fight.
Jugemu is a small Japanese izakaya in the middle of bustling Soho.  Given the surrounding revellers in various states of inebriation, at several stages throughout our meal we witnessed loitering, leaning and then trash depositing right outside this izakaya.  Quick as a flash, on each occasion the rather slight chef would appear to reprimand the actors of such heinous crimes.  Safe inside, our table speculated about when something more physical might occur to the rather feisty chef.  So throughout the meal we were constantly kept on the edge of our seat, never knowing if our next bite would be our last.  Perhaps the thrill made things taste that extra bit better.
Spicy squid.  Slightly spicy, the cheesy sauce went well with succulent soft squid.  In particular, I applaud the ability to avoid the rubberiness that I often see in lesser places.
Kara-age, fried chicken.  This has to rank as one of the best examples of fried chicken I have had in London.  These bites of succulent chicken were packed with flavour and then coated with a flaky and crispy exterior.  This dish alone would justify a return visit.  No excess oil in sight.
Prawn tempura.  It appears that there is someone of particular skill manning the deep fryer as these golden delights were as good as the chicken.  Carefully fried, crispy yet not overcooked, these were good.  They were gone all too fast.
Takoyaki, fried octopus balls.  An interesting addition to the menu, these were ok.  Although something rare to see in London, I wouldn't particularly hurry back for these.  Then again, I have had occasion to overindulge in the home of takoyaki in Osaka so perhaps my comparison is a bit unfair.
Kakifurai, fried oysters.  These were not bad.  Moist and umami inside, crisp and flavourful on the outside, these were something done well.  At this point, a tipsy reveller decided it would be a good idea to lean rather heavily on the door. Cue appearance of angry Japanese man to chase him off.  Our cooker returned unscathed much to my stomach's relief.
Spicy cod roe rice ball.  A little staple for the meal with a little rice to fill us up.  I remember spending much of my time in Tokyo, surviving on rice balls from the various 24/7 convenience stores.  Firm almost round balls of rice holding together by themselves, with the egg and seaweed, this was a blast from the past.
Bonito flakes rice ball.  With bonito flakes, these drew me back to happy days in Tokyo when the world was a more sane place.  Politics seemed a bit more predictable and calmer then.
Soba with tempura.  With firm noodles, crisp and tasty tempura and light soup, this was the best tenzaru soba I have ever had outside Japan.  The noodles were smooth with deep buckwheat flavour.  The dashi based soup added just the right amount of saltiness and flavour to the noodles.  As for the tempura, they were excellent, not too heavily battered but not too light to expose the insides to too much heat.  Vegetables with prawns, this chef had managed to keep the golden crispiness of these even lying as they did on liquid.  A great addition, so much so that we had to order another serving.
At this point there was another commotion outside the door.  As the patron of the restaurant quickly appeared to move things on and again returned without a scratch on him, I was quite amazed at his adroit skill.  Apparently, he was not only good in the kitchen but also on the street as he seems to be able to adroitly avoid not only hot oil but a flying punch.
Chef's selection of sushi, top clockwise, tuna (maguro), negi toro (minced tuna), ika (squid), amai ebi (sweet prawn), hirame (yellow tail), saba (mackerel), sake (salmon).  I haven't had sushi of this quality in London since my days at
Sushi Tetsu
.  Now that place has some competition with skillful cutting, fresh sourcing and carefully prepared rice combining to create something great.  As I closed my eyes, the careful sourcing and skillful creation of this sushi made me think I was back in Japan.  The Japanese clientele chattering away made it even easier to remember where I was.
Saba roll, mackerel roll.  Delicious flaky mackerel carefully packed in a roll.  Another example of excellence.
Dorayaki, Japanese red bean pancake.  Sadly, here standards dropped.  These were rather heavy and limp, tasting as though they were prepared some hours before.  I did see one of the serving staff furtively hurrying to the fridge at the front of the store and then quickly returning to the kitchen.  That's where I suspect these came from.
This was one of the best Japanese meals that I have had in London.  In atmosphere and decor, it was the closest to rundown izakayas in Japan with excellent food that I have had the pleasure of visiting.  With a collection painfully mismatched chairs and tables, Japanese memorabilia and cooking equipment jammed in every spare spot and rather sporadic and poor lighting it reminded me of temples of gastronomy in Japan crammed under railway arches.  In those days, I thought that the nattering of the trains only added to the memory.  Here, we traded deafening trains for noisy people.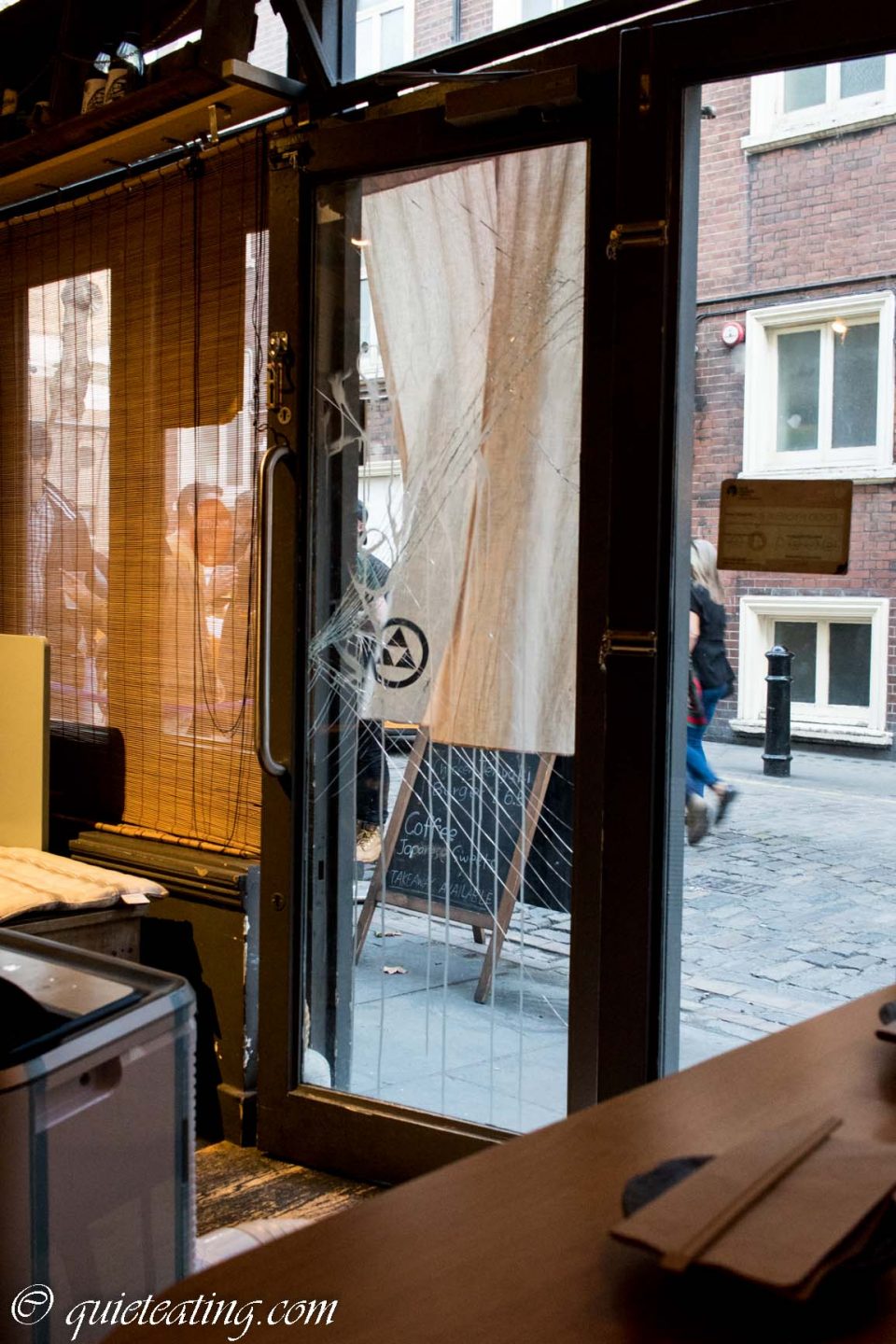 I entered with some element of caution on account of the partly shattered door thinking that it may have been the result of either intoxicated Soho patrons or particularly angry customers.  Either situation would have been enough to put me off from return again.  Yet, maybe the spider-webbed glass was a sign of something else.
Perhaps it was instead a sign of the frantic scrabbling of customers trying to get back in after enjoying a dinner like this.  In desperation, I can well imagine someone using a large object to bang on the door.  That is, until the chef appeared to chase you off.  I wouldn't blame such measures to regain admittance as there is something special about this place apart from rather good food, rather weird furnishing and unusual service.  A little while after we had finished, I managed to put my finger on it.  Never knowing whether each bite would be your last makes things taste just that little bit better.  Better enjoy it while it lasts.
A quiet eating 9/10.
Dinner (all of the above for 3) for GBP30 per person excluding drinks and service.
3 Winnett St, Soho,
London W1D 6JY
---
---