Jin go gae
On Boxing day, we thought to absolve ourselves of the previous day's gluttony by taking a walk in the country side.  Out in the grasslands and gentle hills of Surrey, things were rather happy and peaceful, especially from the number of dogs walking their owners in the grasslands.  While we were out working up an appetite for dinner (most things are at least obliquely related to food with me), we came across a particularly friendly dog that fawned over the most kind member of our party.  As she fussed over him, other party members un-involved in the revelry remarked:
Person 1: What a cute dog, I think its a King Edward!
Person 2: Umm, I think that's a potato.
With such remarks to give you a feeling of the type of company I typically keep, we then proceeded to spend the hours before dinner hanging out in that most interesting place, the giant Korean supermarket at New Malden.  No boxing day sales there though.
In New Malden, a hotbed of Korean life, we then walked around the corner to Jin go gae, that rare thing that you often do not see in central London, a Korean place full of Koreans.
Kam poon-gi, deep fried chicken with chilli in sweet & sour sauce.  Crunchy but perhaps a bit too much?  It seemed rather starchy almost as if maybe someone had knocked a little too much flour into the mix?
Kimchi.  Just about ok.
Pickled vegetables.  Again, it wasn't bad but it wasn't that good either.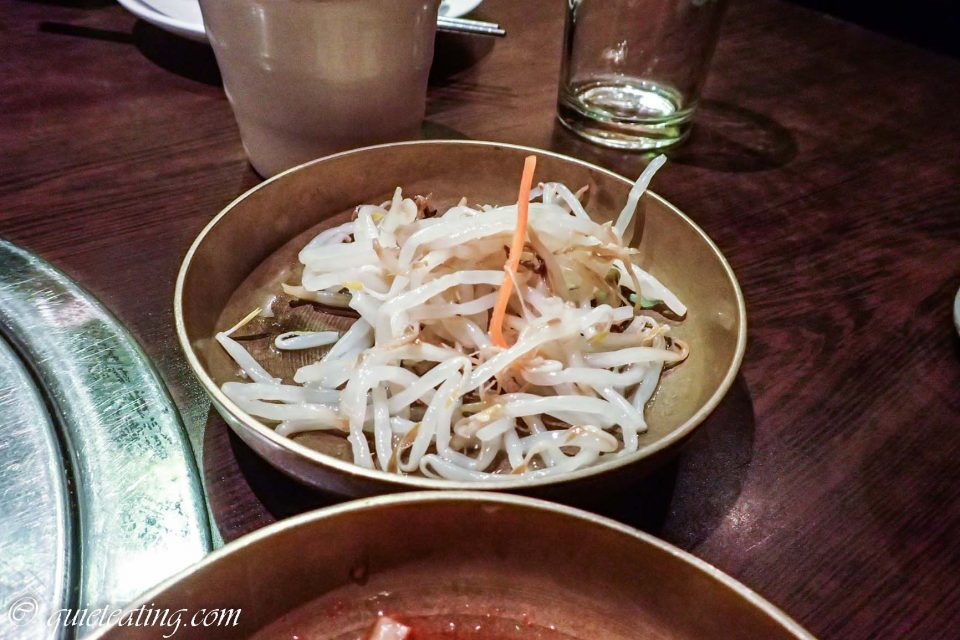 Beansprouts.  Kind of boring.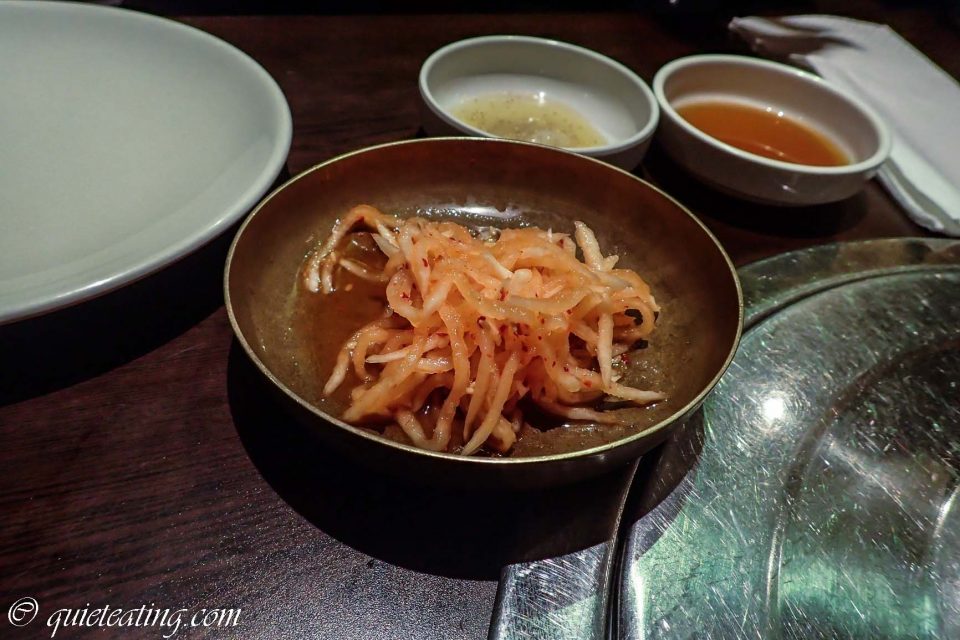 Pickled raddish.  A bit better.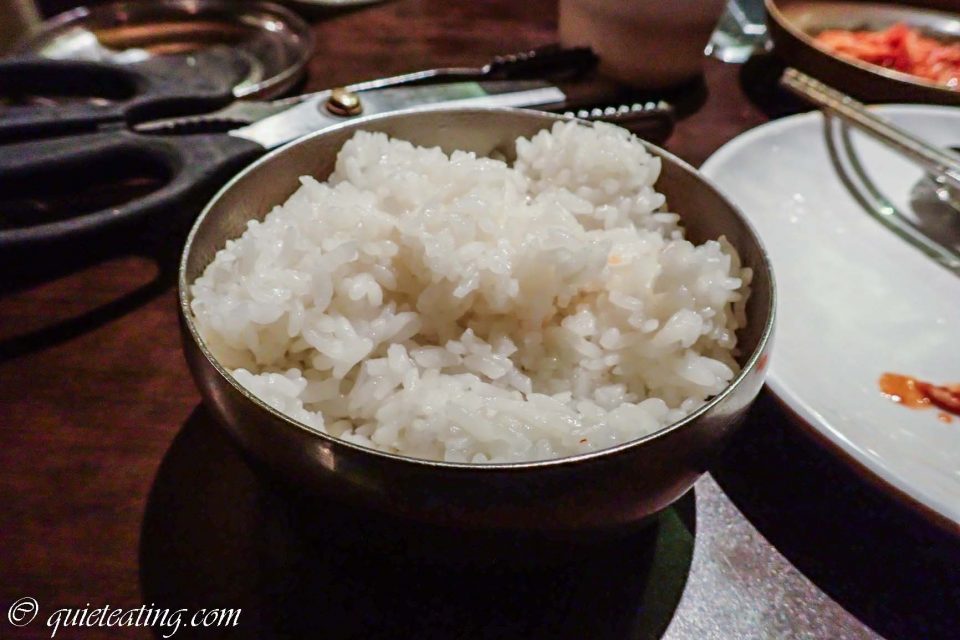 Rice.  This was one of the best rices that I've eaten in London.  It was sticky, nicely glutinous, yet not clinging.  Most of all it was smooth and a delight on the tongue.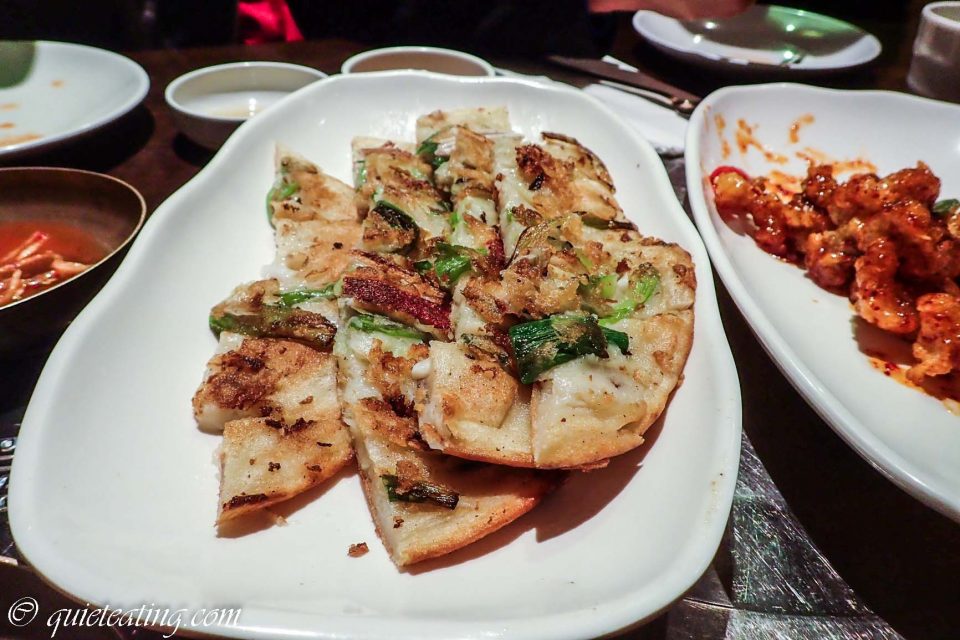 Kim-Chi Jeon, kimchi pancake.  This is were perhaps the starch is better placed.  This was crunchy, tasty and delicious.  The mixture of kim chi in the dough made these excellent.
Kalbi-sal, non-marinated thinly sliced marble beef kalbi in diamond shapes.  This was decent if perhaps outclassed by the next beef.
Ju-Mulluck, tender sirloin seasoned with sesame oil.  With such generous marbling, with a light dash of salt and lime, this could not help but extenuate the excellence of the beef.  The cow who donated this must have been more than typically unhappy at giving this up.
Ramyun, Korean style spicy noodle soup with egg.  The soup was good, the noodles less so.  Sad to say, the noodles reminded me of instant noodles I have known during my starving student era.  Life was hard in those days.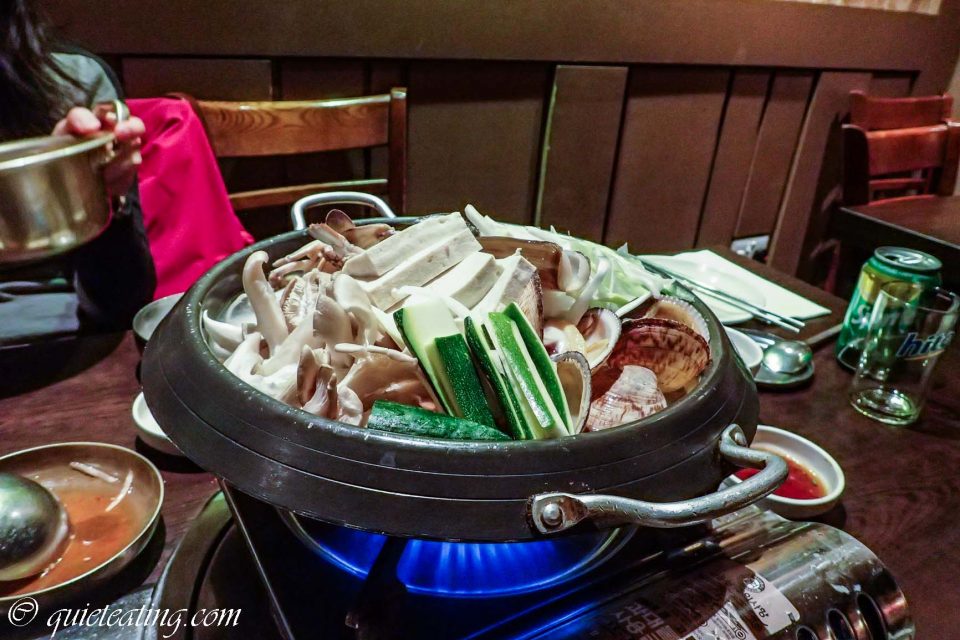 Seafood soo jaebi, mild broth with prawn, mussel, clam, squid and veg with flat gnocchi.  A soupy mixture of a mash of seafood, tofu and vegetables.  This was a nice end to the meal as we fished for tasty titbits.
Individual mood and taste can influence so many things.  Did you know that if you are hungry or your mind is in turmoil (a likely effect of starvation on me), your brain's chances of mis-firing increase.  So perhaps that why earlier my friend conflated a dog with a potato.  As I watched him inhale dinner, I can forgive his mistaken identification in his famished state.  In my less desperate state, I think that Jin go gae was a good place to visit if you are around the area.  Otherwise, I might give it a miss.
A quiet eating 7/10.
Dinner (all of the above for 4 people) was GBP25 per person excluding drinks and service.
272 Burlington Rd,
New Malden KT3 4NL
---
---