Flat Iron
Sometimes I get that awful sinking feeling.  It feel almost like a preternatural suspicion that something is about to go wrong.  Some examples from my life could be one of those times when I realised that I should have maybe taken the restroom break about 30 minutes ago – but was now stuck for the next 6 hours on the bus.  Or it could be when I had that nagging feeling that I was going the wrong way – kind of bad when I found myself cold, hungry and with a gaggle of angry, footsore and irritable other hikers.  Or it could be times when I sat down in a restaurant and promptly spent the rest of the meal wondering why I had even stepped in the door, in this case to Flat Iron Covent Garden.
In such circumstances I always try to tell myself that that is the value of perspective.  Making the small (and not so small) annoyances of life fade into almost insignificance.  Kind of like how long you have to queue for a meal.  Flat Iron is one of those annoying restaurants that operates a no booking policy.  Indeed, it seemed that they purposely only let people in at a very measured pace.  Perhaps in thoughts that the crowd at the doors would draw further interest.  Yet, I do not think that is needed, if they had just put a sign screaming GBP10 steak, there would be no need to engage in such marketing ploys.  The price would speak for itself.
So here I was to find out if things were really worth it.  After all, they could be all just talk and just be dishing out any old crud.  Although I have been told that I have a higher tolerance for nonsense than others, if this turned out to be a waste of time, the sleeping dragon might be roused to anger.  In which case, good thing that when I first came in, there was a rather chilly object on display.
Ice block.  Right when you get in, you face a fairly chunky ice cube.  This is apparently used to flavour some of the drinks with cool water.  It also added an exotic feel to the bar, adding to the allure being placed so close to the window.  If the queue outside wasn't enough.
Communal dining.  Once you are in, you will be introduced to a fairly stripped back affair.
Cups.  With rugged elements scattered around.  Like these cups, which we were later to find was a novel way of presenting one of the dishes.
Popcorn.  This is what the cups were for.  To provide something to munch while we decided on what treat to have.  Decent but especially good as free surprises often taste better.
Fork and knife.  A particularly wicked looking mini cleaver was placed on every table.  Although, upon more detailed inspection, the keenness of the blade was a little lacking.  Required quite a bit of sawing motion to get through the meat.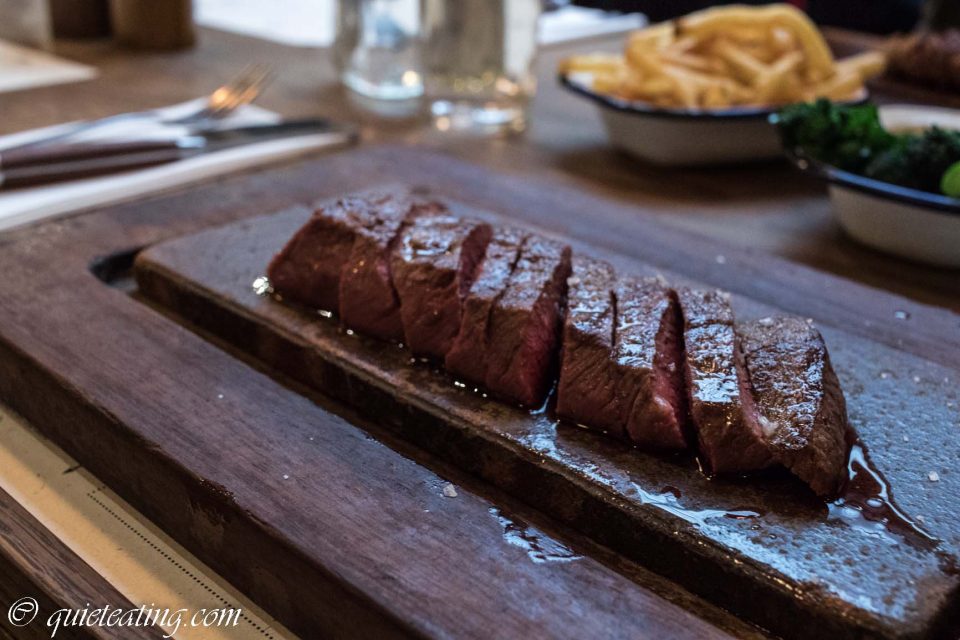 Flat iron.  Attempting to avoid such overused cliche statements like "hands down", "basically" or that dreaded "to be honest", I instead choose to describe things in the way of another leader in the world.  This was a very very good deal.  For GBP10, this was a delicate, flavourful and enjoyably cooked piece of steak.  Although perhaps not the most flavourful I have had, it was at bargain basement prices.
Rump heart.  We had to try something other than their speciality to give the restaurant a more fulsome review.  So we had some rump.  This was spectacularly, especially, notably, chewy…  We were lured by promises of heady taste by the waitresses but instead would spending an inordinate amount of time munching on this rather tough piece.  After all our hard work, we were unfortunately awarded with rather plain taste.  Best stick to the signature.
Salad in a cup.  A tall cup stuffed with some window dressing greens, lightly dressed with a mild sauce (mustard?) and then swirled all around.  Not the greatest thing of this meal.  Although, it does come for free with the steak.
Fries.  Nicely fried and tasty with the mustard to give it a bit of kick.  Decent but nothing compared to Bleeker St. Burgers.
Sprouting broccoli.  Fairly ordinary.  Cooked greens.  A bit limp in taste although crunchy in texture.
Salted caramel ice cream with chocolate topping.  Once we had settled out bill, the kindly waitress handed us each a poker chip.  I idly wondered if we were to play a game, perhaps with the winner scoring a free meal.  Instead, we were told to present these at the front of the house, for a sweet treat.  The ice cream was cool, delicious, salty and sweet, crunchy and soft.  A freebie to fortify you when you step back into the real, mundane and rather mediocre food scarce world outside.
I should qualify that statement.  There is plenty of good food around London, just that often you need to pay an arm and a leg for it.  If you take that literally, that means that you can only have two in your life.  If instead, you prefer to keep most of your money in your pocket, you might want to visit Flat Iron.  The steak was good, the sides alright, the hidden extras welcome and the value excellent.  We got more than we paid for and best of all left with a gratuitous sweet taste in our mouths.
A quiet eating 7/10.
Lunch (steak, side and free ice cream) was GBP16 excluding drinks and service.
17/18 Henrietta St, Covent Garden,
London, WC2E 8QH
---
---