Brawn
Things in life are relative.  Especially food.
I can think of that time when I have starved for two days during a youthful poorly planned camping trip.  When I emerged out of the wild, instant noodles were like ambrosia to me.
On the other hand, during my days in Japan, a quick visit back to London would find me turning up my noses at many places that I now heartily enjoy.  Works both ways…
This is Brawn.  Given my recent sad experience at Cinnamon Kitchen, Brawn had every advantage afforded to it.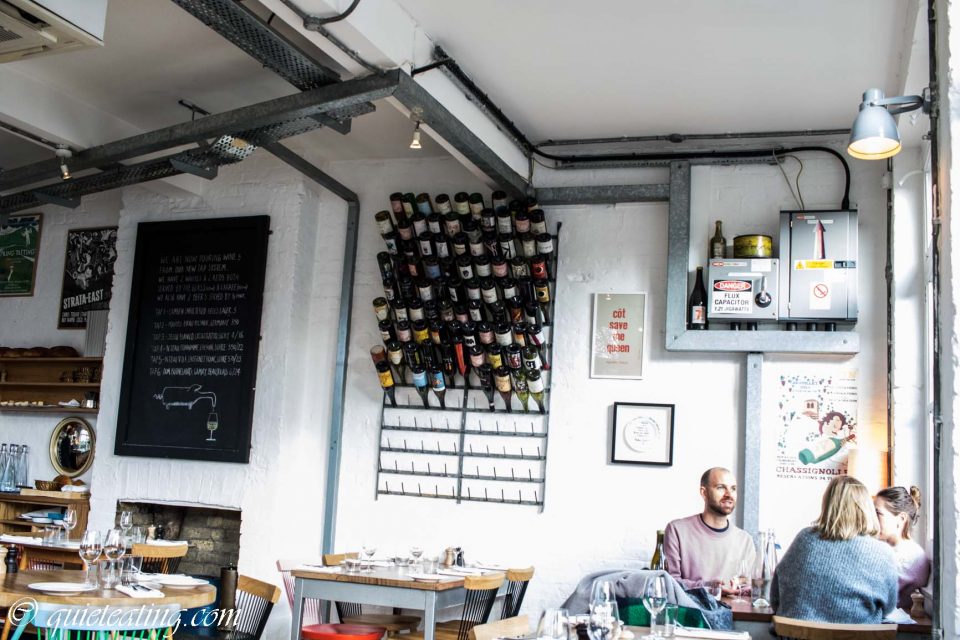 From the start, it was promising with the industrial high ceiling environment that hints at good cooking.  The tilt is not them, it's me.
Bread and butter.  Excellent bread to start with firm thin crust, soft bouncy interior, excellent taste, generous butter.  The meal was starting off rather dangerously as I was immediately tempted to gorge myself silly on these treats.
Crab, calçots & almond.  Yet if I had given in to my baser instincts I would have been deprived of this.  Our waiter had eloquently persuaded me to try these crustaceans.  Delicate flaky flesh, clean earthy taste provided by the leeks and calcots, set off with nuts and excellent olive oil.  The best crab I have had in recent memory and like most good things, gone much too fast.
Agnolotti in brodo.  Pasta parcels in a clean broth or better described as pasta in soup.  Meaty packets with just enough substantive coating to give some heft yet leave the broth to sooth.  A good heavier contrast to the crab.
Tagliatelle, rabbit & veal ragu.  Delicious amalgamation of rabbit and cow served over al dente tagliatelle.  The mix of meat could only be heightened by bouncy, springy pasta, which it was kind of on.
Pork chop, polenta, broccoli fiolaro & sage.  Meaty contrasting with light polenta and brocolli.  This thick pork chop while delighting in other places, here just seemed alright.
Baked custard, rhubarb & pistachio.  The custard had managed to find that narrow ground between being a solid and liquid.  When touched, it almost seemed to shiver in delight.  When I pushed harder, it carved as easy as water.  With caramelised crust like creme brulee, fresh rhubarb and nuts on the side, this was a sweet goodbye.
The ambience was great, most of the food excellent.  Yet I can find one big thing to fault.  Starting with your best foot forward isn't always the best tactic, it could leave you hoping for more as by starting with a show stopping treat, the rest of the meal will strugglet to keep up.  Then again, all things in life are relative.
A quiet eating 8/10.
Lunch (3 courses) was GBP 35 excluding drinks and service.
49 Columbia Rd,
London E2 7RG
---
---