Bayleaf
It is somewhat ironic that right after I complain about titles of restaurants being fairly non-descriptive and not providing many clues, (Kitchen Table, I am looking at you), I would then find myself in Bayleaf.  In this case, the name is a kind of a giveaway in itself, to me, it screams Indian.  So this is how we found ourselves in Zone 4 London, far from my usual comfort zone in Mayfair.  Instead, I was lured out with a promise of something special.
Poppadums.  To settle the trauma of spending longer than usual on the tube, something a little familiar to start.
Chutneys, coconut chutney, mint, salsa, diced onions, yogurt and tomato.  These were pleasant.  I particularly enjoyed the coconut.  Unusual. Even as I thought that these were not earth shattering, I told myself that this was merely the encore and they had served to calm my nerves.
Mango lassi.  An interesting cup for one of my favourite drinks.  Yogurt and mango, an ideal mix.  Now feeling slightly more peckish following the poppadoms and this sweet and savoury drink, I looked forward eagerly to the entrees.
It arrived not with thunder and lighting but eerie mist.  Out of which lurked…
Samander Ki Bhojan, king prawns lighted spiced with ajwain seeds and yogurt, scallops and salad.  Yet this dish did not need such theatrics to catch my attention.  Even without smoke and mirrors, it was a joy to behold and even more of a delight to eat.  The scallops were delectable, delicate and seared just to the right side of cooked.  The mutant prawns were also grilled just right avoiding overzealous heat unlike many fallen prawns I have known. These were meaty, filling and with just the right amount of char.
Kanava Koliwada, squid cooked with ginger, garlic, green chilies, curry leaves, turmeric, onions and tomato sauce. I have been informed by my friend's Indian friend that this dish is particularly difficult to find over here.  Hence, we had to try it.  Skillfully cooked, these rings avoided the rubberiness that I would often come across when eating squid.  With the heady taste of fresh curry leaves and turmeric, the sauce highlighted the freshness of the squid.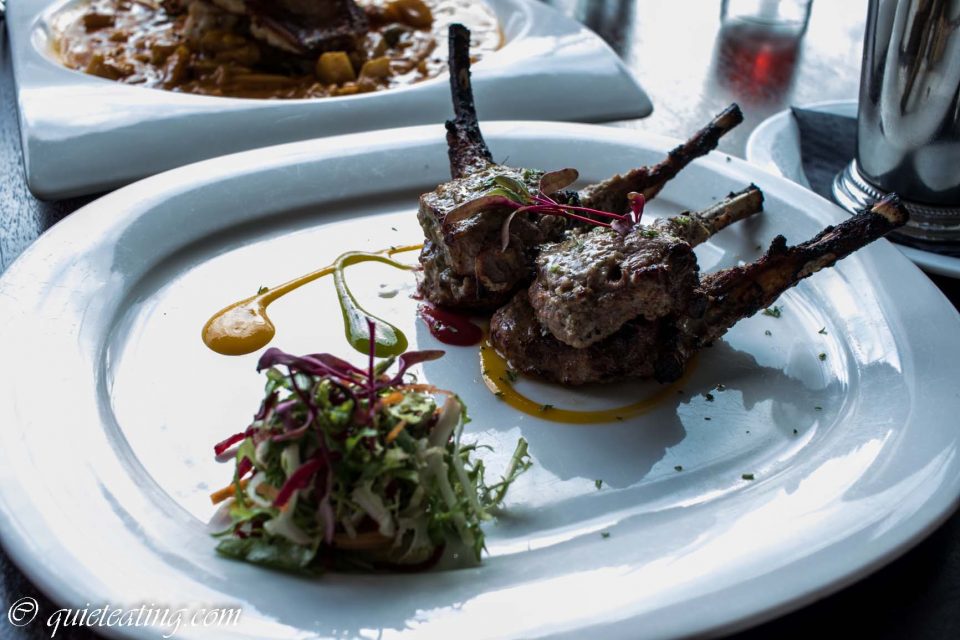 Tandoori Bara Pasli, lamb chops marinated with papaya, green chilies, ginger, garlic, vinegar, peppercorn spice and Greek yogurt.  Some of the best lamb chops I have ever had.  Another example of how the food was so carefully prepared.  As these were again cooked just right.  Juicy and with a myriad of flavours which worked out excellently.
Kerala Style Red Snapper and Kappa, red snapper served on a bed of spicy cassava in Alleppy sauce with mango, mustard seeds, curry leaves and coconut milk.  A very generous serving of fish.  Again, showing skillful preparation.  Crispy skin, supple flesh on a stand out sauce this dish mixed crispiness, tanginess, sweet and savoury, which led to something greater than the sum of its parts.
Pudani Murgh, chicken cooked in fresh mint, coriander, garlic, ginger, yogurt, cumin seeds, cashew nut paste and cream.  This was ok.  Not that it was bad but just something a little above average.  The chicken seemed to let things down as the chicken breast was sadly a bit dry even immersed as it was in the curry.  I guess the problem when you are among giants that if you are just of ordinary height you get missed in the towering forest.
Raviya, baby aubergines stuffed with paneer and mash potato, cooked in onion and tomato sauce.  Slightly spicy, smooth, meaty and filling. No doubt you have heard of dishes so good that they could convince a meat lover to go vegetarian.  This did something similar as it converted an eggplant hater into a brinjal lover.
Kesari pilau, saffron rice.  Perfect for mopping up the sauce.  Rather nicely plain to not distract from the flavours of the mains.
Exotic charlotte with mango mousse and passion glaze.  The outside case of sponge case was a tad too bouncy but the inside was good as it mixed sweet and tanginess excellently.
Chocolate truffle, a rich chocolate truffle made with Belgium chocolate and dusted with cocoa powder.  With a little side of vanilla ice cream, the top was dusted chocolate, the middle chocolate and the base more chocolate.  For someone that loves chocolate, this could transport you to chocolate heaven.
Latte.  A pleasant end to a great meal with a small biscuit to leave a sweet taste in the mouth.
I'm glad I was brave enough to venture beyond my comfortable and well known central London.  Although I initially approached the journey out of central London with trepidation, I was soon to be reminded that despite what others may think, good food is worth travelling for.  If as a reward for such courage I would find places like Bayleaf, I might find myself being more brave.  Sometimes, it is kind of worth it.
A quiet eating 8.5/10.
We were invited to review.  Estimated cost for dinner (3 courses) was GBP35 excluding drinks and service.
1342 High Rd, Whetstone,
London N20 9HJ
---
---