Pearl Liang
Dim sum is something that is particularly dear to me.  I hesitate to use the word literally here, as it is so often overused but I cannot think of a more suitable word to use in this instance. It is something which is close to my heart, which is an almost literal translation from Chinese, touch the heart.  A comfort food I return to when faced with trauma (I am looking at the US here).
So with a friend soon to leave the UK, I thought I had to send him off with some good food.  I was also subject to badgering by other mutual friends who wanted a quality dim sum establishment.  So this is how I ended up at Paddington on a fine Saturday.
Having seemingly chosen half of the menu, here is a story of what touched the heart and also those to best stay far away from.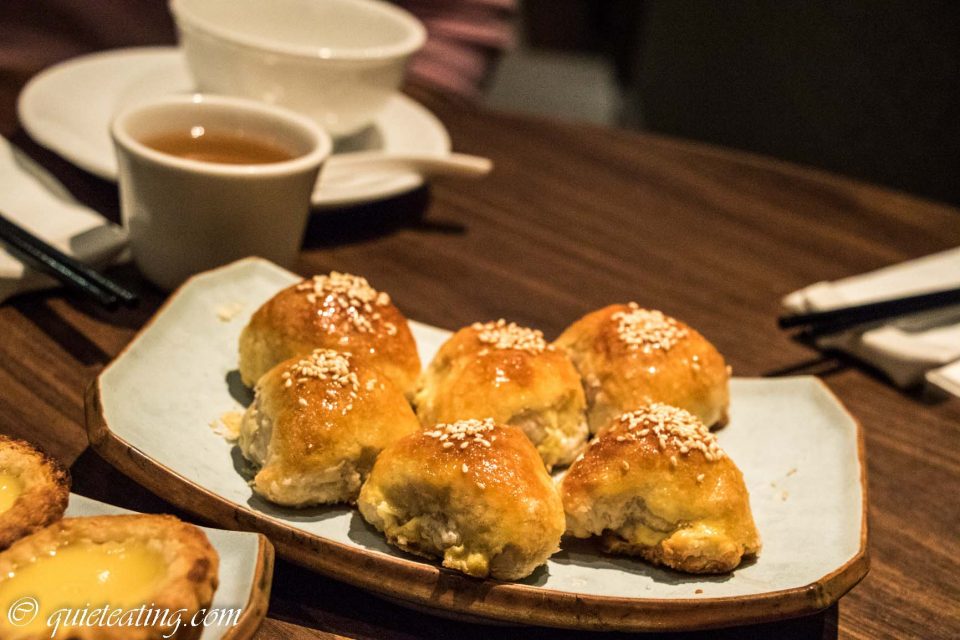 Char siu sou, baked barbecued pork puff. Crispy outside, meaty and scrumptious inside.  Roast pork at its best.
Wu gok, minced pork croquette.  Although the outsides were a crispy delight, it seemed unfortunately that the insides were a bit miserly. Could have been so much more.
Har cheung fun, prawn wrapped in rice noodle sheets.  The prawns were juicy fat prawns.  However, sadly, the rice sheets seemed a bit flat, lacking the springiness that I recalled from previous visits.
Char siu cheung fun, roast pork wrapped in rice noodle sheets.  Sadly also suffering from the issue of the prawns too.
Zha leong cheung fun, fried dough wrapped in rice noodle sheets. Thankfully, here was a return to happy memories as we were delighted by something closer to fonder days gone by.  Crispy inside, soft on the outside and touched off with soya sauce to create a welcome dish.
Chow fun, fried rice with seafood.  Sadly, not that good.  It seemed that the portion sizes of the seafood had definitely decreased.
Lo bak go, turnip cake.  Sadly a bit oily and a little soft.  Could have been so much more.
Gong chau niu ho, fried beef with rice noodles.  Decent but I could have done with more depth of flavour.
Har gao, prawn dumpling.  Particularly saporous, here again brilliance seemed to peep through.  The wrapper was light, almost ethereal and delicious for its insubstantiveness.
Siu mai, pork and prawn minced and steamed.  This typical Chinese dish was welcomed.
Scallop siu mai.  An interesting special.  If you have spent any significant amount of time around Chinese restaurants, you will note that the word "scallop" is sure to draw crowds.  So here we just couldn't resist having a try.  Although, sadly these were more looks rather than form with a somewhat thin sliver of scallop on top.
Daan tart, egg tarts.  Crispy, light and sweet.  A great way to end.  Although it would help if they were a little bigger but I guess you can't have everything.
The ambiance was excellent.  The steamed items were outstanding.  Some of the rest, we couldn't decide whether they were going to be something special, in a good way or a bad.  I guess like all people, chefs have their off days too.  Just like I did when I was writing this post. So please forgive me if my write up is at times rather tepid, bland or uninteresting.  It's just a reflection of what I ate.
A quiet eating 8/10.
Lunch (all of the above shared between 5 people was GBP15 per person excluding drinks and service.
8 Sheldon Square,
London W2 6EZ
---
---