Temaki
Sushi was originally meant as fast food in Japan.  It was convenient, something to grab and go.
The temaki, or hand roll, is a variation on that.  The epitome of something to hold in your hand and wolf down with your beverage of choice in hand.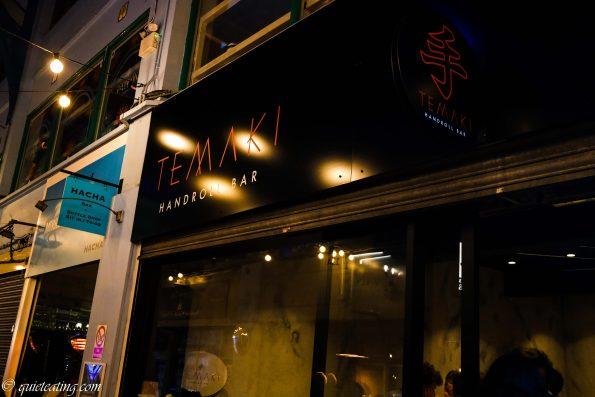 Seems that Japanese food can be found in the most unlikely of places nowadays.  Case in point being Temaki, located deep in the Brixton Market – a place better known for its Afro-Carribean delights than that of the Far East.
As for how to eat raw fish properly, this is best eaten at a counter where the chef hands you the sushi or hand rolls as he completes them.  When I ate sushi in Japan at the counter, one of the chef's jobs was to carefully watch how fast you ate and accordingly pace the meal.  This can be an issue with particularly ravenous eaters though, my dining companion just wanted the food now now now!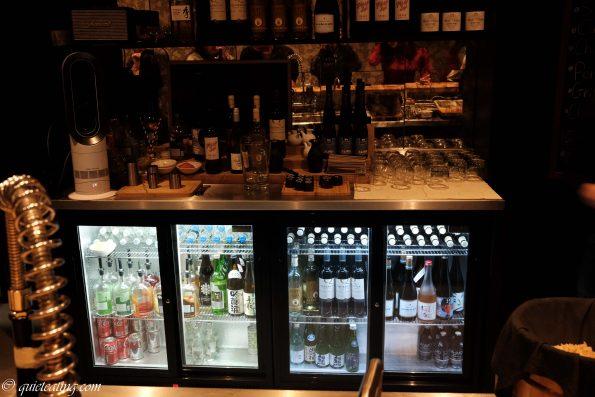 This beverage of choice was often alcoholic.  No comment here about whether that might be because the food was particularly offensive so had to be smoothed down.
Another positive of dining at the counter is as you can see from this photo, if you were particularly annoyed by your dining companion, you could reach across and end things fairly quickly.  In any case, my dining companion's hunger was soothed in fairly short order.  Good thing for the both of us.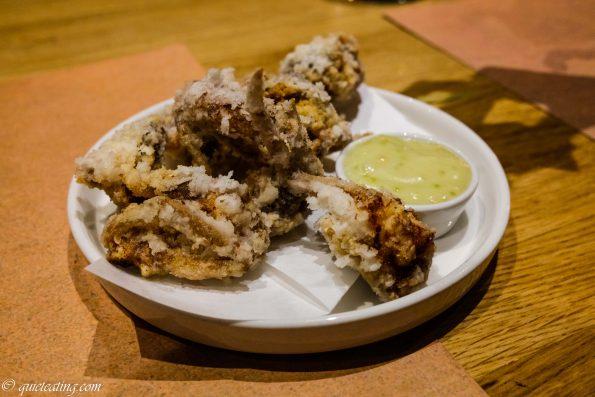 Soft shell crab tempura.  Crunchy umami bursts with a delicious light batter.  Avoiding the trap of being a repository of oil, these were instead airy and finished nicely with a creamy dip.
Yellowfish sashimi.  Probably my least favourite dish of the day.  A bit too western for me with a too sharp citrus flavour cutting across the meatiness of the fish.  Then again, perhaps that is just my annoying personal taste.
Monkfish karaage.  Surprisingly delicious.  It was as meaty as chicken but with a much more delicate texture.  This can go so very wrong if the oil temperature is not right resulting in an oil-filled sack of overcooked fish.  Thankfully not the case here.
Akami tuna.  Regular tuna in a roll.  I remember when I was younger, I loved salmon sashimi over tuna.  Things have changed so much now as I know now that tuna is the undisputed king of fish.  You could say to my uncultured mind with a lack of articulate vocabulary, it is the cow of the sea.  This is on account of how the delicious fat marbling makes things so special – kind of like the bovine version.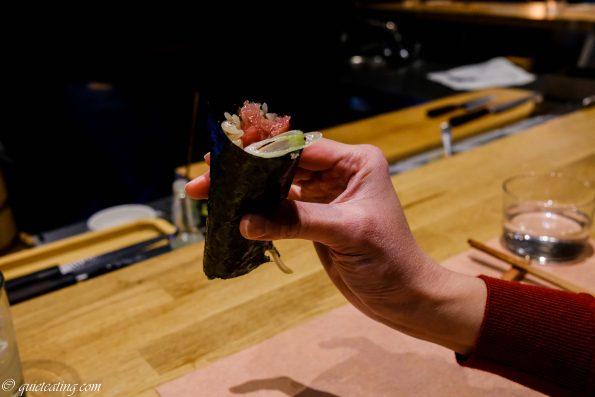 Otoro.  Fatty tuna in a better roll.  The even fattier part of the tuna as compared to the akami.  With delicious strands of fat streaking throughout the meat, excellent.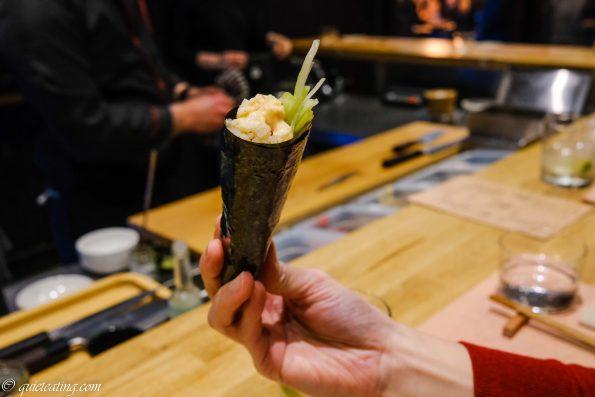 Spicy scallop.  When I was in Japan, I would look forward to raw scallops.  This did not disappoint.  Firm yet soft but with bite, it brought me back to days of happiness in Japan.  In those days, the world was my oyster as I would chow down on everything which moved (and some that didn't).  In helping with this type of behaviour, I was younger then and so could chow down on food with impurity.  Now, not so much if I want to make sure that I can fit into airline seats.
Lobster.  Unusual but great as not something you would easily find in Japan.  I wonder if this was their replacement for raw prawns.  In any case, delicious in a different way from usual Japanese foodstuff.
Trout.  Marinated in some type of sweet and creamy sauce.  It was decent even if the sauce overpowered the taste of the fish.  Perhaps this is where the Peruvian element of Nikkei cuisine was coming on a bit too strong.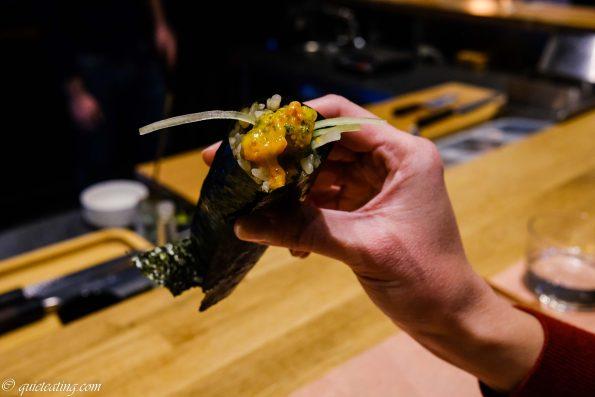 Prawn tempura.  Popping and fun.  Small shrimps cooked, battered and then slathered in spicy mayonnaise.  Would have preferred amai ebi, sweet prawns often the other star of the show alongside the tuna at a Japanese sushi counter.  A bit of a mistake here in the wrapping, as the bottom was left open leading to a rather messy mess when I bit in.  Sauce on your camera is not a good thing.
BBQ eel.  I would often see this on a bed of rice, served two ways.  This more usual unagi, the sweet sauce as opposed to the salt version was ok.  Although it was slightly overcooked.  Then again, eel is often seen in specialist shops in Japan, so as an add-on, it was decent.
Crispy rice with spicy trout.  When they say spicy, this packed a wallop.  Some green peppers?  Definitely something non-traditional.  In any case this was an inspired dish as the crunchy base encompassing fluffy rice complemented the spicy fish very well.  You got unmami and crunch, fish and deep fried rice, all together in one bite.
Pineapple rum punch.  My dining companion said that this was decent.  A pretty little drink.
This was a fun night out in a place of town I would not usually associate with Japanese food.  I guess this goes to show how multicultural London is.  In a true showcase of the international nature of sushi, we had a Japanese waiter, and at least one Italian chef.  What will happen next?  Maybe a Chinese man cooking in a French Bistro?  I just hope it will be good.
A quiet eating 8/10.
Dinner (2 course equivalent) was GBP 40 excluding drinks and service.
12 Market Row,
London, SW9 8LB
---
---