Sambal Shiok
As memory fades, I tend to repeat the same mistakes again and again.  In an even more worrying sign of my decrepitude, I seem to blank out pain.  Either that, or I am drawn too easily towards fiery heat.  This masochistic tendency often ends up in tears.  So when the waiter kindly cautioned that the laksa was HOT, I stupidly ignored him.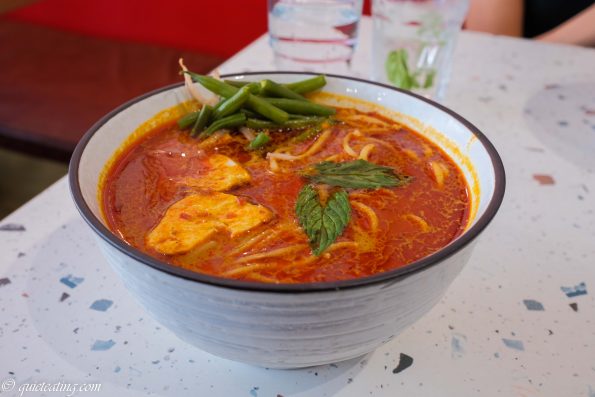 Signature curry laksa, rice noodles, tofu puffs, bean sprouts, green beans with classic chicken.  I did wonder what classic chicken was.  A few (6?) chicken slivers.  Although the portion sizes were a bit miserly, the soup base was good, the noodles well done but it was the spice which brought many tears.  Then again, looking at the menu, it may have been combined with a rather full price.  I never learn.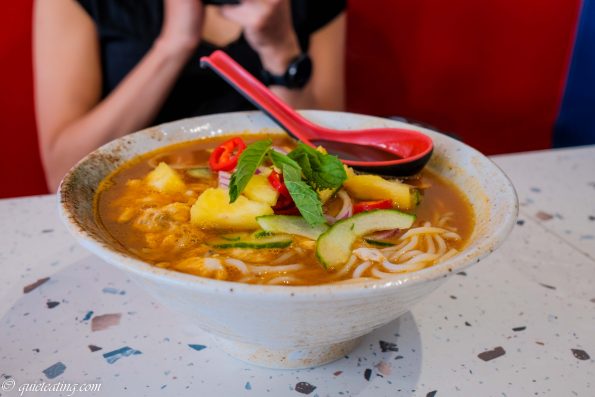 Mandy's Assam Laksa, spicy sour, fruity fragrant with rice noodles, mackerel, galangal, shrimp paste, tamarind and lemon grass.  As my dining companion had gone with something more edible (medium spice please), I could taste more here besides unrelenting fire.  Sweet, sour and spicy combined with shredded mackerel and pineapple to remind me of being back in the South East.  A much more pleasant experience.
Pandan almond cake with coconut yoghurt.  A delightful end to the meal with sweet pandan and cooling yoghurt on the side.  Soothed my burning throat.  The taste was good but being somewhat of an avid baker of pandan goods myself, it was not something that special.  Could have done this at home.
For as much as I moan and complain, it is good to see somewhere offering more than generic South East Asian food.  It also had not really been dumbed down that much for Western palates (or perhaps it was just what I got).  It was a decent meal, but I wouldn't necessarily be hurrying back as it is a bit pricey for what it is.  On the plus side, perhaps this visit will improve my memory, as even half a day after visiting, my mouth was still burning.
A quiet eating 7.5/10.
Lunch (a laksa and a dessert) was GBP20 excluding drinks and service.
171 Holloway Road
London N7 8LX
---
---