Marcus
A sign of particular fame (and ego) is to name a restaurant after yourself.
Then again, perhaps it is a sign of lack of imagination.  Although it might be better than naming the restaurant after the road it is on.
Marcus, as you may be aware, it a fairly well known celebrity chef.  He can be seen regularly hosting Masterchef, the Professionals.  A mouth-watering show if there ever was one on.  High profile means that his flag ship restaurant, Marcus, at the Berkeley hotel, has much to prove.
Good impressions were started with a very handsome decor and table placing.  I am slowly gaining more appreciation of inedible flower arrangements.  I remember when I was smaller, being told that not everything in a restaurant is for eating… now put the salt shaker back.
Which then continued with some delightful hors d'oeuvres.  In the bottom right.  Ham with honey, meaty, salty and sweet.  An excellent combination of wafer thin pig and bee pollen.
Cracker with potato puree and watercress.  Looked like shirako, this was not that but instead potato puree.  Crunchy, smooth and creamy.  If you are curious google what shirako is, an interesting Japanese delicacy, you might be surprised.
Brazilian cheese puff.  With so much umami flavour inside, I thought this was fill with meat.  Solid exterior, melting interior, as I bit into this, it was like being hit by a truck.  If trucks were made of cheese and such collisons pleasant.
Sea salt butter.
Breads from the left moving right.  Rye oak and treacle, french baguette, fennel sourdough.  The rye and oak was excellent, with cake like consistency, crunchy crust and sweet interior, this was my favourite of the breads.  The baguette was crusty and bouncy, a bit more of a neutral taste which went well with the butter.  As my companion remarked, the sourdough had a pleasant sour (duh…) taste with airy inside.  I was tempted to remark back with a comment relating to Sherlock.  However, the problem was as I was too greedy with my mouth full of bread, the moment passed.  All together, this was a great selection of breads.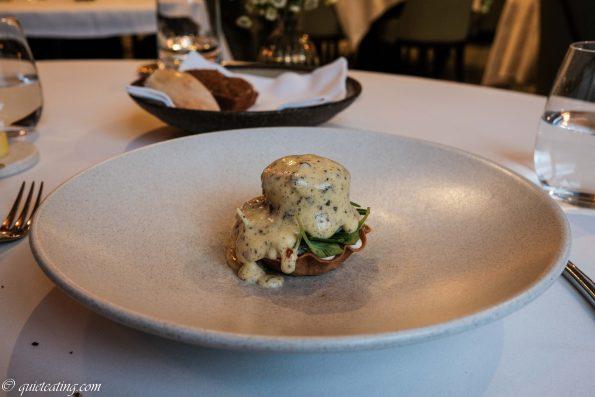 Cornish pollock, dulse, potato, smoked cod's roe.  A particular delight, as the tart, pollock and potato/cod's roe played a symphony in my mouth.  Fulsome and creamy contrasted with flaky and smooth, set off with earthy and crunchy tart.
Cumbrian pork, sharpham park spelt, turnip, celery.  A little plain compared to the starter, it was pretty on the eyes.  However, like many things in this world, it looked better than it actually was.  I'm not saying that the pork was bad, done as it was in two ways (loin and neck) but didn't live up to the deliciousness of the tart as the flavours were muted in comparison.  I am sure without the pollution of the tart in my mind, this would have done well by itself.  However, as anyone with siblings will tell you, when the little (or big) runt does better, your achievements crumble into dust.
Rum baba, mango, mascarpone, mint.  Creamy, crunchy, cold and with sweet aromatic kick.  Well, this was what my dining companion told me as I was not able to try this due to its heady alcoholic delights.
Passion fruit semifreddo.  Cold and unassumingly airy, the light flavours of passionfruit let me have a glimpse of what it would be like to eat passion fruit flavoured clouds.  Not that I've ever dreamed of that, that would be silly just like trying to sneak jokes into non fiction writing.  What weirdo would fantasise about that – maybe someone who enjoys eating shirako.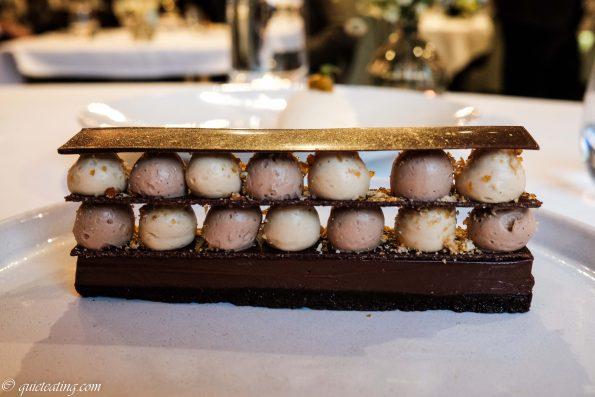 Chocolate nougat.  This did taste as good as it looked.  I looked at it for a while idly debating whether or not to destroy this pretty sculpture.  That took about two seconds.  Then my greed led me to dig in.  The delicate balls of nougat combined with chocolate created an alternating flavour profile of crunchy chocolate, diary fullness, then soft deep flavoured chocolate base.  Could have eaten many many more of these.
Fudge.  The first of petite fours, it was decent if nothing out of the ordinary.
Pumpkin spiced pie.  This was the grand send off, a mini loaf with candied walnut on top, soft pumpkin bread with hard candied nut.  This was a great sweet goodbye.
It takes particular panache to have a restaurant named after yourself as if it doesn't go that well, so too many jokes can be made at your expense.  The more caustic of us would probably remark that you were asking for it if your food was not up to scratch.  Not to name any examples here, as you can probably think of a few, things can go horribly wrong if standards aren't kept.
Then again, if things do go well, it is free advertising and builds up your own confidence.  As a ski instructor recently told me, when going down a hard run, talk to yourself and say "I am the best!".  That helps to avoid any erstwhile tumbles.  Having being to Marcus, Marcus can probably safely say something like that to himself.
A quiet eating 9/10.
Lunch (3 courses) was GBP60 excluding drinks and service.
Wilton Place
London SW1X 7RL
---
---