Mann's Beijing
Mann's Beijing Restaurant.  One rather misty day, we were invited to brave the fog to try some Chinese food.  Which proved to be a larger problem than expected as the restaurant was only really easily accessible by car.  I had to by turns beg, cajole and threaten the car owner among our little group to take us out into the wilderness.  Having had to endure such hardship (at least I did by trying to get a car and driver), our expectations were rather vague.  Like other cars we saw through the fog on the way there.
We thankfully managed to arrive without incident and were promptly greeted by…
I thought that of all of them, the plant gave the most evil stare but anyway…
Turning to a more edible welcome, we were quickly greeted by some prawn crackers.  At this point, my memory was drawn back to days gone by in Sydney where a little crispy treat greeted me on arrival at my neighbourhood oriental chow house.
The starters platter which, going clockwise, consisted of fried seaweed, diced prawns in crispy cups, salt and pepper squid, Capital spare ribs, deep fried butterflied prawns and fried chicken pieces.  The diced prawns were the star of the show.  Diced into small morsels yet still managing to remain moist and full of flavour, my stomach craved more.  The fried seaweed and butterflied prawns also satisfied the palate.  Things like these are hard to get wrong when you deep fry them.  The squid was nice but seemed to have had maybe soaked up a little too much oil and the chicken seemed sadly a little tasteless as it tasted more like breadcrumbs fried with chicken rather than the other way round.   The ribs sadly seemed to be lacking the moisture of the prawns.  Maybe the pigs should drink more sea water.  The starters were nice and it seemed like the mist was starting to clear for something scrumptious.
Crispy aromatic duck.  It was shredded and served with pancakes, spring onion, cucumber and sweet sauce.  It  has been over 20 years since I've had this dish so I was eager to greet my old friend.  Unfortunately, I found it a bit dry and tasteless as it seemed like the deep frying process had removed almost all flavour from the duck.  The plum sauce managed to come to the rescue thankfully.  I may be too harsh here as I suspect that aromatic duck will always be like that.  In which case, not really for my palate.    Similar to how I hate the king of fruits, the durian.  But that story is for another day.
Prawns in coconut cream.  Again these were not bad but seemed to lack taste.  The coconut cream could have maybe done with a bit more seasoning.  At this point I admit to starting to feel a bit of trepidation as I went through the mains.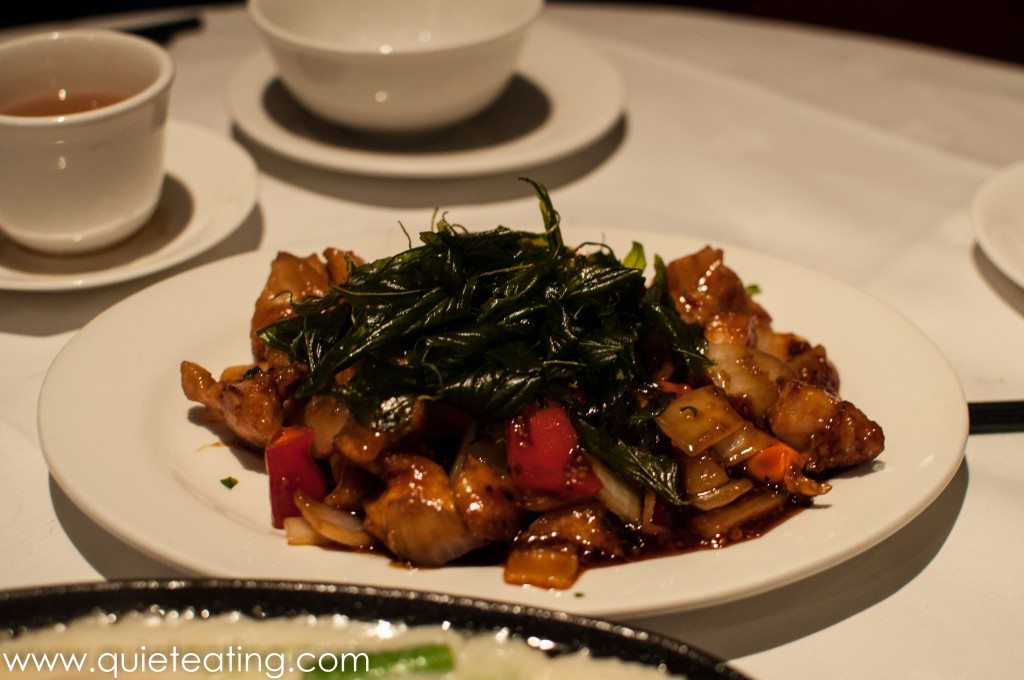 Chicken with basil and chilli.  One of the Thai dishes as Mann's is a Peking and Thai restaurant.  I did look forward to Thai with its sharp flavours.  Sadly, this dish lacked a hidden kick from the mists.  Not that it was bad, just that it missed being great.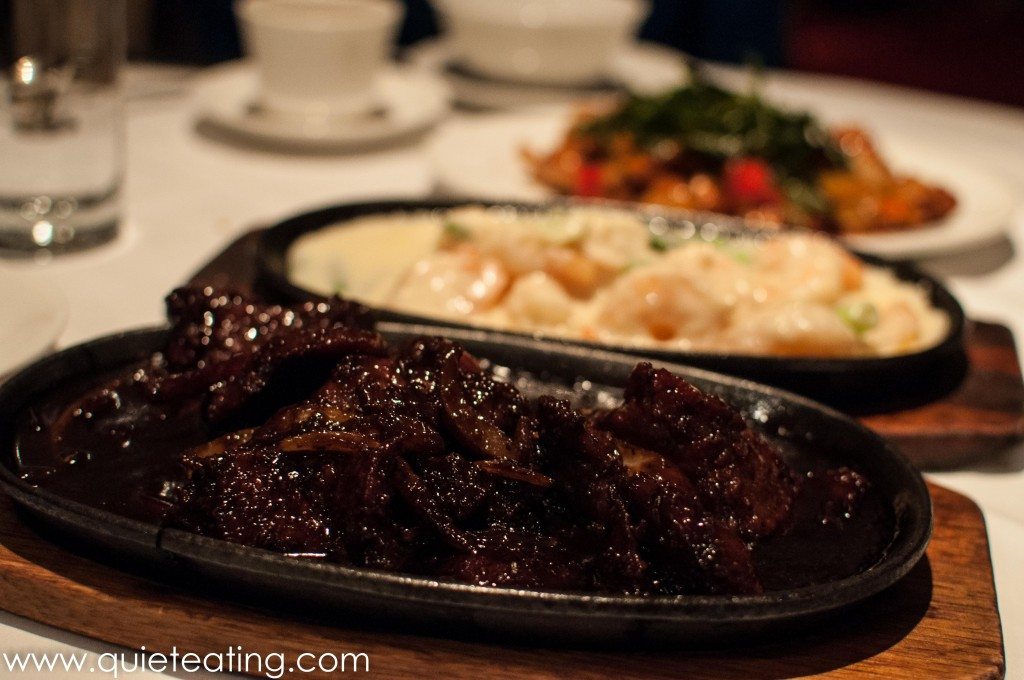 Sizzling beef in black pepper sauce.  The very tender beef mixed with the black pepper sauce was probably the strongest of the mains.
Mushroom, corn and beans.  Some little veggies to make me feel like I had a balanced and healthy diet.  After all, vegetables don't kill people, cows do.
Pineapple fried rice.  It was ok but on the flip side here, I must say that maybe there was a bit too much flavour.  I think I would have preferred to have plain white rice to better complement the main dishes.   Overall, after finishing the mains, I was not that impressed.  I was worried that the mist was descending again to dog our steps and maybe leave us stranded in Richmond.  After all, in nearby Heathrow, planes were being grounded and our car made almost as much noise as take off at times.  Or actually maybe that was us, my mistake.
Toffee banana and apple with ice cream.  The mist seemed to magically clear and transport me back to memories of lovely candied deep fried banana and apple.  The juxtaposition of flavours and temperature made me feel younger.  What's not to like from a hard sugary shell, transiting to a soft moist clean fruit taste with a little added surprise of cool creamy ice cream.  For me, this last dish is a reason to come back.
In the end, I was happy that we decided to risk our lives (ok I exaggerate here, the mist wasn't that bad).  It was worth it for my trip down memory lane as it almost seemed as if driving through the mist transported me to my past into the local Chinese restaurant with the delights of aromatic duck and fried banana.  If you are in the area and hankering for Chinese food, it is a fairly priced, decent restaurant lifted up by excellent service and a peaceful locale.  Now where was that durian…
A quieteating 6/10.
We were invited to review.  Estimated cost for dinner (4 courses) was GBP30 excluding drinks and service.
1 Upper Square, Isleworth,
Middlesex TW7 7BH
---
---