Indian Zing
Vainly struggling to find a decent eatery in Hammersmith, my Zomato app steered me to the local Indian.  I hoped that I would get a bit of zap to go along with the zing on my tastebuds.
First up were some poppadoms.
These were unfortunately a bit stale…  Who serves stale poppadoms?
And a little cup of soup as well.  I didn't know what this was but at least it wasn't stale.
Mango lassi.  It was very average.
Nalli lamb rogan josh.  Served with atmospheric lamb bone.  It was… starched like the table cloth.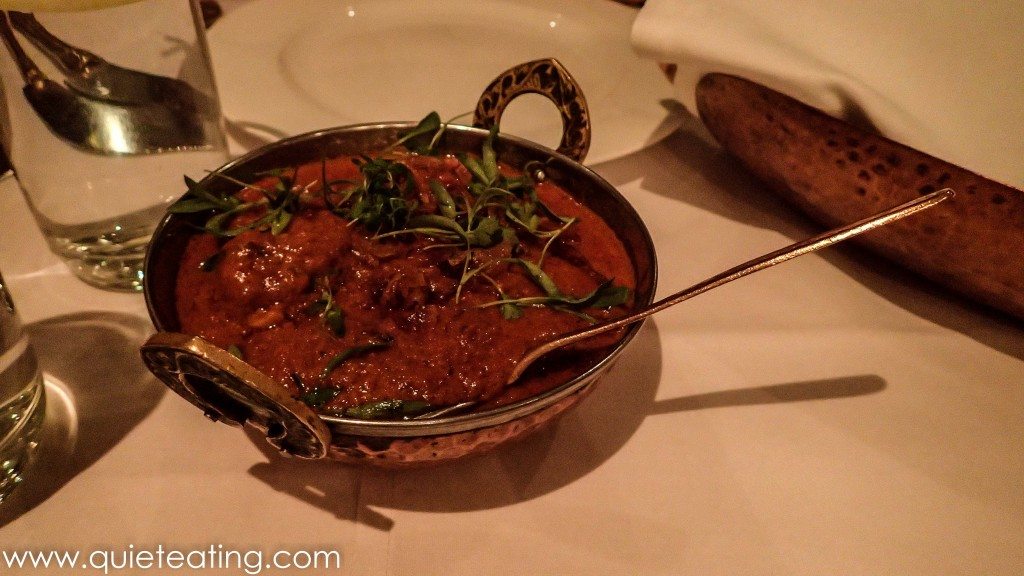 Beef xacuti.  Probably the best deal of the curries.  Rich and ummm..  meaty… it was not bad.
A lovely assortment of naans.  Garlic naan and peshwari naan.  These were not bad although they lacked the smoky flavour I prefer and they tasted as if they were just cooked on an electric grill.  I would have liked to have a bit of extra char.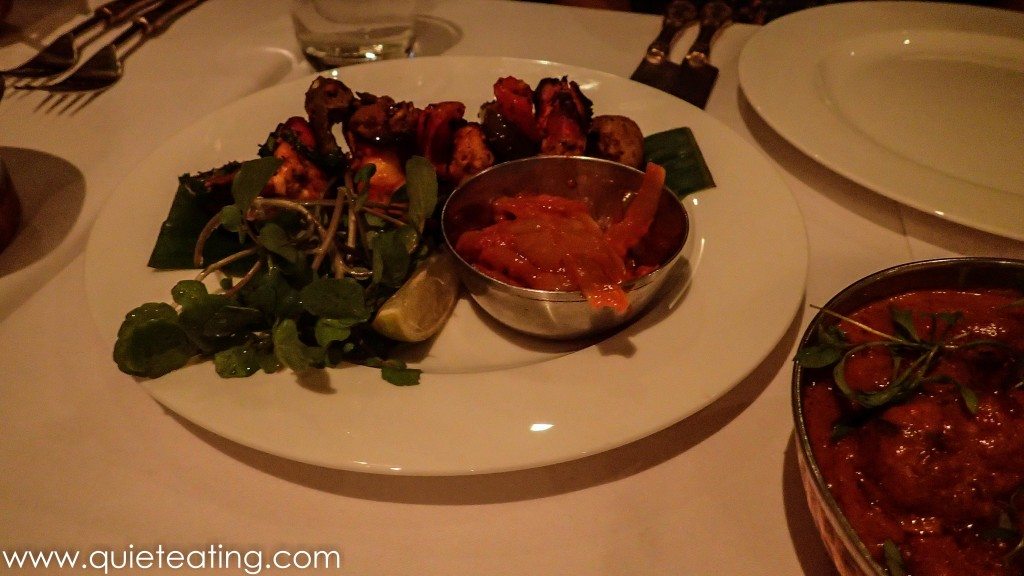 Jumbo prawns in pomegranate seeds and dill.  I know that you generally sell better if you make things sound superlative.  After all, "normal sized" prawns don't go down that well.  You could call them "large", "huge", "titanic" or "giganormous".  I guess they settled with jumbo as that rolls off the tongue well.  But larger than average these were not.  I've seen bigger ones used as bait.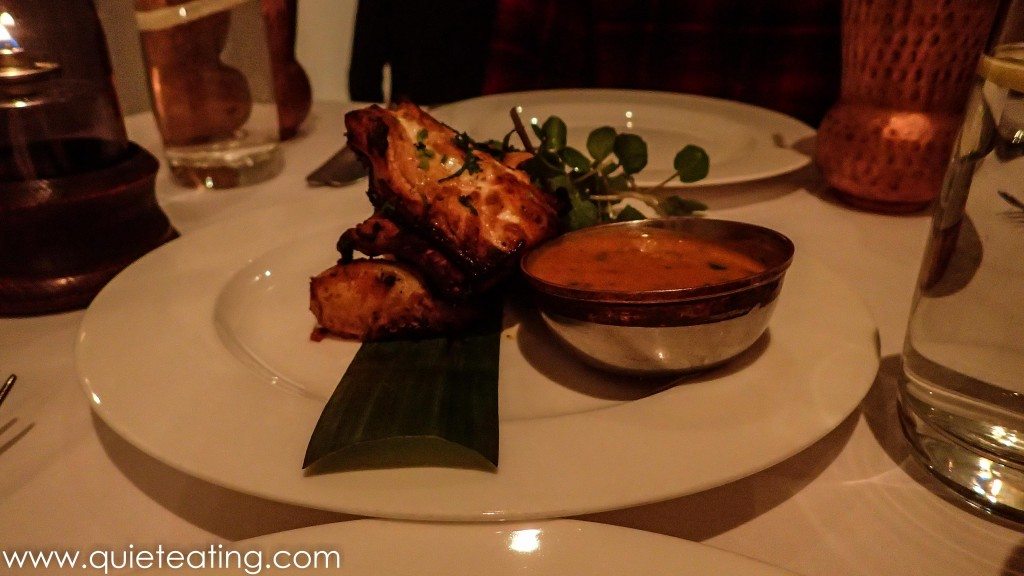 Tandoori wild Alaskan salmon.  The most expensive dish of the meal. Also the most underwhelming.  What was wrong?  It just seemed to lack.. you know.. taste.  Even with the little pot of sauce, redemption was not to be had.  I idly speculated, maybe the cold of Alaska leeches the joy and taste out of things.  Similar to some people I know.
Gymkhana lamb chops.  You would think that a lamb shank bone would be able to support its own weight.  Interestingly, it snapped when I picked it up.  That's probably why the poor little lamb couldn't escape the slaughterhouse and ended up on the plate.  Their lack of exercise showed as the meat was quite bland.  I guess I should be thankful.  At least it wasn't stale.
Jeera and saffron pulao.  This little bowl was GBP3.  Yah…  And their curries were GBP9.  Mmmm.  Not going for that again.
Aromatic basmati rice.  I mean what's worse than overpaying for some fancy rice?  Overpaying for some very ordinary rice.  GBP2.5.
The dinner wasn't awful.  It just lacked fireworks.  I would say in my "expert" opinion on Indian food (I think I've had it less than 10 times…) that it probably was alright.  The only issue is that by the end of dinner, I felt that things lacked a little bit of zing and zang.  Nothing to set the tastebuds on fire.  I was frankly surprised as the restaurant was apparently highly reviewed (and the front page of the menu doesn't let you forget that).  Sadly, this was not to be the case.  I went to dinner expecting something with zing, progressed to hoping for something with a bit of spice and then lowered expectations to hoping for something that was average.  Sadly, that was not the case.  If I had to sum up dinner in one word, it would be… stale.
A quiet eating 4.5/10.
Dinner (2 courses) was GBP 22 without service or drinks.
236 King St,
London W6 ORF
---
---