Hereford Road
The sun seems to be shining today.
I for one need it.  I need to put dark thoughts behind me.   A light, airy and dramatic dining room was the order of the day.  With high ceilings and a massive round sky light in the roof, I think I almost got a bit sunburnt.  Quite a feat in typically sunless Britain.  Must be the magnifying efforts of the glass.  Helps you make out the detail in things, like how good the food is.
Crusty bread.  Delightfully crusty, warm, soft and light all rolled into one.  Definitely a bread which sits towards the top of those I have tried.  It was so good that I stuffed my face with it which led to thoroughly foreseeable problems.  Bloating.  But enough of the consequences of greed.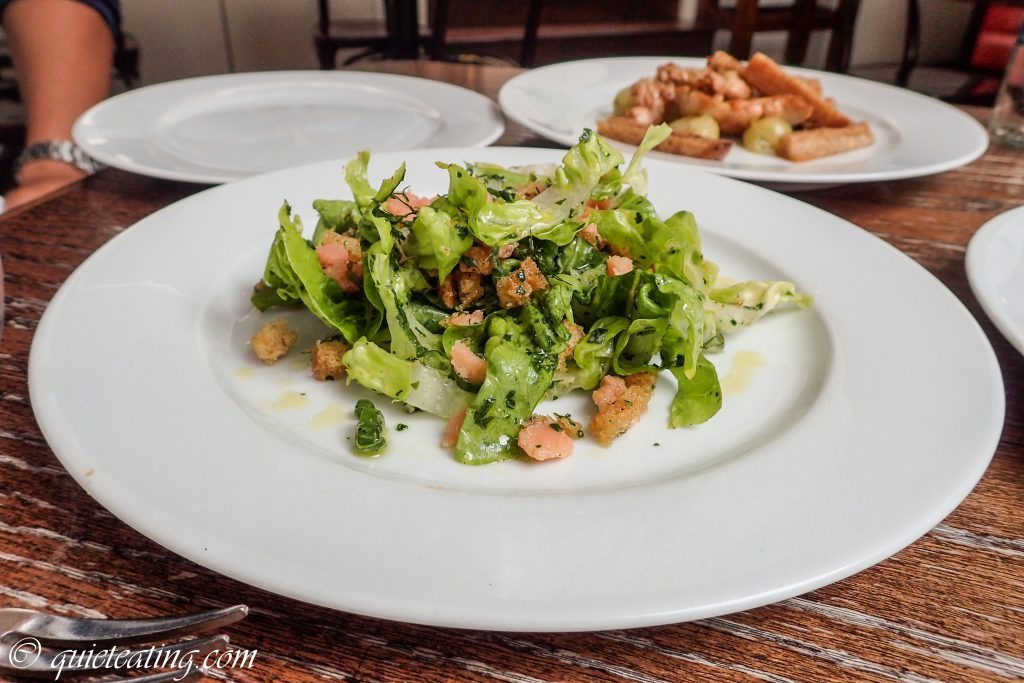 Smoked cod's roe, little gem and toasted crumbs.  I usually don't like things with so much greens but I will make an exception here.  The crisp leaves, crumbs and succulent cod's roe made a delightful little salad.  Something that even a carnivore like me can appreciate and maybe even like.
Monkfish liver, pickled gooseberries and fried bread.  My dining companion liked these.  Not so for me as it seemed a bit like eating slightly cooked brains.  With a delicately slimy (my dining companion called these smooth) and fishy offal taste these were a little too bouncy yet paradoxically slick for me.  Although, perhaps it is a good thing we didn't order the calf's brain.  I might have lost control in that case.
Ham hock terrine with pickled cauliflower.  Meaty with sour notes imparted by the cauliflower.  Not bad but nothing like the cod's roe.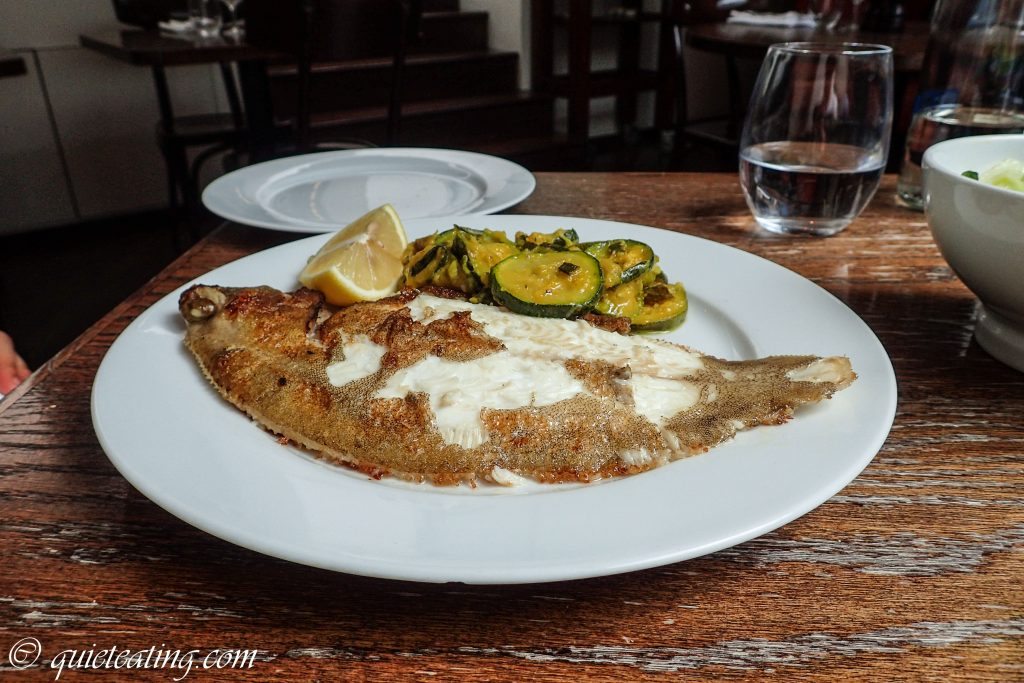 Poached sea trout, cucumber and samphire.  A tad overcooked but still not bad.  Also as expected, it was a bit difficult to eat as there were bones everywhere.  That's just the nature of the beast or fish in this case.
Onglet with chips.  This has to be the singular best onglet I've ever had.  The smoky flavour cooked perfectly medium rare, this was a sight to behold and a better one to taste.  The succulent and delectable cow was a marvel.  With lusciously soft and flavourful chips, this was a dish to lose yourself in.
Spring greens.  Healthy steamed.  Not bad but as we have established, not really for me.
Gooseberry custard pot.  Delightful with thick creamy custard, crunchy shortbread and tart gooseberries.  The strong sweet custard served to highlight the tanginess of the berries with a little added crunch by way of shortbread.  An excellent dish for a sweet tooth like me.
Dark cherry sorbet.  I'm not usually one to like sorbets but here, I will make an exception.  With a fruity cherry punch, this sorbet was a refreshing and clean way to end.
With a lovely back dining room and an expansive skylight of bright blue skies, it seemed like the weather was with us.  It was a fitting way to enjoy excellent food.  The sun was shining on us this time with a special halo reserved for the onglet.  Almost as if the cow that had given this up was smiling down from heaven to know that it had been done well by.
A quiet eating 8/10.
Lunch (3 courses) was GBP25 excluding drinks and service.
3 Hereford Road
Westbourne Grove
London, W2 4AB
---
---