Gymkhana
Sometimes it is nice to feel a bit of colonial grandeur.  Helps to distract when the gloomy times come by.  Like when you are reminded that the rich and powerful are subject to different rules from the rest of us – enter Gymkhana.
Trying to move away from the mechanisms of British politics here, I tried to defy ill winds and enjoy lunch.
Suitable placing.  Gymkhana certainty have got the ambience right.  Marbled tabletops, dark wood furnishing, darkly clad waiters.  I felt like I was transported back to the epitome of the British Empire.
Pappadum selection.  Arriving at our table in a wooden box was an assortment of pappadums.  Interesting selection if not particularly earth shattering.
Shrimp sorpotel, nimbu achaari raita.  I liked the spicy raita sauce, a slight hint of fire added a bit of joy to this life.  It was an interesting way to start.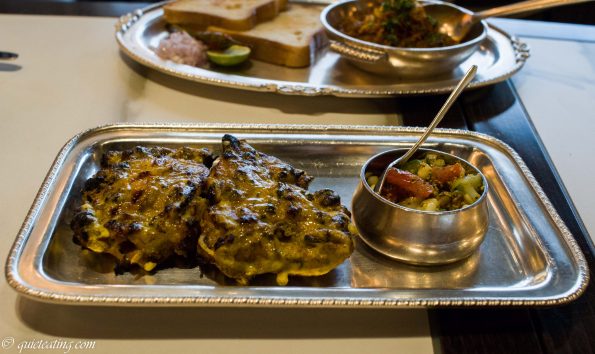 Kasoori chicken Tikka, Moong sprouts and Kasundi Mustard.  The first dish was succulent and carefully flavoured in tikka, the cubed vegetables lent a counterpoint of crunchiness compared to the soft, yielding chicken.
Kid Goat Methi keerna, salli, pao.
Close up of the kid goat.  I always thought it was funny to refer to a young goat as a kid.  As it could lead to potentially cannibalistic phrases.  Such as, I am eating some kid tonight.  No no, not mine but someone else's.
Awkward silence ensues.
As for the taste, it was a little salty for my liking.  Fulsome flavour though if a little heavy.
Basmati rice.
Goan prawn curry.  First the positives.  The curry was rich and flavourful, it hid the delicately cooked prawn.  Cooked exceedingly well, it was cooked just the right side of cooked.  The problem was, it sadly only appeared in the singular.
And that, was the problem.  The highlight of the meal lasted less than 10 seconds.
It was rather small with maybe two prawns in the cup.
Dal Lasooni.  A smooth bean curry.  It was ok, if nothing particularly special.
Saag Makai.  A heavy spinach and dairy dish.  Nice touch to cater for your tolerance of spiciness by including the chilli on top rather than mixed all around.  Smooth and fulsome, a nice addition.
Although the ambience may harkening back to the colonial past, its service has a bit of a question mark hanging over it.  As my fellow diner is dairy intolerant, much wrangling and discussions with the waiter ensured.  No, I can't take milk OR cheese OR cream.  Could I please just have the dairy free menu?  If you say I can only eat vegetables, I might as well not have come to your restaurant. Arguing with your masters isn't really the best way to endear yourself to the consumer.
However, putting this aside, if you are looking for something heavy and traditional you have come to the right place.  Yet, this is not somewhere that you would want to visit if you are seeking lightness in your life.
A quiet eating 7/10.
Lunch (2 courses) was GBP29.50 excluding drinks and service.
42 Albemarle Street
London W1S 4JH
---
---