Dishoom Canary Wharf
Canary Wharf has recently been blessed with the opening of quite a few eateries.  Previously, this area has sadly been somewhat of a culinary wasteland as although it has some decent restaurants, it also has those that are not so much.  In this busy financial district of London, often the eaters are looking for something familiar rather than something on the cutting edge of cooking.  Indian food fits the bill as it has become so embedded in British culture that it is no longer seen as optional but a necessity.
Yet the bog standard can become boring if not for a delicate balance that must be threaded between too far and too little.  Not pushing things too far is of particular importance depending on who you are dining with.  Sometimes when I am dining out with British friends, some of them will display extreme reluctance regarding anything beyond their comfort zone.  In a recent dining trip to a Chinese restaurant, I remember ridiculing my English friend for insisting on sweet and sour chicken, when there was so much better stuff on the menu.  It wasn't like I was ordering chicken feet or something after all.  Therefore, I applaud Dishoom for trying to address that myopic view of the world.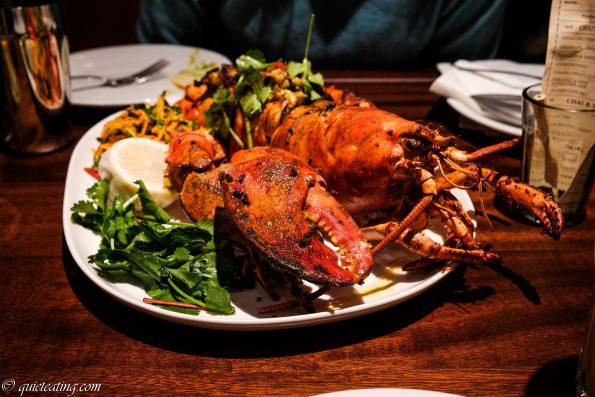 Malai lobster, marinated in creamy malai comfort, tail meat is grilled and finished with a generous pat-down of butter, lime and chilli.  This was a big lobster clocking in at almost 1kg.  Expertly grilled, this succulent beast exploded in my mouth with an almost overwhelming umami taste.  The quality of the ingredients was complemented by a light but flavourful sauce.  Meaty, flaky, succulent, it had all the elements I had hoped for.

Reimagining of the status quo can be dangerous.  Think of all those Italian chains that lauded themselves for bringing something different to the UK restaurant scene.  Perhaps they succeeded for a while but I don't seen many of them hanging on.  Yet it is only with risk, that people can sometimes find their fortune.  At Dishoom, it seems to be where usual expectations of Indian food are challenged.  Challenged for the better.  So taking courage from Dishoom, maybe I should order chicken feet for my friends next time I go to a Chinese restaurant.
A quiet eating 8.5/10.
We were invited, an average lunch, i.e. excluding lobster (3 course equivalent) would be about GBP30 excluding drinks and service.
Dishoom Canary Wharf
13 Water Street
London E14 5GX
---
---